Why Ending Kate Middleton 'Feud' Could Save Meghan Markle, Prince Harry's Marriage
Fans of the royal family have been fascinated with Meghan Markle and Kate Middleton's rumored feud but some believe if the Duchess of Sussex was to end the ongoing tension with her sister-in-law, she could learn a lot from the woman who may become Queen.
Over the weekend, Meghan's letter to her father detailing the pain and betrayal she felt when he continued to share intimate details about her life with the press was released.
Following its circulation, columnist Amanda Platell revealed Meghan could have avoided the incident if she had a better relationship with Kate. The Duchess of Cambridge reportedly "never rose to the bait" of "sneering and snobbishness" that has been directed at her since the beginning of her relationship with Prince William.
"Kate has proved she's made of very stern stuff. Over the years, she has sensibly and studiously sought advice on how to be a royal — from William, his family and courtiers. That patient tutelage has paid off," Platell explained.
The columnist suggested the rumored feud has ruined Meghan's chances of receiving guidance that could prevent embarrassment in the press. "If only she had spent more time learning from her sister-in-law, she might have understood that successfully marrying into the Queen's family is a marathon, not a sprint."
Platell noted that a recent interview done by Meghan's friends, which praised the Duchess of Sussex, ended up backfiring when the 37-year-old was accused of carrying out a "cynical PR exercise."
"These are lessons that Meghan, Duchess of Sussex, must learn fast. Clearly, she is headstrong. Even before marrying Harry, she told the world she'd cut short their honeymoon to 'hit the ground running' as a feminist and compassionate campaigner. I fear the honeymoon period is over for Meghan," Platell shared.
Despite the speculation, Kensington Palace has not addressed rumors suggesting Meghan and Kate are involved in a royal feud.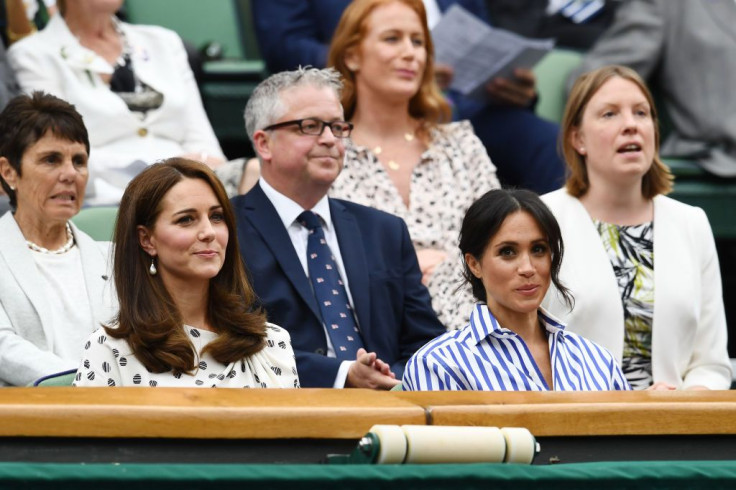 © Copyright IBTimes 2023. All rights reserved.