Why James Comey's Memos On Donald Trump Will Not Be Made Public By FBI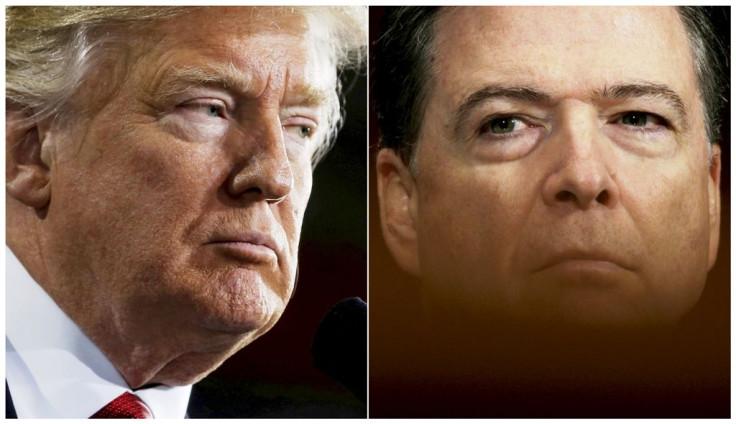 The FBI will not make former FBI Director James Comey's memos on President Donald Trump public because they are part of an awaiting or potential law enforcement proceeding, according to reports, Friday. The memos were at the center of attention during Comey's June 8 testimony to the Senate Intelligence Committee, when the ex-FBI director admitted he began documenting conversations with the president because he thought Trump would lie about their interactions.
The memos — first cited by the New York Times last month — said Trump told Comey in February to end the bureau's investigation into former National Security Adviser Michael Flynn's Russia connections.
Read: DOJ Contradicts Former Comey's Statement On Jeff Sessions
"I hope you can see your way clear to letting this go, to letting Flynn go," Trump told Comey, the Times reported. "He is a good guy. I hope you can let this go."
In the testimony, Comey confirmed he wrote the memos documenting his conversations with Trump because the ex-FBI director was "honestly concerned that [the president] might lie."
"Creating written records immediately after one-on-one conversations with Mr. Trump was my practice from that point forward," Comey said in a written statement, which was released ahead of his open testimony before the committee. "This had not been my practice in the past."
"I was honestly concerned he might lie about the nature of our meeting, so I thought it important to document. That combination of things I had never experienced before, but it led me to believe I gotta write it down and I gotta write it down in a detailed way," he said, adding, "I knew there might come a day where I might need a record to defend not just myself but the FBI, and our integrity."
Following several media outlets, including CNN, BuzzFeed and the Times sought the memos under the Freedom of Information Act.
However, their request was declined by the FBI.
"The records responsive to your request are law enforcement records," the FBI reportedly said Friday. "There is a pending or prospective law enforcement proceeding relevant to these responsive records, and release of the information in these responsive records could reasonably be expected to interfere with enforcement proceedings."
These documents fall under a part of the law that allows agencies to withhold records if they have been "compiled for law enforcement purposes, but only to the extent that the production of such law enforcement records or information... could reasonably be expected to interfere with enforcement proceedings," according to a letter the FBI sent to the Hill.
Read: James Comey Memes And Gifs Go Viral After Ex-FBI Director's Testimony Is Released
Meanwhile, the Times and CNN have filed a lawsuit against the FBI for the memos.
Friday morning, Trump tweeted that indicated he might be under investigation.
"I am being investigated for firing the FBI Director by the man who told me to fire the FBI Director! Witch Hunt," the president tweeted.
© Copyright IBTimes 2023. All rights reserved.