Why Meghan Markle Hasn't Lost Pregnancy Weight As Quickly As Kate Middleton
Meghan Markle has not lost her pregnancy weight yet.
The Duke and Duchess of Sussex just attended the premiere of "The Lion King." Many royal fans quickly noticed that Markle still has the extra weight from her pregnancy two months after she delivered baby Archie.
One netizen took to Quora to ask why Markle hasn't lost the weight she gained during her pregnancy while her sister-in-law Kate Middleton achieved her pre-baby figure quickly.
According to Deanna Eppers, Middleton has good genes and a long and thin body. First, she didn't gain a lot of weight in all of her three pregnancies. Second, nursing moms gain weight and some don't change until the baby is weaned.
However, she pointed out that Markle's face is so much thinner at Wimbledon compared to her first appearance at Trooping the Colour in June. The new mom is losing weight but not just as quickly as Middleton.
"Normal weight gain during pregnancy is somewhere around 30–35 pounds. It then is likely to take at least a year for a woman's weight to to return to where it was before she got pregnant," Anne Agard wrote.
She also noted that Markle seems to be following the normal pattern. Meanwhile, Middleton was an exception since she suffered from extreme morning sickness and gained less weight than normal when she was expecting her three children.
Abigail Macdonald, who worked at National Health Service, agreed with Agard. She believes that Middleton's "hyperemesis gravidarum" is the main reason she didn't gain very much weight when she was pregnant.
Another said that the Duchess of Sussex has not lost her pregnancy weight as quickly as the Duchess of Cambridge because the two women are different.
In related news, Markle and Middleton repeated their Wimbledon appearance. However, they didn't arrive in the same vehicle. Also, Middleton's sister, Pippa, joined them.
Middleton made another appearance at the tournament a day after with her husband, Prince William. The royal mom of three arrived in a $1,675 "Jordin" dress by Emilia Wickstead and paired it with Aldo "Nicholes" ankle-strap pumps that cost $56. Middleton's choice of outfit was too expensive and it happened amid the attacks targeting Markle for overspending on her wardrobe.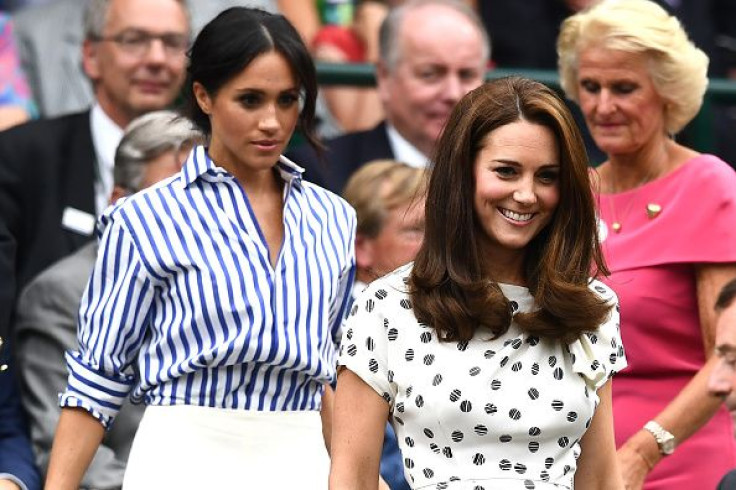 © Copyright IBTimes 2023. All rights reserved.
FOLLOW MORE IBT NEWS ON THE BELOW CHANNELS