Why Is Six Flags Over Texas Leading Investigation Of Its Own Roller Coaster Death?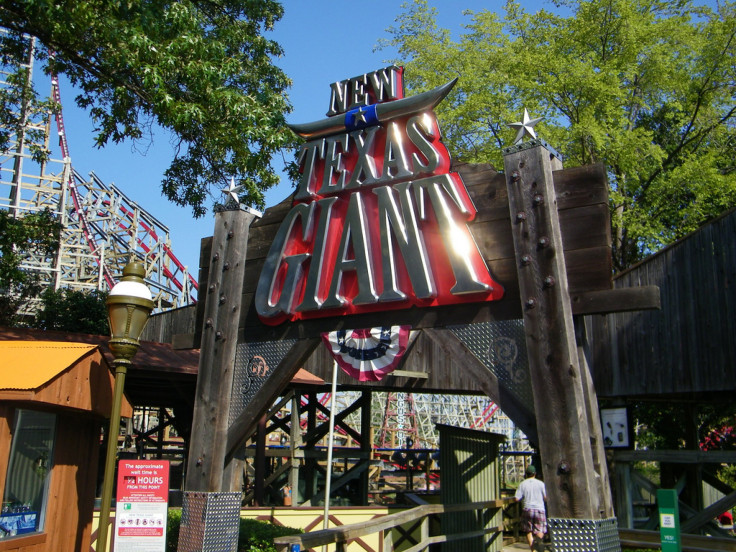 At 6:30 p.m. Friday night, a woman identified in local reports as Rosy Esparaza plunged to her death off the world's tallest steel-hybrid roller coaster at the Six Flags Over Texas theme park in Arlington. Now that the body has been removed and the interviews conducted, however, many remain unclear -- if not downright puzzled -- by exactly who is leading the investigation into what happened.
Six Flags initially said it was "working with authorities," but neither the Arlington police force nor the local fire department is participating in the ongoing probe. It's not any federal authority with jurisdiction over amusement parks either because the U.S. doesn't have one. If Six Flags is working with anyone, it's likely an insurance company and the German firm that manufactured the roller coaster car believed to have malfunctioned.
A Six Flags spokesperson told local news that if the state chooses to conduct an investigation, "the Texas Department of Insurance would designate someone." The Texas Department of Insurance's oversight, however, involves liability insurance and annual safety inspections that result in a sticker posted on the side of each ride, not accident investigations. The Department doesn't even keep track of the theme park's daily inspection logs, though they must be supplied to law enforcement upon request.
Kenneth Martin, a roller coaster inspector and accident investigator, told the Dallas Morning News that Texas doesn't have any state agency responsible for accident investigations, nor do the police tend to pursue deaths and serious injuries without evidence of a crime. "In all likelihood do you think Six Flags is going to come out and say 'we screwed up'," he questioned. "Probably not."
Instead, Six Flags has said it is "deeply saddened" and that the safety of its guests and employees is its "number one priority." Thus, the 14-story-high, 4,900-foot-long Texas Giant roller coaster -- one of the premier attractions at Six Flags Over Texas -- remains closed indefinitely until the theme park operator concludes its internal investigation.
Does The US Amusement Park Industry Need Federal Regulation?
There are few independently verified statistics on theme park rides, but a first-of-its-kind study published in the journal of Clinical Pediatrics in May claimed that 4,400 children under the age of 18 are injured each year on America's amusement park, carnival and arcade rides. Lead author Dr. Gary Smith and his team at the Center of Injury Research and Policy at Nationwide Children's Hospital in Columbus, Ohio, blamed a lack of unified standards at traditional theme parks for the high figure, claiming that traveling carnivals are actually safer than their more reputable counterparts.
"Although the U.S. Consumer Product Safety Commission has jurisdiction over mobile rides, regulation of fixed-site rides is currently left to state or local governments, leading to a fragmented system," Smith noted. "A coordinated national system would help us prevent amusement ride-related injuries through better injury surveillance and more consistent enforcement of standards."
Sen. Ed Markey, D-Mass., tried for more than a decade to pass regulation to put theme parks under federal scrutiny. All attempts in the House failed, but the recently sworn in senator renewed his call on Sunday, saying "a baby stroller is subject to tougher federal regulation than a roller coaster."
Many, including the Boston Herald, have long been critical of Markey's decade-long crusade. As a columnist at the newspaper noted recently, "Amusement parks have no interest, zilch, nada, in running unsafe rides, and powerful incentives not to. Every injury or death means buckets of money paid out in damages." Accordingly, park operators take out expensive insurance policies that obligate them to abide by strict safety measures.
The International Association of Amusement Parks and Attractions has consistently fought attempts by lawmakers such as Markey to strengthen regulations, arguing that parks are subject to one or more layer of independent examination, including private safety firms or insurers, and state or local government. Earlier this year, the amusement park association put the rate of serious injury on rides at one per 24 million customers. IAAPA said that makes roller coasters a far safer mode of transportation than cars or train (and perhaps even baby strollers).
© Copyright IBTimes 2023. All rights reserved.