Why Was Fred Phelps Excommunicated From The Westboro Baptist Church? Son Nathan Pens Telling Facebook Post About Ailing Father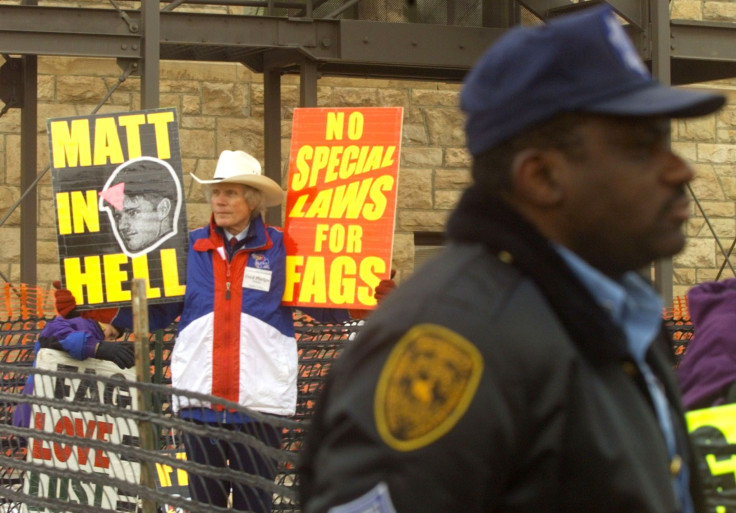 As the Rev. Fred Phelps Sr. is reportedly near death, his son Nathan wrote a revealing Facebook post regarding his mixed emotions about his ailing father and how the Westboro Baptist Church founder was purportedly excommunicated from the church more than six months ago.
The reason for Phelps, 84, being excommunicated from the WBC is unclear. In fact, it shocked many to hear that the homophobic Primitive Baptist had been kicked out of the church he founded. It should be noted that the "church," which could almost be considered a cult, consists of less than 100 members and most of the people who are part of the church are from within the Phelps family.
Sharing that his father was excommunicated was the first thing his son Nathan wrote in a Facebook post that has been shared more than 1,000 times.
"I've learned that my father, Fred Phelps, Sr., pastor of the 'God Hates Fags' Westboro Baptist Church, was ex-communicated from the 'church' back in August of 2013," he wrote. "He is now on the edge of death at Midland Hospice house in Topeka, Kansas."
"I'm not sure how I feel about this," he added. "Terribly ironic that his devotion to his god ends this way. Destroyed by the monster he made."
According to the New York Daily News, Nathan left the hate-fueled WBC more than 30 years ago. After the fallout with his father and other family members, Nathan has reportedly become an advocate for LGBT causes.
The WBC is notorious for their cruel and harsh nature: picketing funerals and celebrating the death of soldiers and even children. The Phelps family is widely regarded as one of the most hated in America.
The bigoted pastor is a disbarred lawyer who reportedly badgered a witness in 1977, accused her of obscene sexual acts and reduced her to tears on the stand, which resulted in a formal complaint. According to Open Jurist, in 1979, he was disbarred from practicing law in Kansas after he was found to have made "false statements in violation of DR 7–102(A)(5)."
Nathan expressed remorse for the pain his father has inflicted on others, yet he is appalled that he cannot apparently say his goodbyes to his sick father. "I feel sad for all the hurt he's caused so many," he said. "I feel sad for those who will lose the grandfather and father they loved. And I'm bitterly angry that my family is blocking the family members who left from seeing him, and saying their good-byes."
Although a spokesperson for the WBC did admit to Phelps Sr. being in hospice care, he would he would not speak any further about the matter.
"We don't owe any talk to you about that," Westboro spokesman Steve Drain told the Topeka Capital-Journal. "We don't discuss our internal church dealings with anybody. It's only because of his notoriety that you are asking."
Follow me on Twitter @mariamzzarella
© Copyright IBTimes 2023. All rights reserved.