Why Was Laura Poitras Stopped In Airports? 'Citizenfour' Filmmaker Sues US Government For Failing To Return FOIA Requests
Academy Award-winning documentary filmmaker and co-recipient of the Pulitzer Prize Laura Poitras has filed suit against the U.S. government for documents related to the repeated and frequent stops she experienced when traveling through U.S. and foreign airports. Poitras first filed a Freedom of Information Act request in 2013 to understand why she had been classified in the highest threat category possible, the Intercept reported.
Poitras was stopped and searched by customs officials from 2006 until 2012. The searches reportedly stopped in 2012 when colleague Glenn Greenwald, with whom she would report on massive U.S. spying by the National Security Agency the next year, wrote about the detentions, and a group of filmmakers wrote a petition in opposition to the government's policy targeting Poitras. The documentary she made with Greenwald, "Citizenfour," won an Academy Award, and the reporting won the Pulitzer Prize for public service.
Poitras and Greenwald later co-founded the Intercept with the help of Jeremy Scahill, who is known for his reporting on the mercenary group Blackwater in Iraq and for a film in which he chased down drone strikes in the Middle East.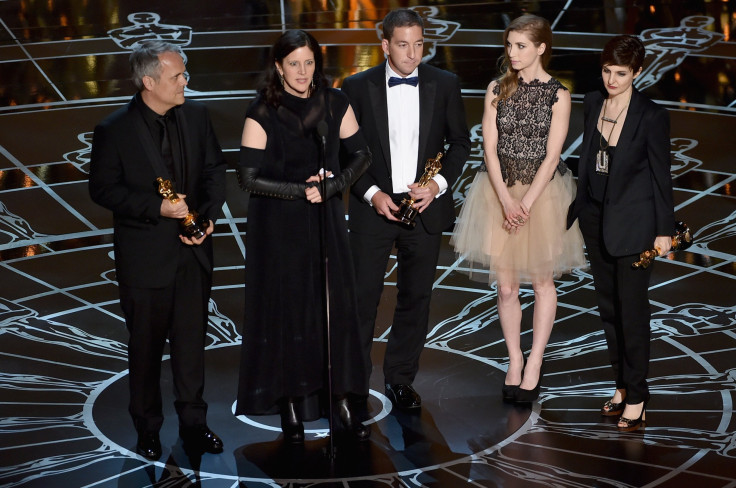 Poitras was stopped and searched more than 50 times in six years beginning in 2006, the Intercept said. During those searches, officials would forcefully seize her notebooks, laptops, cell phones and other personal items. Exactly why she was chosen as a target has not been made clear by the U.S. government to Poitras.
She was first stopped in an airport while making her 2006 film, "My Country, My Country" in which she followed a Sunni doctor running for Iraq's national assembly. The film paints a bleak picture of life in occupied Iraq and the toll American forces in Iraq had on local residents.
The number of FOIA requests in recent years has blossomed, leading to a considerable backlog. It is estimated 70 percent of FOIA requests are yet to be processed, and the backlog grew by 23,000 requests from 2012 to 2013.
One focus of Poitras' "Citizenfour" was Edward Snowden, the whistleblower who has been in exile since he leaked a huge number of U.S. government documents to Poitras and Greenwald in Hong Kong. Snowden has been charged with three violations of the Espionage Act though a report released last week indicated former Attorney General Eric Holder believed a plea deal could be reached between Snowden and U.S. authorities. Snowden's "actions spurred a necessary debate" and led to important changes, Holder said, though he declined to speak to specifics of a potential deal.
© Copyright IBTimes 2023. All rights reserved.
FOLLOW MORE IBT NEWS ON THE BELOW CHANNELS