Will Donald Trump Be President? Trump Delegate Count Reaches Magic Number To Clinch GOP Nomination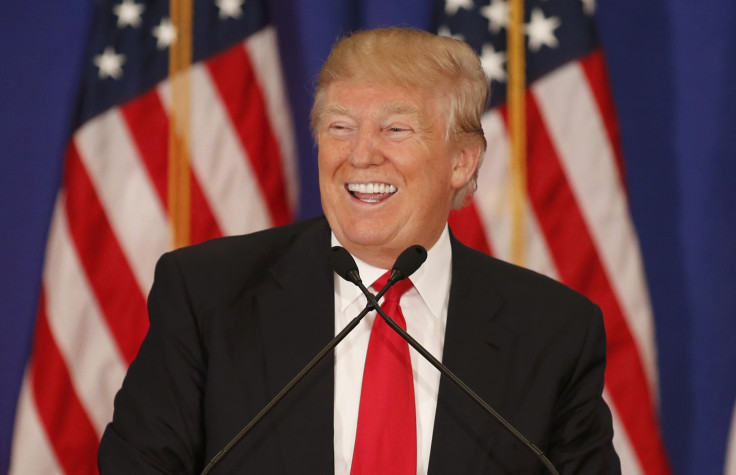 Donald Trump reached the number of delegates needed to clinch the Republican presidential nomination, the Associated Press reports. While the New York real estate magnate has been the presumptive GOP nominee since his last remaining rivals dropped out of the race several weeks ago, he was pushed over the top Thursday when a small number of unbound delegates told the AP they would support Trump at the Republican National Convention this summer.
Republicans need 1,237 delegates to win the GOP nomination for president, and Trump has reached 1,238, according to the Associated Press delegate count. The remaining five Republican primaries, to occur on June 7, will offer up 303 more delegates. With Trump the last candidate standing, his total delegate number will surely rise, which would preclude a contested convention in Cleveland in July.
Among the unbound delegates who have decided to support Trump is the Oklahoma Republican Party chairwoman, Pam Pollard.
"I think he has touched a part of our electorate that doesn't like where our country is," Pollard told the AP. "I have no problem supporting Mr. Trump."
Trump, who has run an extremely unconventional campaign, spent the entire primary season waging intense attacks on his 16 competitors, as well as many members of the GOP establishment. Now that he is about to become the party's nominee, he has begun working with Republican leaders to heal wounds and unite the fractured party.
But while Trump has won support from some major Republican donors, many remain uneasy about his candidacy, and even House Speaker Paul Ryan has still not endorsed him. Other former leaders such as 2012 Republican candidate Mitt Romney and the Bush family have said they will sit out the 2016 presidential election rather than choose between Trump and Democratic front-runner Hillary Clinton.
Still, millions of voters and grassroots activists have supported Trump, and as the Republicans draw closer to their national convention, more lawmakers and local party leaders are falling in line behind the de facto nominee. Another unbound delegate who recently confirmed his support for Trump is Steve House, the chair of the Colorado Republican Party.
"Leadership is leadership," House told the AP. "If he can surround himself with the political talent, I think he will be fine."
As Trump prepares for the general election, he has already ramped up his attacks on Clinton, routinely calling her "Crooked Hillary" and bringing up past scandals such as the women who accused her husband of sexual misconduct and other issues that plagued the end of Bill Clinton's administration in the 1990s. He is likely to continue these attacks as Clinton must still split her time between hitting Trump and competing against her rival, Vermont Sen. Bernie Sanders. She holds an enormous lead in the Democratic delegate count over Sanders, but he has promised to stay in the race until the last primary takes place, on June 7.
© Copyright IBTimes 2023. All rights reserved.
FOLLOW MORE IBT NEWS ON THE BELOW CHANNELS