Will Donald Trump Fire Jeff Sessions? Twitter Users Call For Attorney General's Resignation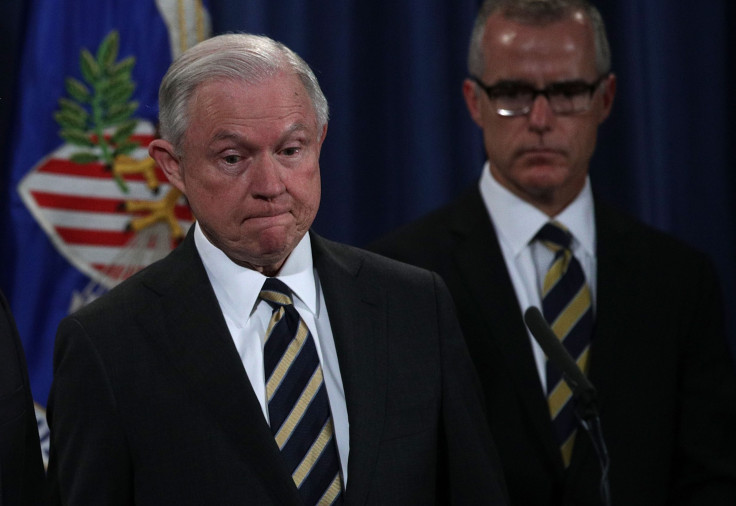 President Donald Trump said Wednesday in an interview he would have never appointed his earliest political supporter — Jeff Sessions — as attorney general if he knew that Sessions would recuse himself from ongoing probe into the Russian meddling in the presidential election. The attorney general recused himself from overseeing the Russia investigation in March prompting many opponents to demand his resignation.
After the interview with the New York Times, Trump also went ahead to tweet how he would ask Sessions to give his resignation Thursday; however, the tweet was deleted later.

During the interview, Trump blamed Sessions's recusal to be the reason for the appointment of a special counsel, which he said should not have happened. "Sessions should have never recused himself, and if he was going to recuse himself, he should have told me before he took the job and I would have picked somebody else," he said.
Read: Was Jeff Sessions Behind The Firing Of FBI Director James Comey?
Trump has already fired Sally Yates, Preet Bharara and James Comey — who were investigating the president's alleged links with Russia — in the past few months. While Yates is the former attorney general, Bharara served as the attorney in Manhattan, and Comey was the former FBI director.
A social media user took jibe at the attorney general and said it was Sessions' and his deputy Rod Rodenstein's turn to get fired.
Some users said Sessions should resign himself.
Comedian Bill Maher of HBO's political talk show "Real Time with Bill Maher" fame has been a vocal critic of Sessions also made a sarcastic remark, referring to the episode. "Consider for a moment how enormous an a######Trump must be to make me actually feel bad for an a###### as enormous as Jeff Sessions...wow," he said.
Some users on Twitter said Sessions lacked the qualification to serve as the attorney general.
After the probe into Moscow's meddling into the presidential election began last year, Trump placed confidence in Sessions for managing what he has often called a "witch hunt." The investigation into the possible links between Trump's campaign and Russia has been major cause of concern for the president amid calls for his impeachment.
Read: Attorney General Jeff Sessions Evades Kamala Harris' Question During Congressional Testimony
The probe has further intensified after Trump's eldest son Donald Jr. recently admitted to having met a Russian lawyer ahead of the presidential election. Meanwhile, Sessions hinted at resigning from his post. However, Trump did not take him up on the offer, the Times reported quoting two people who spoke on the condition of anonymity to discuss internal White House matters.
The discussion between Sessions and Trump regarding the former's resignation took place in the days leading up to Trump's nine-day first official foreign tour to the middle eastern countries and Europe in May, a person familiar with the events said.
© Copyright IBTimes 2023. All rights reserved.
FOLLOW MORE IBT NEWS ON THE BELOW CHANNELS