Will Donald Trump Put Hillary Clinton In Jail? President Obama Could Use Pardon In Email Controversy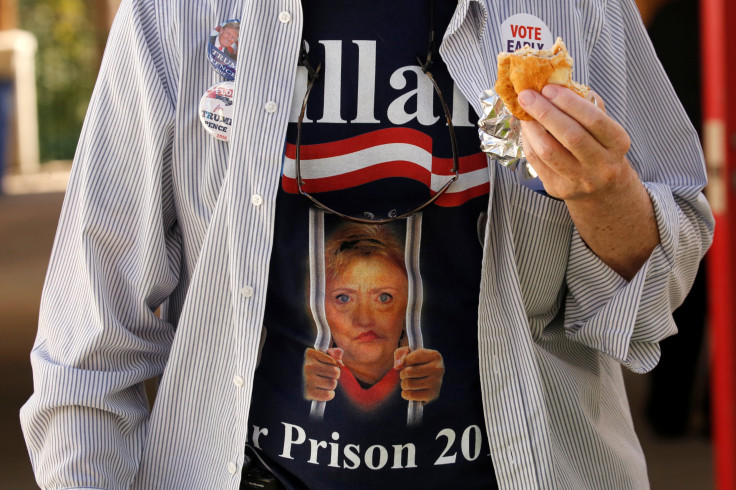 As news flooded in on Election Day of Donald Trump's surprising upset against Democratic nominee Hillary Clinton, the president-elect's supporters celebrated victory with one of their favorite rallying cries at the Trump Towers in New York: "Lock her up." Now, as the real estate magnate transitions to becoming the leader of the free world, his most ardent voters will be looking to Trump to do just that.
Whether Trump chooses to go after imprisoning the former secretary of state for her use of a private email server while working for the Obama administration, and what the current president might do about that, remains unclear. The GOP nominee was a stalwart supporter of putting his opponent in jail along the campaign trail, vowing to hire a special prosecutor who would further investigate Clinton.
"If I win, I am going to instruct my attorney general to get a special prosecutor to look into your situation because there has never been so many lies, so much deception," Trump said at the second presidential debate. "There has never been anything like it, and we're going to have a special prosecutor."
By Wednesday, those plans seemed to be placed on the backburner. His campaign manager Kellyanne Conway discussed Trump's plans to heal the divide across the nation, noting he didn't discuss the topic with Clinton during a phone call early Wednesday morning. "We didn't discuss that last night and he did not discuss that with Hillary Clinton on the phone," Conway said, though she wouldn't reject the idea entirely. "I think it's all in good time," she continued.
It's well within the sitting president's power to pardon Clinton of any wrongdoing during her tenure in the state department. An official pardon would effectively clear her of any potential criminal charges she could eventually receive from further investigations, even if they were to continue. However, President Barack Obama's own statements on the matter would seem to reflect his opposition to further politicize the issue by intervening.
"The process that I put in place is not going to vary depending on how close I get to the election," Obama said of any further pardons he would make as president in August. "So it's going to be reviewed by the pardon attorney, it will be reviewed by my White House counsel, and I'm going to, as best as I can, make these decisions based on the merits, as opposed to political considerations."
Obama may be navigating a less controversial path to stopping Trump's prosecution promise: working with the president-elect to unify the country, rather than further alienate Clinton's supporters from the next administration. "We have a long tradition in this country of people in power not using the criminal justice system to enact political revenge," White House Press Secretary Josh Earnest told reporters this week. "In fact, we go a long way to insulate the criminal justice system from partisan politics."
For some of Trump's supporters, focusing on Clinton and the president-elect's political opponents are of their least concerns. "I'd rather [Trump] focus on the economy and making sure what we've had these last eight years doesn't continue," said Jennifer Walsh, a Trump supporter from New Jersey. "I didn't vote for him so he could put Clinton behind bars... I think our country needs to focus on coming together now instead of continuing to split apart."
Clinton conceded to Trump in a speech Wednesday afternoon, urging her supporters to give the next president of the United States a chance, in what was seen as a symbolic call to unity. "I still believe in America, and I always will. And if you do, then we must accept this result and then look to the future," Clinton said. "Donald Trump is going to be our president. We owe him an open mind and the chance to lead. Our constitutional democracy enshrines the peaceful transfer of power."
Meanwhile, House Oversight and Government Reform Committee Chairman Jason Chaffetz vowed to continue his probe into Clinton's private email server.
"It would be totally remiss of us to dismiss [the email investigation] because she's not going to be president," Chaffetz said. "I still have a duty and obligation to get to the truth about one of the largest breaches of security at the State Department, tens of thousands of documents still have not been turned over to Congress."
© Copyright IBTimes 2023. All rights reserved.