Will Hillary Clinton's Kwanzaa Twitter Backlash Hurt Her Support With Black Voters?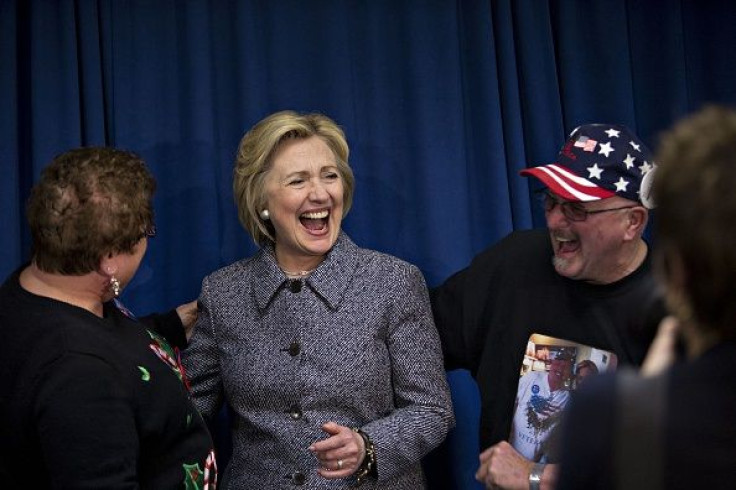 Hillary Clinton's Twitter on Monday was displaying a presidential-looking profile photo of the White House hopeful, but her neutral avatar could not neutralize the backlash she received after posting a Kwanzaa-themed avatar over the holiday weekend. When Clinton's Twitter logo took on a Kwanzaa theme Saturday night, Black Twitter responded with the #NewHillaryLogo hashtag, mocking her frequent logo switches and criticizing the candidate for using the symbol of an African-American cultural holiday that she does not celebrate.
But while many internet critics connected the backlash to a pattern of pandering and superficial engagement by Clinton, giving examples of her campaign's attempt last week to call the candidate an abuela (the Spanish word for grandmother) as well as other ill-conceived H logos, political experts said she still likely has the minority vote wrapped up — even if some think she could be taking the support of the black community for granted.
"On any given topic or any given thing there's always going to be people who are not happy on social media," said Daniella Gibbs Léger, who has worked in communications roles for both the administration of President Barack Obama and the Democratic National Committee. "Was it a little clunky? Maybe. But at the end of the day I think the best way to reach out to African-American or Latino or any voters is to tell them how your policies are going to help them and their families ... And on that front she's been doing a pretty good job."
Clinton is typically very popular among African-American voters and has maintained that demographic lead so far. Some polls in South Carolina, a heavily black early primary state, have even shown her with support in the 70 or 80 percent range, while her chief rival, Vermont Sen. Bernie Sanders, has been unable to chip away at this enthusiasm. The former secretary of state does well with Latino voters, too, and she has been counting on Donald Trump's offensive comments to help mobilize that bloc to support her.
But, as she saw this weekend, her established popularity does not protect her in all realms. Within hours of Clinton changing her Twitter logo Saturday night, criticism erupted on the social network, and her avatar was quickly changed back to a photo of her face. Changing the iconic (and somewhat controversial) H logo has become a frequent occurrence during Clinton's campaign so far, and this was not the first time she had done so to celebrate a holiday. Clinton's campaign did not respond to a request for comment on this story.
Clinton is known for having a robust social media presence and often uses Twitter, as well as Facebook and Snapchat, to convey humorous or meme-worthy messages to young Democrats. She sent a tweet wishing supporters a happy Chanukah earlier this month and debuted a GIF of her H with blinking Christmas lights just days before the Kwanzaa incident. She also changed the Twitter logo to rainbow colors to celebrate same-sex marriage earlier this year.
But none of these actions were met with the kind of backlash that turning her H into a kinara — the candle holder used on Kwanzaa — has seen. Users reacted by making their own versions of her logo designed to appeal to black stereotypes, but they also tweeted their criticism of a candidate they saw as taking advantage of her popularity to lazily gain favor with young minorities.
"Kwanzaa is a really important part of a lot of people's lives, a lot of African-Americans' lives. It is something that people who aren't African-American don't quite understand," Gibbs Léger said.
But beyond the one incident, many on Twitter seemed to claim that Clinton's Kwanzaa-themed avatar represented a larger trend of the candidate taking for granted African-American voters and appealing to minorities with emotion over policy.
"The Clinton campaign has done a very poor job of truly engaging with minority communities this election cycle. While she has repeated many talking points that her campaign presumably feels will attract minority voters, she has seemingly done very little to engage in discussion with minority communities, as her rival Bernie Sanders has done," Zac Barnett, a senior at Ohio State University who tweeted his frustration on the topic, said in an email Tuesday. "It's not enough to visit minority communities or change a logo on Twitter or Facebook. To lead, one has to listen. One has to be amenable to changes in policy positions sought by oppressed communities."
Barnett said he supports Sanders' candidacy because he likes that Sanders has stuck to his positions over the course of his career. Clinton has campaigned heavily on her work for the Children's Defense Fund and other advocacy for minorities during her time in the Senate. But she has also been criticized by Black Lives Matter and other activist groups for her previous support for policies that led to mass incarceration and her husband's drug policies during his presidency.
Still, Barnett and political analysts pointed out that even if young black voters see some of her tactics as superficial, it hasn't hurt her at the polls. While he wishes Clinton would present more substantive policy initiatives, Barnett said he didn't see the former secretary of state changing her tactics unless Sanders gave her a scare in the coming months.
"Hillary Clinton has a head start on this. A lot of black voters are pragmatic, and they want someone who has a chance to win," said Steven Taylor, a professor of government at American University in Washington, D.C., who focuses on the politics of race and ethnicity. "When Jesse Jackson ran in 1984, much of the black leadership wasn't behind him because they thought there was a chance they could get someone else who had a chance to defeat Ronald Reagan."
Taylor emphasized that Sanders still has to introduce himself to black voters and other minority communities, and that lack of knowledge means voters are unlikely to move away from Clinton. During this election cycle, she has met with Black Lives Matter activists, talked about criminal justice reform and immigration reform, and often focuses on economic inequality, all of which are ostensibly appealing to minority voters on a policy level. If she was running against Obama in 2008 and pulled a similar Kwanzaa Twitter stunt, Taylor said, it probably would not work at all because people already had the emotional connection to Obama. But now, Clinton has that monopoly.
Gibbs Léger, the Obama administration alum, said she also believes people will look past a few incidents on social media. "At the end of the day, what's going to drive someone to the polls is not what they said on Twitter," she explained. "What policies [politicians] are putting out and how they're engaging them is what motivates people."
FOR FREE to continue reading
✔️ Unlock the full content of International Business Times UK for free
offer available for a limited time only
✔️ Easily manage your Newsletters subscriptions and save your favourite articles
✔️ No payment method required
Already have an account?
Log in
© Copyright IBTimes 2023. All rights reserved.