Will 'Legends Of Tomorrow' Season 2, Episode 15 Address Snart, Sara's Kiss Last Season?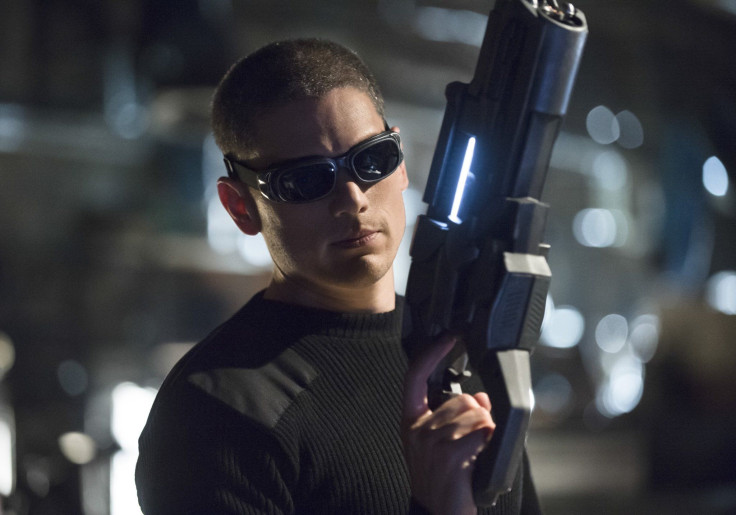 Snart (Wentworth Miller) is set to make his big return in tonight's Season 2, episode 15 of "Legends of Tomorrow." But since the installment focuses on Snart's relationship with his old partner Rory (Dominic Purcell), the hour won't address the kiss Snart and Sara (Caity Lotz) shared last season.
"It's a bummer," Lotz recently told Entertainment Weekly after revealing that the upcoming episode won't explore Snart and Sara's relationship after they locked lips in Season 1 before he ultimately sacrificed himself for the team. "I really wanted to, but hopefully they're saving it for another time."
"The focus of [episode 15 is] Snart [and] his relationship with Rory, the original bromance," Lotz explained. "[So] I was really bummed … because I wanted to, in the alternative reality ['Doomworld'], for Sara and Snart to be dating like a little Bonnie and Clyde. But the Rory-Snart relationship is really important, and they had a lot of story left to do with that, so we don't get to see any of that in this one, but hopefully later; hopefully we're saving it for later."
READ: "Legends of Tomorrow" EP teases a surprise cameo in Season 2, episode 16
In a separate interview with Entertainment Weekly at the Television Critics Association's press tour in January, Miller said that he's "looking forward very much to whatever the writers have in store as far as Snart and White Canary." But because Snart returns a very different man, he doesn't remember anything about the kiss. "There was a kiss remembered by White Canary, but not Snart," Miller said.
Snart was last seen in Season 2, episode 8, in which he appeared as Rory's hallucination. So how would Rory react when he sees a living and breathing version of his late partner?
"What is fun about it is Rory's reaction, because the last time Rory saw Snart, he was a hallucination," executive producer Marc Guggenheim said. "So when he sees Snart again, he very understandably thinks he's hallucinating again. So, as with all things Legends, the moment is played for comedic effect."
Are you excited for Snart's return? Sound off in the comments section below!
"Legends of Tomorrow" Season 2, episode 15, titled "Fellowship of the Spear," airs on Tuesday, March 21 at 9 p.m. EST on The CW.
© Copyright IBTimes 2023. All rights reserved.