Will Tropical Storm Jose Hit New York And Boston?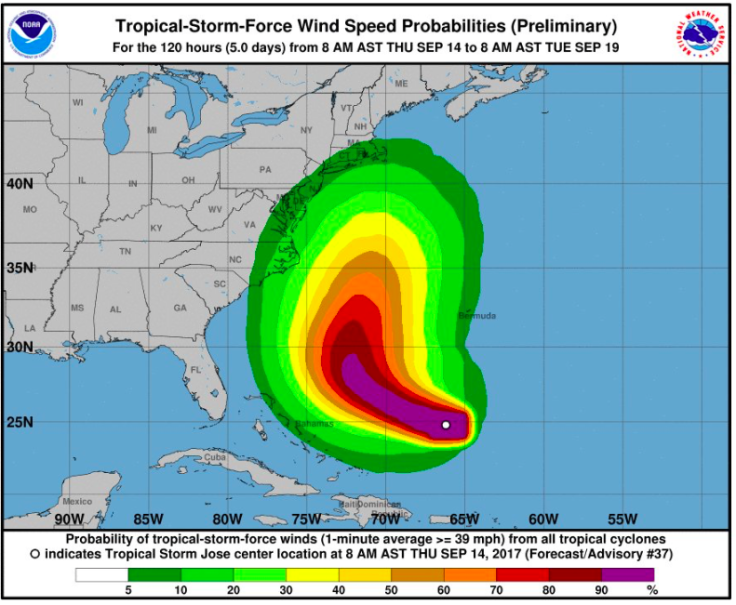 UPDATE: 4:40 p.m. EDT — Tropical storm Jose officially became a hurricane again Friday afternoon, the National Hurricane Center announced in an advisory. Hurricane Jose remained in the Atlantic Ocean moving at about 10 mph with wind speeds of 75 mph.
Original story:
Tropical Storm Jose was being monitored Friday morning to determine whether it would once again become a hurricane. Those on the East Coast north of North Carolina should monitor the storm, the National Hurricane Center urged.
Jose began as a hurricane but was downgraded into a tropical storm Thursday. The storm churned about 360 miles northeast of the southeastern Bahamas Friday morning with winds of about 70 mph. The forecast said it would likely become a hurricane by the end of the day, potentially directly impacting the north portion of the East Coast. As of Friday, the storm was producing large waves on the coasts of Bermuda, the Bahamas, Puerto Rico, Hispaniola and the southeastern United States.
"Even though Jose will not come close to any landmass through at least Monday, it will generate large swells that will propagate away from the hurricane," said AccuWeather hurricane expert Dan Kottlowski.
After days of churning in the Atlantic Ocean, the storm could make its way past North Carolina and Virginia around Tuesday. The storm could take a variety of different tracks once it passed by the Carolinas Tuesday, AccuWeather predicted. Jose could be swept out to sea or it could turn west. And though the storm would likely remain at sea and not make a direct hit on land, it could bring storm conditions to places like New York, New Jersey and Boston. The storm had the potential to stall off the Northeast coast for a bit, bringing rain and wind through next week. Should the storm make its way to the East Coast, the effects would likely be felt around Sunday or Monday.
"The track has been shifted westward… as we are increasingly concerned that the northern parts of the mid-Atlantic northward into New England and Atlantic Canada will see a period of heavy rain, strong winds and coastal flooding by the middle of next week as Jose passes by just offshore," AccuWeather said Friday morning.
Meanwhile, tropical storm Norma formed in the Pacific Ocean Thursday and was expected to strengthen into a hurricane as soon as Friday night. Forecasters warned of the possibility of heavy rains and wind in certain areas of Mexico in the coming days.
"Norma is likely to become a hurricane as it churns in the warm waters of the East Pacific," said AccuWeather meteorologist Steve D. Travis. "While the track is not set in stone, it could move northward toward the Baja Peninsula or western Mexico late in the weekend."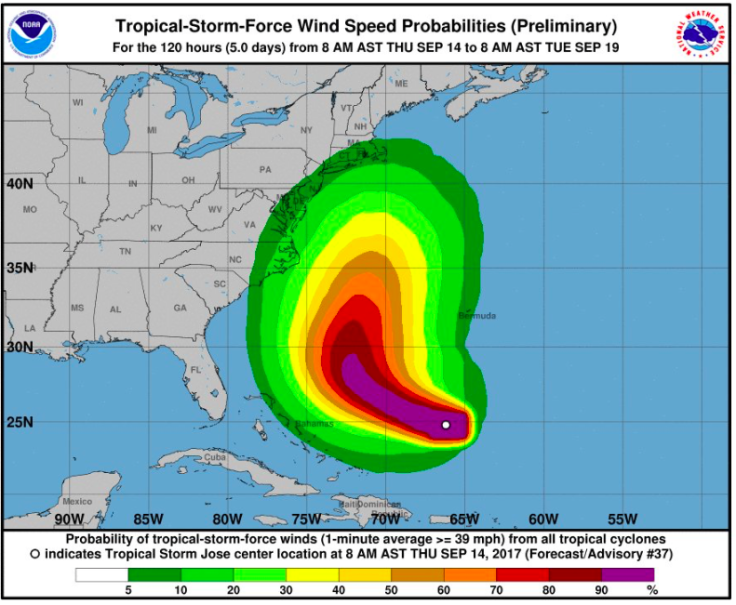 © Copyright IBTimes 2023. All rights reserved.