Windows 8 Release Approaches: This Could Be 'Exactly What Microsoft Needs,' Developer Says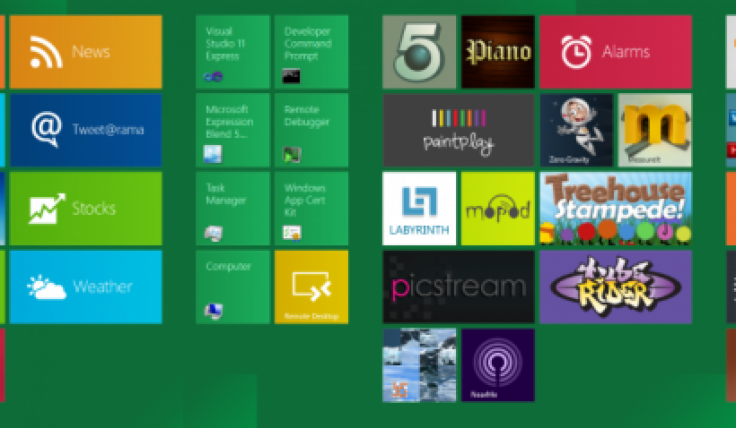 Microsoft's Oct. 26 release date for Windows 8 is quickly approaching, and fans of the long-time PC software creator have seen some new devices that will utilize the OS. At Berlin's IFA 2012, hybrid style laptop-tablet gadgets were unveiled such as the Sony VAIO Duo and the T-Series 13 Ultrabook.
These crossbreed style gadgets may represent exactly what Microsoft needs to make Windows 8 work in the competitive mobile market: something completely new and different, unable to be defined with just one label.
This correlates with exactly what the Windows 8 operating system does, as the new software contains interfaces catered to both tablet and PC devices. But traditional Windows users may need to adapt to Microsoft's new direction if they plan to upgrade to Windows 8. According to Greg Kostello, who has been developing the video sharing app Givit for the Windows 8 platform, Microsoft found a way to make this transition smooth for users.
"Change is hard for a lot of people," Kostello told IBTimes. "The Windows interface has stayed largely consistent. You can go from your traditional Windows environment to Windows 8 and go back and forth; I think that's going to solve the migration path for them. They can easily stay in their Windows world if they wish to."
Kostello is the founder, President and CEO of VMIX, a provider of online video publishing and communication solutions. Previously, he was President of Vivendi-Universal Net Technologies where he integrated MP3.com audio technologies into the commercial music industry, and has worked on a team that developed an engine that has become the foundation for Mozilla-based software.
As a developer, Kostello has had experience creating apps for both iOS and Android platforms, and said that Windows 8 relies heavily on its touch screen experience just like these mobile operating systems.
"It is much more like an iPad experience," he said. "But it is an interesting combination now having played with Windows 8 for [several] months. I find myself using both the keyboard and mouse interface and the touch interface when I have a device that supports both. The mouse gives you a lot of precision that you're fingertip does not."
The VMIX president added that Microsoft succeeded in delivering this dual-functionality with Windows 8, emphasizing the importance of being able to switch between interfaces.
"I think what Microsoft tried to do was to blend the best of both worlds, giving you the ability to use your mouse if you like but to migrate to a touch interface if you like. And I think they've done a fine job of blending those two together."
Although Windows 8 may be a new stepping stone for the company, Microsoft does have a tough act to follow. Windows 7 and Windows XP are the most popular operating systems running on PCs as of August 2012, according to w3school.com, a web development site where users learn how to create and code content for the Internet. In October 2011 Windows 7 overtook XP, claiming 40.5 percent of the global web market share, reports website analytics company StatCounter.
But Microsoft's Windows 8 will add a revamped user interface to the OS that users have grown familiar with in these previous iterations. Formerly branded as "Metro," the new layout will tile applications on the Home screen and will cater to the use of touch screen interaction. This is clearly an attempt by the Redmond, Wash.-based company to claim a more aggressive presence in the mobile industry, where Apple and Google reign supreme with their respective iOS and Android platforms.
However, users aren't the only ones that will have to adjust to Microsoft's shift in perspective. According to Kostello, developing for Windows 8 requires a drastic overhaul in creating an application.
"We actually re-did the UI from the ground up," said Kostello when discussing the development of Givit for Windows 8. "I think one of the challenges for people who are coming into the Windows 8 world is that when you're doing your design [for Windows 8], you probably want to throw away all your preconceptions about how you want to develop for it."
Kostello continued to say that the development team for Givit initially had trouble deciding if they should brand the app as a web-based entity or mobile experience.
"We actually ended up throwing away our first two designs," he said. "Our first design was trying to make it more of a web experience, and that didn't work. On the positive side, it was very fast to develop for. But on the negative side, there was a learning curve in thinking about how to develop for this new interface."
Despite this "learning curve" that developers may experience when creating apps for Windows 8, this could be what Microsoft needs to stay relevant, Kostello believes.
"For me, if you had asked me a year ago [if] I would be developing for Microsoft, I would have thought you were crazy," he said. "I've been developing for the Web or for Apple and Android products for quite some time, but for me this is the most exciting thing that Microsoft has done in a long time. The last time you saw something this exciting was when they came out with Kinect, and I think that Microsoft is trying something new."
While some may find the new software innovative, Windows 8 has come under some harsh criticism in recent months. Major players in the PC gaming industry, such as Valve's Gabe Newell and Activision Blizzard's Rob Pardo, have indicated that they are not fans of the upcoming OS. This is likely due to the new Windows Store, which would require a Microsoft stamp of approval for all purchased apps, creating a semi-walled environment for users similar to Apple's iOS platform.
Still, regardless of these disapproving opinions, Kostello said he believes that Windows 8 can only be a positive addition for Microsoft.
"I think that the criticism I see for Microsoft is, 'Oh, this is so different,' but that's exactly what Microsoft needs," the Givit app developer said. "And quite frankly, I think that the [new] Windows experience is the kind of experience people are going to love or hate. Microsoft was becoming irrelevant to some degree. It's good for me as an independent third party developer to have more players in the game."
© Copyright IBTimes 2022. All rights reserved.
FOLLOW MORE IBT NEWS ON THE BELOW CHANNELS