Windows Phone 8 Release Announced: 4 Features Revealed By Source Close To Microsoft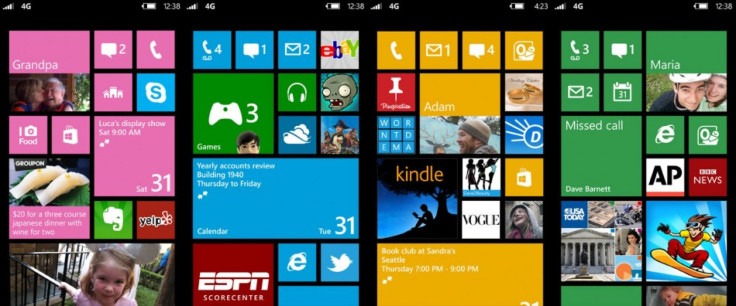 In July Microsoft fans got a glimpse of backup options to come with Windows Phone 8 when the SDK leaked, but until now there was no indication of how they would work. But now, sources close to Microsoft have revealed more information about its plans for Windows Phone 8, reports The Verge.
Backup capability will now be available to users signing in with a Microsoft account. When a Windows Phone 8 device is initially launched, users will be greeted with a splash screen encouraging them to use a Microsoft account. This is typically used to keep data in sync, but the screen on Windows Phone 8 hints that users will be able to keep "photos, contacts, music, documents and more" in sync with their PCs or Xbox consoles.
This information hasn't been confirmed, but seems Microsoft will allow Windows Phone 8 users to share data with an Xbox via SkyDrive, The Verge speculates. Below is a full list of the backup features expected to come with Windows Phone 8:
- Ability to automatically upload photos and video to SkyDrive
- Sync SMS and MMS messages to Hotmail or Outlook.com
- Sync settings including themes, accounts, and Internet Explorer favorites
- Sync app lists and individual app settings
These options were not offered with previous iterations of Microsoft's Windows Phone, and will be a handy feature in competing with the iCloud storage of iOS and Google's Android backup options.
Microsoft is expected to reveal more details at an event in New York City on Wednesday. Curious tech enthusiasts were able to get a sneak peek at what's in store for Windows Phone 8 at the IFA conference in Berlin, where Samsung showcased its ATIV S, a sleek and slim Windows Phone 8-enabled device.
"The beautiful, minimal and simple design, together with the premium, metallic hairline finish, make this device even more special," said a Samsung spokesperson last Wednesday. "Even with its slim profile and outstanding mobility, it's fully compatible with Microsoft Windows and users can enjoy various Windows-based content in an optimized environment."
The specs for Samsung's ATIV S Windows Phone 8 device are as follows, courtesy of Sci-Tech Today:
- 4.8-inch HD Super AMOLED display
- Corning Gorilla Glass
- 1.5 gigahertz dual-core Snapdragon processor from Qualcomm
- 1 GB of RAM
- Wi-Fi capability
- Bluetooth 3
- Near Field Communication
- 8-megapixel auto-focus rear camera
- 1.9 megapixel front-facing camera
- 16GB or 32GB storage options
- Battery with2300 mAh capacity
This Windows Phone 8 gadget could be exactly what Microsoft needs to survive in the mobile market against Apple and Google. This could be the flagship device Microsoft can use to flex its muscles against devices such as Samsung's Galaxy S3 and Apple's upcoming iPhone 5, which is expected to be the biggest smartphone launch yet.
Microsoft seems to be tackling the mobile mentality head-on with Windows Phone 8, adding features and tweaks that make the device better suited for the mobile world. For example, the new Start screen allows for easy and convenient control of the tiles and the ability to view more information in the opening pane.
A new mapping system and strong integration of the Windows 8 operating system are sure to boost the smartphone in the competitive mobile landscape.
© Copyright IBTimes 2023. All rights reserved.