Windows Phone 8 Release For Verizon Officially Announced: Meet The Lumia 822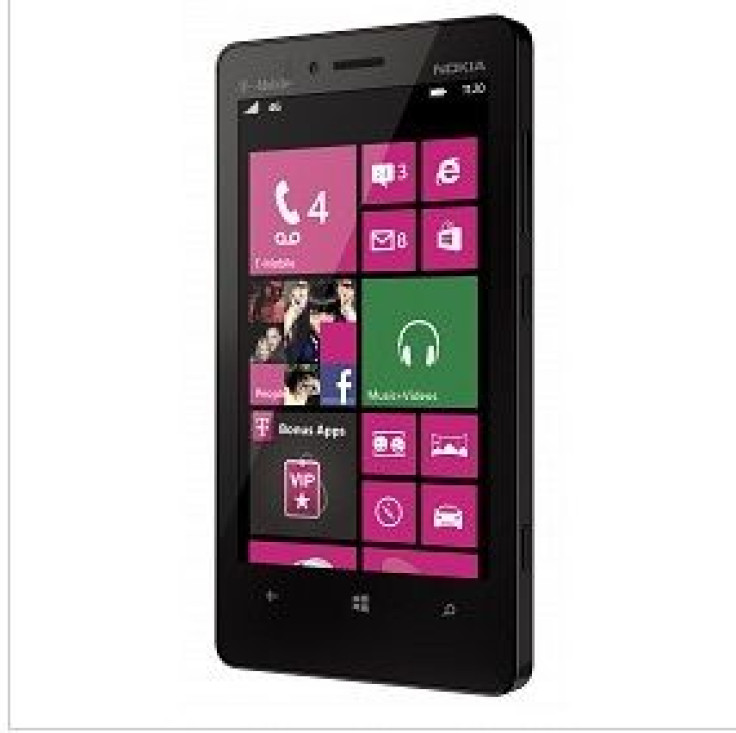 Microsoft just introduced the world to its Windows 8 operating system and its Surface tablet last week, and now more information on its Windows Phone 8 devices has emerged. Verizon and Nokia have just announced that the Lumia 822 will be coming to the carrier, but have not specified any release date or pricing information.
"Bringing the Nokia Lumia 822 to Verizon Wireless allows us to expand our award winning Lumia brand to even more customers here in the United States," President of Nokia Americas Olivier Puech said in a statement.
The Lumia 822 will be available in three colors—black, white and gray—and boasts a 4.3-inch screen with a display resolution of 800 x 480. It's powered by a 1.5GHz dual-core Snapdragon S4 processor.
Nokia's Windows Phone 8 device for Verizon will come equipped with an 8-megapixel camera with Carl Zeiss optics and LTE connectivity. To rival Google Maps and Apple Maps, the Lumia 822 handset will come with Nokia Drive+, a turn-by-turn navigation app featuring offline access and pre-loaded US maps.
Nokia's unveiling also emphasized the City Lens feature, which offers an augmented reality perspective on a user's location with the smartphone display acting as a camera viewfinder. Through this viewfinder, users can learn more about the location around them.
"Along with enhancements to Nokia transit, the Nokia location suite of services represents the most comprehensive, integrated mapping experience of any smartphone," the statement read.
Following the announcement, which was published on Monday morning, Nokia updated the Lumia 822's product page with this information, but still hasn't revealed the price or release date.
However, an allegedly leaked internal Verizon document appeared on the Internet last week indicating that the handset will be available on Nov. 12 for a price of $99. 99. The paperwork appears to be a leaked version of Verizon's Minimum Advertised Price listing, and two Windows Phone 8 handsets were listed with a Nov. 12 launch date.
For some, Nokia and Verizon's Lumia 822 comes as no surprise. It was recently announced that the higher-end Lumia 920 and its mid-range 820, which are expected to be Nokia's flagship Windows Phone 8 devices, will be exclusive to AT&T for at least six months following launch. This prompted speculation that Verizon would release its own variant of these devices, and Monday's announcement confirms that suspicion.
The Lumia 822 is targeted at first-time smartphone buyers, offering a smooth transition for those still using feature phones. Remarks from Puech's official statement hint that the 822 will be priced competitively with Android and iOS devices on the market.
"With the Nokia Lumia 822, first-time smartphone buyers—and those ready to switch—will get high quality performance on both their device and Verizon Wireless' incredibly fast 4G LTE network," the Nokia executive said.
The upcoming Windows Phone 8 device will certainly face heavy competitors on Verizon's network this holiday season. The carrier just began offering Samsung's long-awaited Galaxy Note 2, in addition to a slew of other popular handsets such as Apple's iPhone 5, Samsung's Galaxy S3, Motorola's Droid Razr HD and Droid Razr Maxx HD among others.
Last week Microsoft officially opened the Windows Store, which will act as the Android Google Play and iOS App Store equivalent for all Windows 8-based devices. Although the Redmond, Wash.-based company will have a long way to go to catch up to Apple's App Store, which boasts more than 700,000 apps, Microsoft is making progress. The Windows Store recently passed its 125,000 mark, which is more than competing app stores had at launch.
© Copyright IBTimes 2023. All rights reserved.