Winter Storm Draco Hampers Holiday Travel: What You Need To Know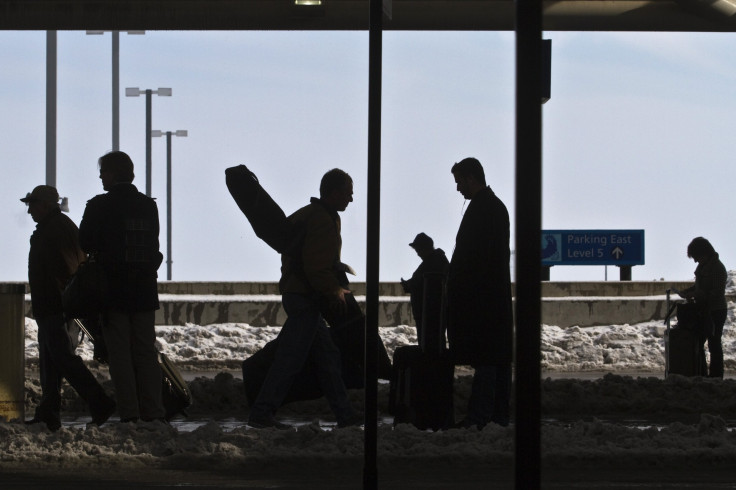 If you're dreaming of a white Christmas you may be in luck, but whether you'll make it home to see it is another story. Winter Storm Draco, as the Weather Channel is calling it, could blanket states from Colorado to Maine with several inches of snow just in time to mess up holiday travel plans for millions of Americans.
Winter Storm Draco developed east of the Rockies Wednesday and put portions of at least six states under blizzard warnings and another 10 under winter weather advisories. Turbulent weather could affect several of the nation's busiest air hubs over the next 72 hours as it crosses the Midwest en route to the Northeast.
Denver was the first city to feel the brunt of the storm Wednesday, with at least 15 flights canceled and inbound flights delayed at their origin by an average of 1 hour and 15 minutes due to snow and ice, according to FlightAware. Chicago O'Hare also reported over a dozen cancelations each for both Wednesday and Thursday.
Chicago's record streak of snowless days, now at 289, will likely end Thursday as the storm moves across Des Moines, Madison, Chicago, Buffalo and Rochester, which could all see delays in the coming days. Gusty winds of up to 60 mph could affect travel through Boston, New York, Philadelphia, Washington, Charlotte and possibly Atlanta (home to world's busiest airport) by the weekend.
"Expect delays at airports in the path of the storms and ripple-effect delays in other parts of the nation," warned Accuweather senior meteorologist Alex Sosnowski. "The storm will have direct impact on Chicago, Detroit and Minneapolis."
Several airlines enacted flexible rebooking policies Wednesday for passengers scheduled to fly into the storm's path.
Frontier Airlines will allow those headed in and out of Denver Wednesday to change their flights fee-free for travel through Jan. 3, 2013.
U.S. Airways relaxed its change-fee policies for those scheduled to travel Wednesday into and out of Denver, Chicago, Des Moines, Omaha and Milwaukee. Passengers can opt for new flights through Dec. 23.
United Airlines will waive fees for any customers scheduled to fly through Thursday to or from eight airports in the Midwest and Great Plains States, including Chicago O'Hare.
American Airlines will waive change fees for customers scheduled to fly Thursday or Friday into and out of 17 airports in the Midwest and Great Plains States. Passengers can change their flights for travel through Christmas Day next Tuesday.
Southwest Airlines will allow passengers traveling through Chicago, Denver, Des Moines, Milwaukee and Omaha to change their flights fee-free. The terms and conditions of the change, however, are different for each city.
AAA projects that 93 million Americans will travel 50 miles or more during the year-end holidays. With 90 percent of those (or about 84.4 million) traveling by car, there will be plenty of delays on the ground, too. Meteorologists warn that travel on major highways including I-35, I-39, I-43, I-70, I-75, I-80, I-90 and I-196 could come to a crawl in the coming days.
As always, anyone traveling by air is encouraged to check the status of their flight before heading to the airport, while those traveling by car should monitor the progress of Winter Storm Draco and check with local authorities to stay up to date on road conditions.
© Copyright IBTimes 2023. All rights reserved.