Winter Storm Nemo Cancels Over 1,000 Flights As Meteorologists Warn Of Historic Snowfall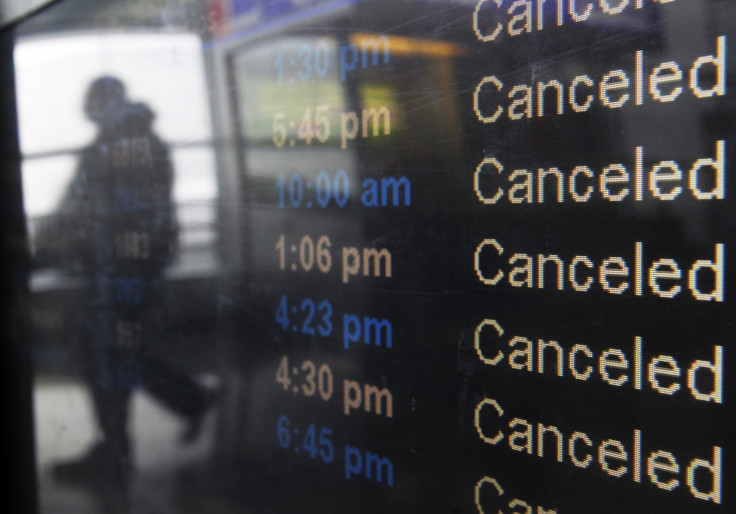 It's been an unusually warm and dry winter for the Northeast so far, but that looks to change Friday as Winter Storm Nemo rolls in with the potential to blanket cities from New York to Boston with what could be historic snowfall totals.
The heaviest precipitation is expected across New England from Connecticut to coastal Maine, while portions of Massachusetts and New Hampshire are bracing for more than two feet of snow.
Weather Channel meteorologist Jonathan Erdman said Winter Storm Nemo could be one of the "top 10 snowstorms" on record for Boston, while Alex Sosnowski, senior meteorologist at Accuweather, warned that snow may fall at a rate of up to four inches per hour at the height of the storm.
Even though the densely populated area from central New Jersey to New York City will not be in Nemo's epicenter, Sosnowski said "enough snow will fall to cause travel problems."
"Low cloud ceilings and increasing winds during Friday may lead to building flight delays and cancellations, even if snow were to stay away from the several major airports in the New York City area."
Sosnowski cautioned that, further north, "blowing and drifting snow, blocked roads and other travel problems are likely to linger into much of the weekend."
With a forecast this dramatic, airlines have wasted little time nixing flights and issuing alerts for affected travelers. Already, more than 950 flights within, into or out of the United States have been canceled for Friday, along with another 250 on Saturday, according to FlightAware.com. Many more cancellations are expected in the coming hours as the storm manifests.
Several airlines began enacting flexible rebooking policies Thursday for passengers scheduled to fly into the storm's path. Carriers typically waive ticket-change fees and cancel flights long before a winter storm arrives to help cut the number of travelers and flight-crew members stranded. Canceling flights well enough in advance also keeps planes out of the way and allows airlines to resume service faster after the storm passes.
Here's a rundown of the actions taken on Winter Storm Nemo by North America's largest carriers:
US Airways issued an alert that waives change-fees for any travelers scheduled to fly into or out of 26 cities from Scranton, Pa., to Montreal this Friday or Saturday. Passengers must rebook for travel before Feb. 12.
American Airlines put out a similar alert for passengers traveling through 14 airports from New York City to Quebec City on Friday or Saturday. Affected travelers can rebook for travel between Feb. 7 and Feb. 12 at no additional cost.
United's travel alert covers passengers headed into or out of 11 airports in New York, New Jersey and throughout New England on Friday or Saturday. Fees for same-day flight changes have been waived within 24 hours of original departure.
Delta Air Lines is offering a one-time change for those with flights into or out of 24 airports across the Northeast and Canada on Friday or Saturday. Tickets must be reissued on or before Feb. 12 for travel beginning no later than Feb. 12.
Southwest's alert covers cities in both the Midwest and Northeast for travel until Saturday, though rescheduling options vary by location.
New York-based JetBlue has waived change and cancel fees and fare differences for travel into and out of 12 airports from New York to Maine on Friday or Saturday. Passengers can rebook for travel through Feb. 12.
Air Canada will allow passengers traveling in and out of Toronto Thursday to change flights penalty-free. The airline's alert covers an additional seven airports as far south as Philadelphia on Friday as well as two airports in New Brunswick through Sunday.
As always, anyone traveling by air is encouraged to check the status of their flight before heading to the airport, while those traveling by car should monitor the progress of Winter Storm Nemo and check with local authorities to stay up to date on road conditions.
© Copyright IBTimes 2023. All rights reserved.