Woman Finds Photo That Traveled 130 Miles From Tornado-Hit Home In Kentucky
KEY POINTS
The woman found the photo stuck to the windshield of her car
She took to social media asking for help in finding the owners of the picture
One man responded and said the photo belong to his family members
A decades-old photograph traveled more than 130 miles from Kentucky to New Albany, Indiana, as powerful tornadoes wreaked havoc in the region Friday night.
Katie Posten spotted the photograph stuck to her car's window Saturday morning and took to social media to trace its rightful owner.
Posten initially thought somebody had left a note or receipt on her windshield before realizing it was a black and white photo of a woman holding a little boy in her lap. It had the words "Gertie Swatzell & J.D. Swatzell 1942" written on the back, The Associated Press reported.
"Seeing the date, I realized that was likely from a home hit by a tornado. How else is it going to be there? It's not a receipt. It's a well-kept photo," said 30-year-old Posten, who works for a tech company.
Posten, who had been keeping an eye on the updates about the tornadoes – which affected Kentucky the most, thought the photo might have traveled all the way to her home after being caught in the destructive winds.
She decided to post the photograph on social media "in hopes of finding its owners."
"A lot of people shared it on Facebook. Someone came across it who is friends with a man with the same last name, and they tagged him," said Posten.
And just as hoped, the photo caught the attention of Cole Swatzell, who said it belonged to his family members living in Dawson Springs, Kentucky, which is about 130 miles (209 kilometers) from New Albany, CNN reported. The distance between the two cities by road is 167 miles (269 kilometers).
John Snow, a meteorology professor at the University of Oklahoma, said it was "unusual but not that unusual" that a photo would travel that far. "It gets swirled up. The storm dissipates and then everything flutters down to the ground."
Posten said she was "remarkable" that she found "no tree limbs, no shingles" or any other kind of debris near her home after the tornadoes.
"It's really remarkable, definitely one of those things, given all that has happened, that makes you consider how valuable things are — memories, family heirlooms, and those kinds of things," Posten said. "It shows you the power of social media for good. It was encouraging that immediately there were tons of replies from people, looking up ancestry records, and saying 'I know someone who knows someone and I'd like to help.'"
Swatzell said he was trying to figure out from which family member's house the photo came from. He also revealed that his family is planning to meet Posten later in the week.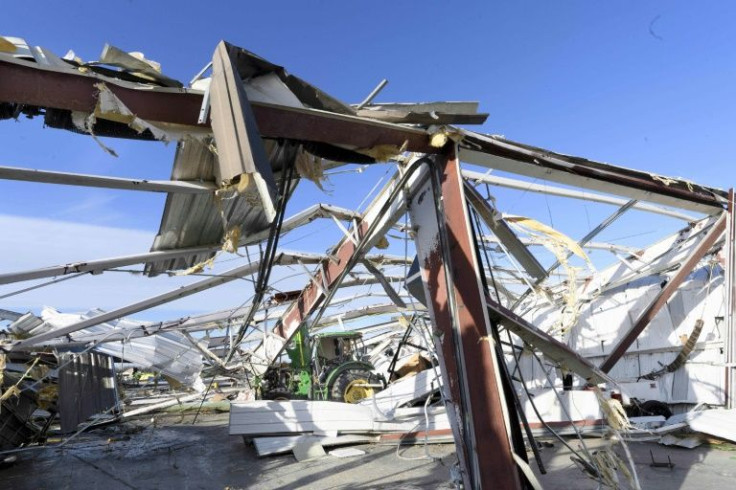 © Copyright IBTimes 2023. All rights reserved.