Woman Tied Paralyzed Husband To Bed And Hid Under Kitchen Table During Hurricane Ian
As Hurricane Ian rained down terror and destruction on Florida, a terrified woman secured her paralyzed husband to the bed using duct tape and zip ties and then hid under a kitchen table, waiting for the storm to pass.
Renee Smith and her husband Christopher live in Punta Gorda, a town that was left in near-total darkness as Hurricane Ian wiped out the power for more than 2.6 million residents in the state.
The woman explained that her husband was diagnosed with prostate cancer, which spread to his spine and left him paralyzed, according to TODAY. They had recently returned home from the hospital and were scheduled to have another visit to the doctor Wednesday for Christopher's radiation treatment. But Hurricane Ian completely derailed their plans as it made landfall Wednesday afternoon.
"It was terrifying," Renee told NBC News' Kerry Sanders on Thursday.
Renee used duct tape, tarpaulin, blankets, pillows and zip ties to secure her paralyzed husband to his hospital bed because she didn't "want him to die" as they waited for the storm to pass, she said.
"I took some blankets and I put some holes in them with scissors and I zip-tied them to the hospital bed and then I took a big tarpaulin that had grommets and I zip-tied that over it, and then I put pillows and plastic bags and I duct-taped them to the top of the sideboard and I put pillows between the sideboard and the window because I didn't want him to get cut up to death if the window blew in, and then I put a life jacket on him so that if the water came in he wouldn't drown, he would float," Renee said in the interview.
The wife then made a "fort with pillows and blankets" and hid under a kitchen table downstairs, listening to the torrential rain and wondering if their roof would come crashing down.
"It got dark in the middle of the day," Renee said. "It was almost like nighttime and when the rain started it was like snow. You couldn't see."
There was also a point when the woman heard the chimney being ripped off the roof. "I was afraid it was going to come in through the roof and crush me even though I was under the table," she said.
The streets of Punta Gorda on Thursday were strewn with fallen trees and downed power lines in the aftermath of Hurricane Ian. At least two buildings partially collapsed, and streets close to the gulf saw some flooding, according to Spectrum Bay News 9.
Renee said Hurricane Ian was worse than Hurricane Charley, which struck Punta Gorda in 2004.
"Charley was less than an hour, the sun came out afterwards, there was no torrential rain" while Ian was "awful and long-lasting," Renee said in the interview.
The emotional wife said she felt like a "coward" for hiding under the table and not being by her husband's side.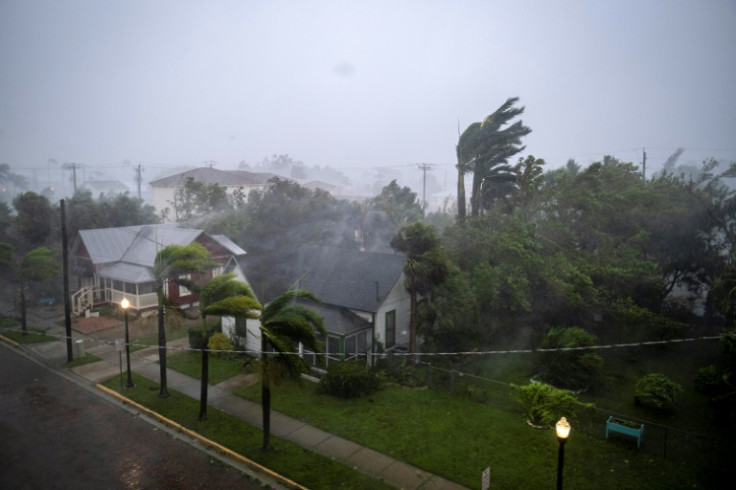 © Copyright IBTimes 2022. All rights reserved.
FOLLOW MORE IBT NEWS ON THE BELOW CHANNELS