Workers at Amazon (AMZN), Apple (AAPL), Best Buy (BBY) Sue Over Tedious Security Checks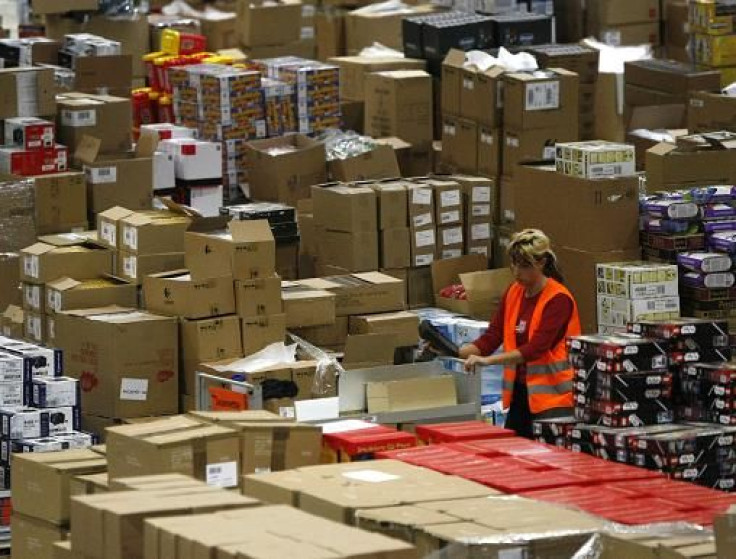 A warehouse employee is suing the online retail giant Amazon.com Inc. (NASDAQ:AMZN) for tens of thousands of dollars to make up for unpaid hours he and other workers spend waiting in security check lines before and after every shift.
The class-action lawsuit claims that unpaid time spent on these checks, which can take up to 30 minutes, violate minimum wage laws, and they're not alone. In the past year there have been similar filings across the country. Other employees from Apple Inc. (NASDAQ:AAPL) and Best Buy Co. Inc. (NYSE:BBY) have made similar complaints. And so far, the employees are winning.
Neal Heimbach has worked at an Amazon logistics facility in Philadelphia since 2010. On Sept. 27 he filed a plea on behalf of all "warehouse workers," asking for more than $50,000 in damages for time spent going through security checks going into and out of shifts and lunch breaks, according to an NBC report.
According to the U.S. Federal Minimum Wage Act, employees must receive time and a half payment for each hour they work above 40 per week.
"Defendants have never paid warehouse workers for time spent proceeding through this required post-shift screening process prior to exiting the Amazon Fulfillment Center," the filing states.
There are more than three dozen Amazon "fulfillment centers" in the U.S., employing more than 20,000 people who get paid roughly $11 per hour. According to Amazon's website, the warehouse workers get paid 30 percent more than typical retail employees. But Amazon has the second-highest turnover rate of all Fortune 500 companies. Most new hires quit after just nine months.
Last year, one Amazon employee reportedly stole 726 iPod touch players and 49 HP laptops from a distribution center in South Carolina. Todd Anthony Cofield, 20, turned himself in to police and faced charges for stealing $160,000 worth of merchandise over about 40 days.
Today, the security checks involve walking through metal detectors and a manual search of bags and personal items whenever employees leave work after a shift or go for a break. Since many workers leave at similar times, lines can mean they wait anywhere from 10 to 20 minutes -- which can take up the majority of an unpaid lunch hour.
"You're just standing there, and everyone just wants to get home. It was not comfortable," Jesse Busk, an Amazon worker from Nevada who filed a similar lawsuit earlier this year, told The Huffington Post. "There could be hundreds of people waiting at the end of the shift."
Busk, like the other workers, was employed by Integrity Staffing Solutions, an agency that provides the workers to Amazon, which was named as the plaintiff in his case.
These cases aren't unique.
"From what we've been able to find, this is across the country," Nevada lawyer Mark Thierman, who represents Busk, said. "It's not just Nevada. It's Pennsylvania, Tennessee, Kentucky, Delaware. They all have the same setup."
Workers in these states are all claiming they were not compensated for the security checks.
"We're bringing as many of these cases as we can because we think we're right on the law," said attorney David Garrison, whose Nashville-based law firm represents plaintiffs on three of these suits. "We think these workers are being underpaid."
Amazon isn't the only target. Other warehouse and retail employees have been waging similar legal battles for a few years now.
According to a report from Law360, on Oct. 10, Taylor Kalin, who worked as a full-time specialist at Apple stores in San Francisco and Spokane, Wash., filed a lawsuit on behalf of himself and other hourly workers claiming that employees were not compensated for time spent waiting to get in and out of their shifts, which could take anywhere from 10 to 15 minutes.
The tech giant has a national policy that requires all employees be subject to personal searches, and that refusing to do so could result in termination.
"This work, done primarily for the employer's benefit, is time which hourly employees should be, but are not compensated for," reads the claim.
In July, Apple workers in New York and Los Angeles filed a similar complaint in federal court about having to undergo the searches. They asked for $1,500 worth of unpaid wages yearly for each employee. Last month, a Chicago law firm reported that assistant managers at Best Buy won their claim for unpaid time during security checks. They received a collective $900,000 settlement.
© Copyright IBTimes 2023. All rights reserved.