World Cup 2014: Brazil Vs. Mexico Live Stream Info, TV Channel And Betting Odds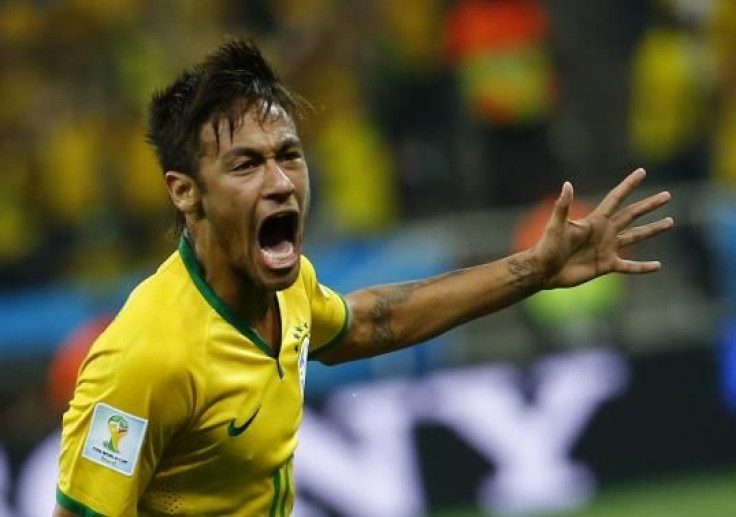 Both Brazil and Mexico got their 2014 World Cup campaigns off to an auspicious start with victories in their opening games. The two soccer-loving nations meet on Tuesday in Fortaleza in a Group A battle for first place.
Brazil enter the match after a controversial victory over Croatia. Late in the match, Croatia was whistled for a penalty as Fred appeared to do an acting job as he went down in the box. Brazil would get a late score from Oscar to win, 3-1.
Meanwhile, Mexico was denied two goals on offside calls in a match against Cameroon. On the replays, it appeared as though at least one goal should have stood. Mexico would go on to win the match through a goal by Oribe Peralta, 1-0.
But the match may be marked by passion. Both countries have a great deal of pride, and are among the most heavily populated in the tournament. Mexico has roughly 118 million people, while Brazil has about 201 million.
Brazil will be without the services of forward Hulk, who is not at 100 percent. In his place is Chelsea attacking midfielder Ramires. The 27-year-old will be on the right side for the host-nation side.
Mexico will be looking to contain the potent Brazilian attack and have a veteran defender to do it. Rafael Marquez, 35, is expected to play a pivotal role in slowing down Neymar and Fred.
However, Mexico could give Brazil headaches with their own stars, such as Giovani dos Santos and Hector Herrera.
"Every time we play against Mexico we have difficulties," head coach Luiz Felipe Scolari said. "That is why it is a game the players know will be very even, they need to have very good conditioning from the beginning until the end.
"The two teams play football of very good quality, with the ball on the ground, lots of moving around."
Meanwhile, Mexico is expected to maintain pressure on the Brazilian goal. Head coach Miguel Herrera does not plan to use a defensive posture in hopes of earning a draw. He also may not employ a counterattack strategy.
"We're thinking big. We know they will have the support of the crowd, that we will be very much the visitors, but we've beaten them once and we know we can do it again," Herrera said.
Brazil (4-3-3): Julio Cesar; Dani Alves, Thiago Silva, David Luiz, Marcelo; Luiz Gustavo, Paulinho, Ramires; Oscar, Neymar; Fred.
Mexico (3-5-2): Guillermo Ochoa; Francisco Rodriguez, Hector Moreno, Rafael Marquez; Paul Aguilar, Hector Herrera, Jose Vazquez, Andres Guardado, Miguel Layun; Giovani dos Santos, Oribe Peralta.
Start Time: Tuesday, 3 p.m. EST
TV Channel: ESPN
Live Online Stream Info: A live online stream is available at Watch ESPN here.
Betting Odds: Brazil by 0.5 goals
Over/Under: 1.5 goals
Prediction: Brazil over Mexico, 3-1
© Copyright IBTimes 2023. All rights reserved.