World Cup Brazil Massacre: Fans In São Paulo React To German Trouncing Of Brazil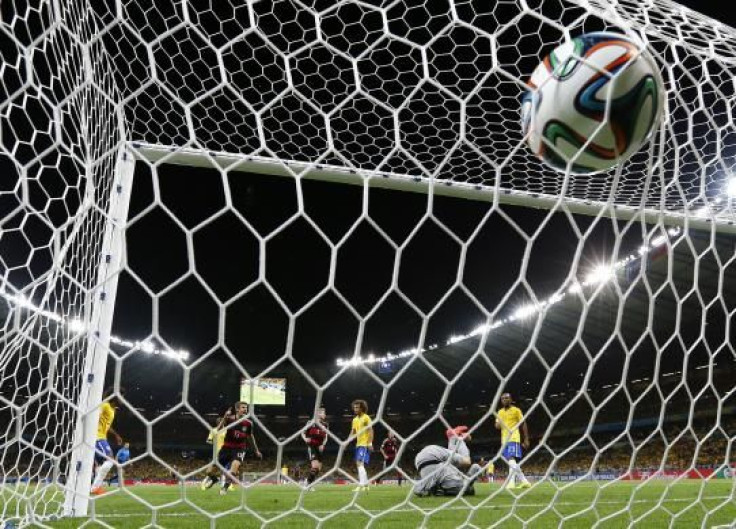 SAO PAULO - By the third German goal, fans outside of the São Paulo FanFest were already breaking things. One fan smashed his green and yellow vuvuzela on the ground, breaking it in two. In the crowded bars around the FanFest Brazilians sat -- some with faces blank with disbelief, others with their heads in their hands. Few if any shed a tear.
Down 0-6 after 70 minutes, Brazil had already equaled its worst defeat in soccer history. In 1920, the team lost to Uruguay by the same score. The country's worst World Cup defeat was a 3-0 loss in the 1998 final to France. And the country has gone 39 years without losing a competitive game at home.
"We had hope that we would win, but now I'm just mad," said Jennifer Teixera, a housewife from Carapicuiba in São Paulo state.
"I thought that we'd have a good shot, even without Neymar," Elsio Frasato said. "Now I feel betrayed. The only way we'll win now is by a sheer miracle." Frasato, a nurse from nearby Santo André, traveled one hour from to watch the game among his fellow fans. Turned away from the overcrowded FanFest, he stood outside a bar, standing on a bench trying to see a TV 35 feet away. Despite wanting to support his team until the end, Frasato feared that violence might break out after the end of the game.
"I might leave now, before the second half because I fear there's going to be a lot of quebra-quebra," or "breaky-breaky" a Portuguese term for vandalism often used for the violence of protesters.
The clouds draped heavy, threatening rain. Police ran with their personal bags, changing shifts. New officers came on duty, preparing for what could be a long night. Inside the FanFest, the packed crowd stayed on, hoping for a miracle.
Even before the game ended, there was a Sad Brazilians tumblr.
© Copyright IBTimes 2023. All rights reserved.