World Series 2017 Photos: Jennifer Lopez, Ken Jeong And More Stars Attend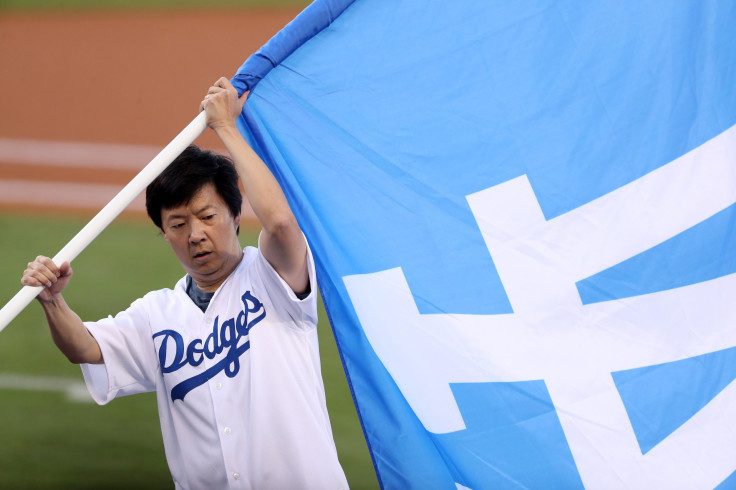 The 2017 World Series, which features the Houston Astros and the Los Angeles Dodgers facing off, started with Game 1 on Oct. 24 at the Dodger Stadium in Los Angeles.
Tuesday night is Game 6 of the World Series and fans have been following right along during the whole event. This includes celebrity fans, many of who have taken to Twitter to cheer for their favorite team and some of who have even attended games in person.
So far, there have been five games – two at Dodger Stadium and three at Minute Maid Park in Houston – and famous faces have been spotted at all of them.
Country superstar Brad Paisley was at Game 2 to sing the National Anthem, something he was "thrilled and honored" to do.
Golf star Tiger Woods also attended Game 2, where he cheered on the Dodgers at his first World Series game in almost 30 years.
"‪I last went to the #WorldSeries with my Dad in 1988, also game 2," Woods captioned an Instagram photo of him at the game.
Fellow Dodgers fans Ken Jeong, Rob Lowe and George Lopez have all been cheering on the Los Angeles team in person, as well.
Jeong posted a photo of the three actors together at Game 1 on Instagram, with no caption, because none was necessary.
Since then, he's only continued to post multiple photos and videos of his time watching parts of the World Series, showing off just how big of a fan he is with one of his photos showing him carrying around a giant Dodgers flag.
Lowe also held the giant Dodgers flag, posting a photo of the occasion to his own Instagram account, with the caption "World Series repping for the boys in blue."
While the other two entertainers kept their Instagram captions short, Lopez wrote a lengthy caption to one of his Instagram World Series gallery posts. In it, he explained just how he feels about the event. So far, he's been to all five of the games and is now back in Los Angeles to continue to cheer for the Dodgers.
"2 games at @dodgers staduim.. We got em right where we want them.. I invited @felipeesparzacomedian to the game cause I've known that fool for maybe 20 years and he's always been right there puro dodgers," Lopez wrote.
When it comes down to it, though, he believes that "whoever wins this #worldseries will have earned it."
There are many stars cheering for the Dodgers, but Kate Upton is has been at the games rooting for the Astros, as well as, more specifically, Astros player Justin Verlander, who she's been engaged to since 2016.
Most of the celebrities are openly shouting out their love for a specific team on social media or with their clothing choices, but not Jennifer Lopez and Alex Rodriguez, who have been attending the World Series games to both watch and, in Rodriguez's case, to work. The duo have been posting photos of their World Series adventures thus far, but they keep their focus on the event in general and not who they are cheering for.
Game 6 of the World Series begins at 8:20 p.m. EDT. and the finale game, Game 7, starts at 8:20 p.m. EDT on Nov. 1, if necessary.
© Copyright IBTimes 2023. All rights reserved.
FOLLOW MORE IBT NEWS ON THE BELOW CHANNELS