The World's Longest Flight Just Got A Lot Shorter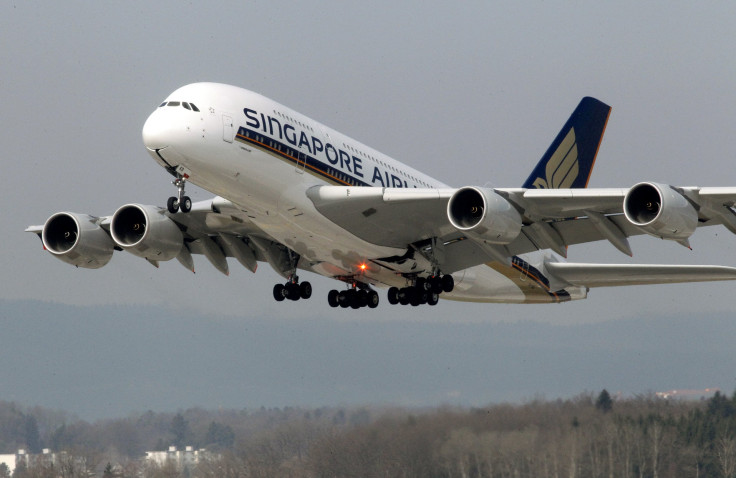 Singapore Airlines Flight SQ21 flew from Newark International to Singapore's Changi Airport on Monday for the last time, marking an end to the carrier's decade-long run offering the world's longest commercial flight.
The average price of a barrel of jet fuel stood at around $48 when the airline first launched its 9,534-mile journey from the U.S. East Coast to Southeast Asia in 2004. The price of that same fuel now costs around $128, suggesting that skyrocketing prices no longer made the route profitable.
The 19-hour trip took passengers over the Artic Circle and was particularly popular with bankers traveling between New York and Singapore. Prices of between $6,000 and $11,000 per seat left everyday leisure travelers no choice but to make a stopover instead, which adds a minimum of three hours to the journey.
Singapore Airlines configured the Airbus A340 jet with just 100 36-inch seats, all in business class. For comparison, other carriers seat as many as 250 in business, first and economy on the same vessel.
Singapore Airlines also cut its route to Los Angeles last month, and said it would sell back its gas-guzzling A340 jets to Airbus in exchange for new A380s, which aren't designed for ultralong flights.
"Although disappointing that we will be halting these services, we remain very committed to the U.S. market," Singapore Airlines CEO Goh Choon Phong said in October 2012, announcing the changes. "Over the past two years we have increased capacity to both Los Angeles and New York by deploying A380 superjumbos on flights via Tokyo and Frankfurt. We will also continue to explore additional options to enhance our U.S. services."
Phong added that a $7.5 billion order for five new A380s and 20 A350s would provide for additional capacity growth and fleet renewal.
Ultralong flights on the world's top carriers offer some of the greatest services in the industry with gourmet meals, fully flat beds and a multitude of entertainment options. The Singapore Airlines flight out of Newark, for example, offered fully flat beds and personal 15-inch video monitors with 243 movies, 358 television shows, 800 digital CDs, 22 radio channels and 80 video games.
Yet, such flights require much more fuel, which gives the aircraft more weight and, in turn, means it has to use more fuel per mile than shorter routes. As fewer people are willing to fork over top dollar and fuel prices hike up fares, many carriers, like Singapore Airlines, have had to cut back services.
Global carriers terminated at least three other flights of 15 hours or longer in the past two years. American Airlines announced in January 2012 that it would end its Chicago-New Delhi route after the carrier filed for bankruptcy, Thai Airways canceled its nonstop route from Bangkok to Los Angeles in May of that year, and Delta Air Lines dropped its underperforming Detroit-Hong Kong route that August.
As of Tuesday, Australian flag-carrier Qantas now holds the title of longest commercial flight for its route between Sydney and Dallas. Thanks to favorable tailwinds, however, the 8,578-mile journey takes just 15 hours and 25 minutes, roughly 3.5 hours less than the Singapore-Newark flight and 1.5 hours shorter than the 17-hour Delta Air Lines route connecting Atlanta with Johannesburg, which technically covers fewer miles.
While recent events may not signal the end of ultralong-haul flights (Emirates Airline, for one, increasingly connects faraway destinations with Dubai), until more fuel-efficient planes are built to travel 8,500 miles and beyond, additional intercontinental flights may face the chopping block in the coming years.
The Longest Flights In The World (As Of November 2013)
No. 1 Sydney to Dallas (8,578 miles)
No. 2 Johannesburg to Atlanta (8,439 miles)
No. 3 Dubai to Los Angeles (8,339 miles)
No. 4 Brisbane to Dallas (8,303 miles)
No. 5 Dubai to Houston (8,168 miles)
No. 6 Dubai to San Francisco (8,103 miles)
No. 7 Hong Kong to New York (8,072 miles)
No. 8 Hong Kong to Newark (8,065 miles)
No. 9 Doha to Houston (8,047 miles)
No. 10 Dubai to Dallas (8,040 miles)
© Copyright IBTimes 2023. All rights reserved.
FOLLOW MORE IBT NEWS ON THE BELOW CHANNELS