The Worst Companies To Work For If You're Gay: The 50+ Fortune 500 Companies That Scored A Zero On The Corporate Equality Index 2014
Despite growing acceptance of the LGBT community in corporate America, more than 50 Fortune 500 companies scored zero out of a potential 100 points on the Corporate Equality Index 2014, when it came to being LGBT-friendly, according to data from the Human Rights Campaign Foundation.
Here's how corporate America's take on LGBT issues has evolved over the past decade: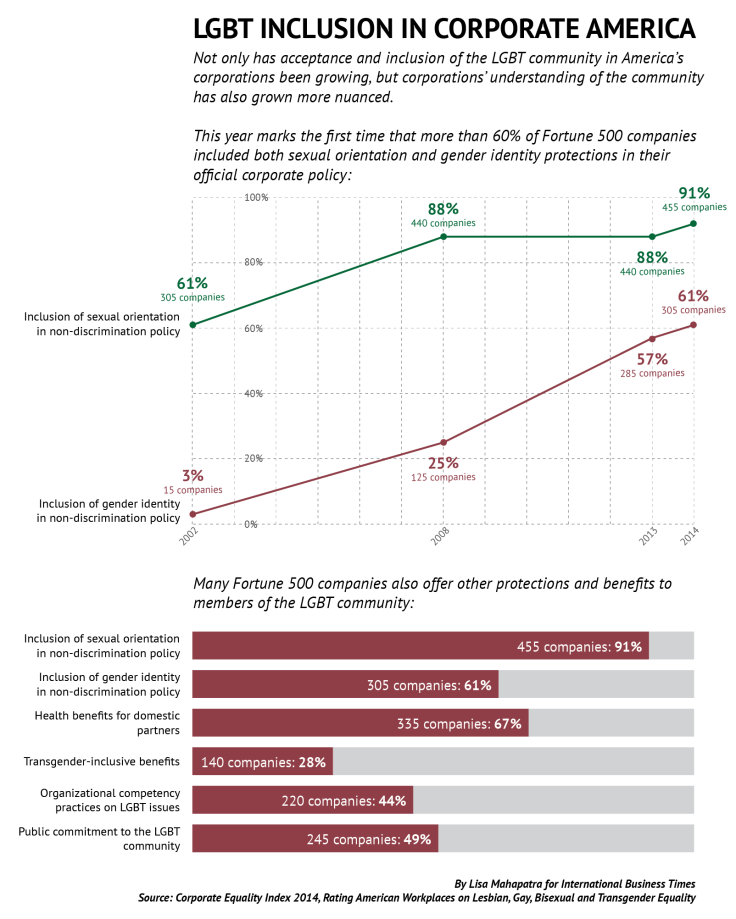 Each company on the Fortune 500 was given a score based on a survey they took last year, said Deena Fidas, a researcher who worked on this project.
For example, a company could gain 10 points by prohibiting discrimination based on sexual discrimination, and another 15 points if they offered same-sex domestic partners health benefits. Companies could also lose 25 points if they had a "large-scale official or anti-LGBT blemish" on their recent records.
Two companies -- Exelis [NYSE:XLS] and MRC Global [NYSE:MRC] -- on the Fortune 500 list refused to answer the survey that was sent out last year, said Fidas. Exelis is a global aerospace, defense and informations company, and MRC Global a global distributor of pipe, valve and fitting products and services to the energy and industrial markets.
"Neither company has filled out the survey despite repeated outreach efforts and invitations," she wrote in an email.
Here are the 52 companies that scored zero on the Corporate Equality Index:
(To see the full criteria on which these scores are based, scroll to the bottom.)
1. Exxon Mobil Corp.
2. Berkshire Hathaway Inc.
3. INTL FCStone Inc.
4. Marathon Petroleum Corp.
5. CHS Inc.
6. Plains All American Pipeline LP
7. Philip Morris International Inc.
8. Publix Super Markets
9. Freeport-McMoRan Copper & Gold Inc.
10. Nucor Corp.
11. United States Steel Corp.
12. United Services Automobile Association
13. FirstEnergy Corp.
14. HollyFrontier Corp.
15. Global Partners
16. DISH Network Corp.
17. Penske Automotive Group
18. Icahn Enterprises LP
19. Liberty Interactive Corp.
20. SYNNEX Corp.
21. KBR Inc.
22. Western Refining Inc.
23. Ross Stores
24. Gilead Sciences Inc.
25. Energy Transfer Partners LP
26. The Great Atlantic & Pacific Tea Co. Inc.
27. Goodrich Corp.
28. Spectrum Group International Inc.
29. Alpha Natural Resources Inc.
30. Targa Resources Corp.
31. Cameron International Corp.
32. NII Holdings
33. Sanmina-SCI
34. Core-Mark Holding Company Inc.
35. Mylan Laboratories Inc.
36. WESCO International Inc.
37. CF Industries Holdings, Inc.
38. O'Reilly Automotive Inc.
39. Seaboard Corp.
40. Auto-Owners Insurance Group
41. Sealed Air Corp
42. Rock-Tenn Company
43. SPX Corp.
44. Centene Corp.
45. Insight Enterprises Inc.
46. W.R. Berkley
47. Casey's General Stores Inc.
48. Western & Southern Financial Group
49. Vanguard Health Systems
50. Susser Holdings
51. MetroPCS
52. Aleris International Inc.
Here's the full criteria on which companies were scored, according to the Corporate Equality Index 2014 report: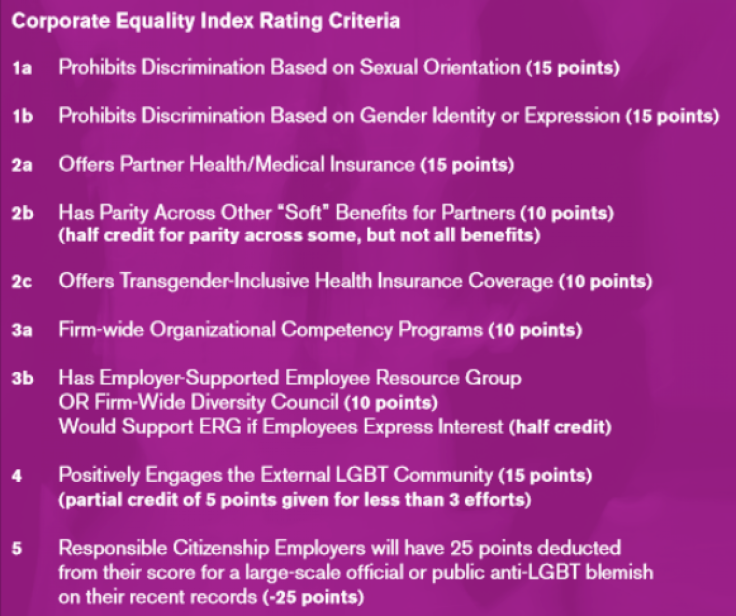 © Copyright IBTimes 2023. All rights reserved.