WWDC 2013 Tickets Sold Out: How To Still Snag A Seat For The Annual Apple Developer Convention
Tickets for Apple's annual Worldwide Developers Conference, which will take place from June 10-14, sold out in just two minutes on Thursday after Apple opened up registration for the WWDC at 10 a.m. PDT.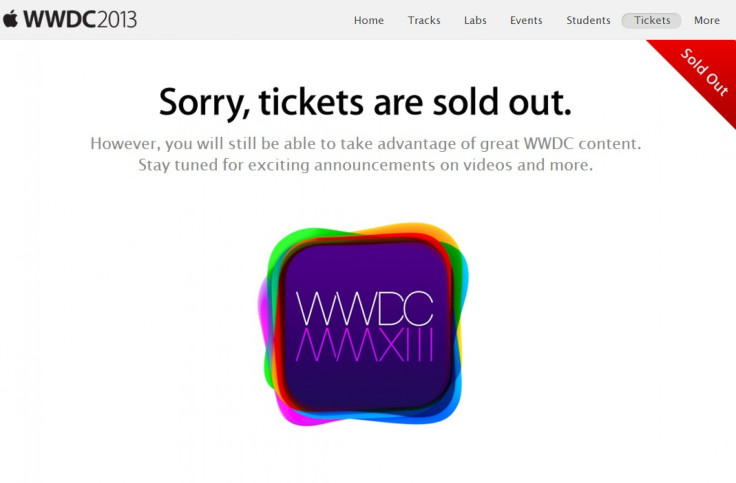 Tickets for WWDC 2013 were previously limited to one per person and five per organization, but to buy a ticket, you needed to already be a member of one of Apple's developer programs, either its iOS Developer Program, iOS Developer Enterprise Program, or Mac Developer Program. Tickets sold for $1,599 each.
The only way to still get a ticket for WWDC 2013 is if you happen to be a programming student older than 13 years of age currently enrolled in one of Apple's developer programs, as the Cupertino, Calif.-based computer company is giving away 150 free tickets via its WWDC 2013 Student Scholarship.
Interested candidates can begin submitting their applications on Monday, April 29, at 9 a.m. PDT. The application process involves creating "an app that showcases your creativity and skills," and uploading the .app file and Xcode project for Apple to review. Apple will close its application process on Thursday, May 2, at 5 p.m. PDT.
"We look forward to gathering at WWDC 2013 with the incredible community of iOS and OS X developers," Phil Schiller, Apple's senior vice president of marketing said, in a statement on Wednesday. "Our developers have had the most prolific and profitable year ever, and we're excited to show them the latest advances in software technologies and developer tools to help them create innovative new apps. We can't wait to get new versions of iOS and OS X into their hands at WWDC."
Apple will be hosting hundreds of activities at WWDC, including more than 100 technical sessions on a wide range of topics to help Apple developers learn about integrating and deploying the latest iOS and OS X technologies in their current software, and Apple will also have more than 1,000 of its own engineers from Cupertino in attendance to provide hands-on insight and code-level assistance into iOS and OS X techniques.
But as usual, WWDC 2013 will be all about Apple's major software announcements, and the company is expected to introduce the ninth edition of its Mac OS X software line, likely named "Lynx," along with iOS 7, which will include new features for iPhone, iPad and iPod touch users.
We might also see some new hardware from Apple as well; at last year's WWDC, Apple released new MacBook Pro and MacBook Air laptops with upgraded processors, and also introduced the first MacBook Pro with Retina display. Considering how Apple fans were upset at how the Mac Pro was completely neglected at WWDC 2012 – as well as the new EU standards that disallow sales of the current Mac Pro in Europe and CEO Tim Cook's separate response to a concerned Pro fan -- Apple will most likely introduce a new Mac Pro tower desktop for the first time in three years, likely with a complete redesign, at WWDC 2013.
Besides the Mac Pro, it's likely Apple will release upgraded versions of its MacBook Pro and MacBook Air at WWDC 2013, and possibly remove the non-Retina MacBook Pro model from its inventory, citing low sales of the computer. KGI Securities analyst Ming-Chi Kuo predicted in January that Apple would "do away with the non-Retina MacBook Pro line in 2013, moving to an all-Retina lineup at cheaper price points than the current Retina models," and even make a few tweaks to the design of the Retina MacBook Pros.
Kuo, who had correctly predicted Apple's entire product pipeline in 2012, also said Apple will release a new MacBook Air at WWDC 2013, but there will be no Retina display as it is still too difficult to match such a high-density screen to a computer as thin as the MacBook Air. He did say, however, that the 2013 MacBook Air will most notably be powered by Intel's new Haswell chips, and its form factor could see another reduction in relative thickness.
The MacBook Pro and MacBook Air will likely see some improvements at WWDC 2013, but there's a possibility that both laptops will be ignored at the convention, considering how Apple gave those computers significant specs bumps and price drops earlier this year.
What are you most excited to see at WWDC 2013? Are you looking forward to the new mobile and desktop operating systems, or possibly some new computers from Apple? Let us know in the comments section below.
FOLLOW MORE IBT NEWS ON THE BELOW CHANNELS