Apple MacBook Pro, MacBook Air, And Mac Pro To Release With Upgrades At WWDC 2013?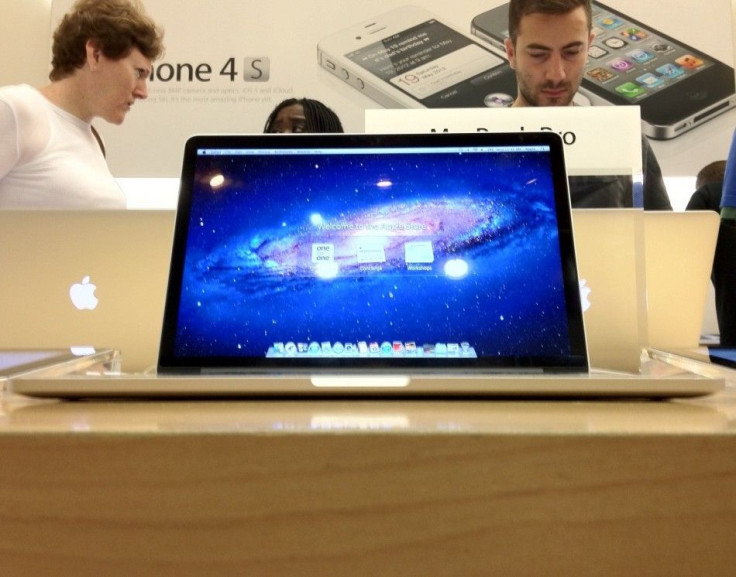 For the past couple of years, Apple has chosen its Worldwide Developers Conference in June to introduce new lineups of notebook computers, and Apple seems set to follow suit this year by debuting upgraded versions to its MacBook Pro, MacBook Air, and even its Mac Pro desktop at WWDC 2013.
Citing sources from within Apple's foreign supply chains, China-based DigiTimes reported Monday that Apple will release "its new MacBook products at the end of the second quarter," but the Mac computers will see only "single-digit" shipment growth in 2013.
"Apple was confident about its 13-inch MacBook Pro performance for 2013, but the device's actual sales turned out to be weaker than expected, leaving the company still digesting its inventories in the first quarter," DigiTimes said. "The sources pointed out that Apple's MacBook Pros have strong attraction to consumers, but the devices' high prices are instead pushing consumers away."
Highly reliable KGI Securities analyst Ming-Chi Kuo predicted in January that Apple would "do away with the non-Retina MacBook Pro line in 2013, moving to an all-Retina lineup at cheaper price points than the current Retina models," and even make a few tweaks to the design of the Retina MacBook Pros. This move would make sense: By removing the non-Retina models and lowering the price of the higher-end laptops, Apple can focus on selling fewer computers, which ought to help boost sales for the Retina MacBook Pro.
Kuo, who had correctly predicted Apple's entire product pipeline in 2012, also said Apple will release a new MacBook Air at WWDC 2013, but there will be no Retina display as it is still too difficult to match such a high-density screen to a computer as thin as the MacBook Air. He did say, however, that the 2013 MacBook Air will most notably be powered by Intel's next-gen Haswell chips, and its form factor could see another reduction in relative thickness.
The MacBook Pro and MacBook Air are two fan favorites, but both computers already received attention earlier this year when Apple gave them significant specs bumps and price drops.
Apple will also likely release an upgraded version of its Mac Pro desktop at WWDC 2013, which is the only traditional "tower" computer Apple still builds. Besides minor upgrades to chipsets, the computer hasn't seen a redesign in three years, and after it was neglected at last year's WWDC, Apple CEO Tim Cook reassured fans that the company had not forgotten the Mac Pro, nor its fan base.
"Our pro customers are really important to us," Cook said. "Don't worry, as we're working on something really great for later next year."
Well, it is now "next year," which means we're fully expecting a new Mac Pro to release within a few months -- just in time for WWDC. In fact, we're surprised the computer's release date hasn't arrived sooner, considering how Apple told its European distributors in January that it would halt sales of the computer by March 1 to comply with a new regulatory guideline that went into effect that day.
Apple no longer lists the Mac Pro as available for purchase through any of its European online stores; in order to continue selling the Mac Pro in those countries, Apple would need to unveil a new Mac Pro that meets the new EU safety and electrical standards -- specifically, IEC 609501 Amendment 1 requires Apple fix the amount of power guided through its I/O ports, as well as the placement of its fan guards. Given these required changes, Apple might as well redesign the entire computer -- which is probably happening -- to continue selling the Mac Pro in Europe.
Apple allegedly has an event coming sooner than WWDC in April, but that announcement is said to center on the company's newest full-size iPad -- the fifth-generation iPad with Retina display.
Of the MacBook Pro, MacBook Air and Mac Pro, which are you most excited to see release in June? Let us know in the comments section below.
© Copyright IBTimes 2023. All rights reserved.