'The X-Files' Season 11, Episode 4: Mulder, Scully Explore The Mandela Effect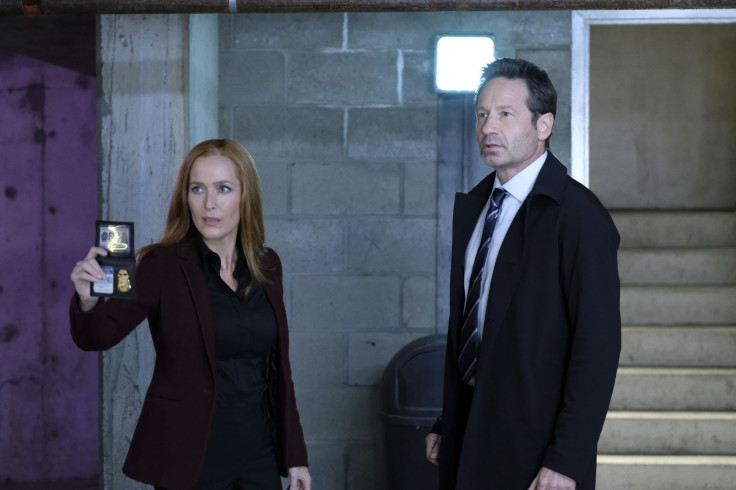 Mulder and Scully try to understand the concept of the Mandela Effect in next week's episode of "The X-Files."
According to the synopsis for Season 11, episode 4 of the Fox series, Mulder (David Duchovny) and Scully (Gillian Anderson) explore the idea of the Mandela Effect, in which large groups of people remember an alternate history. As the partners learn what the phenomenon really is, they discover how the X-Files themselves may have originated.
The trailer for the episode doesn't reveal much plot details about the hour, but it does state that it's the "best 'X-Files' episode of the new season." The 30-second clip also gives fans their first look at the episode's guest stars, which include Brian Huskey as Reggie Something, Stuart Margolin as Dr. They, Dan Zukovic as Martin, and Bill Dow as Pangborn.
The episode, titled "The Lost Art of Forehead Sweat," was written and directed by Emmy-winning scribe Darin Morgan. While Morgan is known for writing some of the quirkiest episodes of the sci-fi series, he said that the upcoming episode has a purpose. "There was a purpose there that gave it a purpose," Morgan teased to TV Insider earlier this month.
Series creator Chris Carter also told TVLine last November that Morgan's episode is "original, smart, funny … everything you expect." Carter added that it "has a big link to previous 'X-Files' episodes."
While Morgan makes fun of Mulder in his episodes, Duchovny actually likes the installments Morgan wrote. "What I personally love in [Morgan's episodes] is that he hates Mulder," Duchovny told TVLine last December. "He's always trying to make Mulder an imbecile and the butt of every joke."
Although the 57-year-old actor enjoys playing the quasi-victim in Morgan's episodes, Duchovny admitted that portraying one is a challenge. "It's very difficult to figure out how to play Mulder in those episodes because he's such a fool, and I feel pressure to find that place where I can service how funny it is and still keep Mulder Mulder," the "Californication" alum explained. "It's a bit of a pressure cooker for me because I love Darin and I want his episodes to have integrity. I don't want it to just be this goofy thing like, 'Oh, we're not 'The X-Files' this week. We're winking. It's not really Mulder.' I want it to be more than that."
"The X-Files" Season 11, episode 4 airs on Wednesday, Jan. 24 at 8 p.m. EST on Fox.
© Copyright IBTimes 2023. All rights reserved.