Xi Jinping's Unexpected Absence At BRICS Business Forum Raises Eyebrows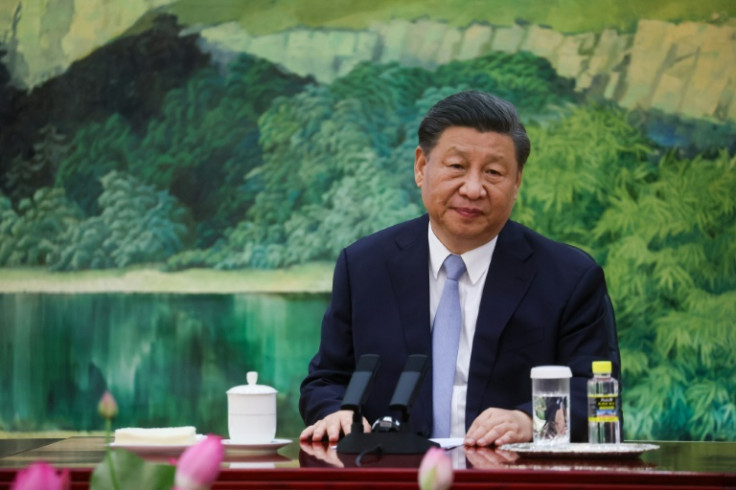 Chinese leader Xi Jinping failed to attend a business forum of the BRICS economic group in South Africa on Tuesday. During the forum, he was expected to deliver a speech addressing the Chinese economy and concerns over the economic challenges the country has been facing. Xi, instead, sent Commerce Minister Wang Wentao who gave a speech covertly denouncing U.S. hegemony without explaining why the Chinese premier missed the event.
"Some country, obsessed with maintaining its hegemony, has gone out of its way to cripple the emerging markets, and developing countries," the minister said, as per CNN. "Whoever is developing fast, becomes its target of containment. Whoever is catching up, becomes its target of obstruction. But this is futile."
He was the only BRICS leader to miss the business forum. Even Russian President Vladimir Putin, who could not join the forum physically due to an international arrest warrant, delivered his remarks virtually.
While he missed the speech, Xi attended a dinner in the evening hosted by South African President Cyril Ramaphosa in the presence of leaders of Brazil and India and the foreign minister of Russia.
At the same time, a report by China's official state news agency Xinhua emphasized that Xi attended the BRICS meeting and delivered the speech. "Xi Jinping stressed that the collective rise of emerging market countries and developing countries, represented by BRICS countries, is fundamentally changing the world map," the report said.
The unexpected absence of Xi, who arrived in Johannesburg on Monday, was noticed by many experts who raised concerns over China's foreign policy.
"It's extremely unusual for a Chinese leader to show up in a country hosting a multilateral meeting — especially one that China is deeply invested in, like BRICS — and fail to show up at the opening event," Bonnie Glaser, managing director of the German Marshall Fund's Indo-Pacific program, said, according to CNN.
The China Global South Project, a weekly podcast, pointed out that this was the second surprise absence by a Chinese official after former foreign minister Qin Gang missed last month's BRICS meeting of foreign ministers. "To say [Xi's absence] is extraordinary is an understatement as Chinese leaders never miss highly choreographed events like this," it said.
Qin was unexpectedly removed as China's foreign minister last month after he wasn't seen in public for weeks. No reason was given by Beijing for this sudden move, either.
BRICS countries, which include Brazil, Russia, India, China and South Africa, represent about 40% of the world's population. Apart from China's Xi and South Africa's Ramaphosa, the summit was also attended by leaders of other member nations such as Indian Prime Minister Narendra Modi, Brazil President Luiz Inácio Lula da Silva and Russian Foreign Minister Sergey Lavrov, along with representatives from several other countries.
© Copyright IBTimes 2023. All rights reserved.