Yankees Trade Rumors: Anibal Sanchez, Shane Victorino, Logan Morrison on New York's Radar?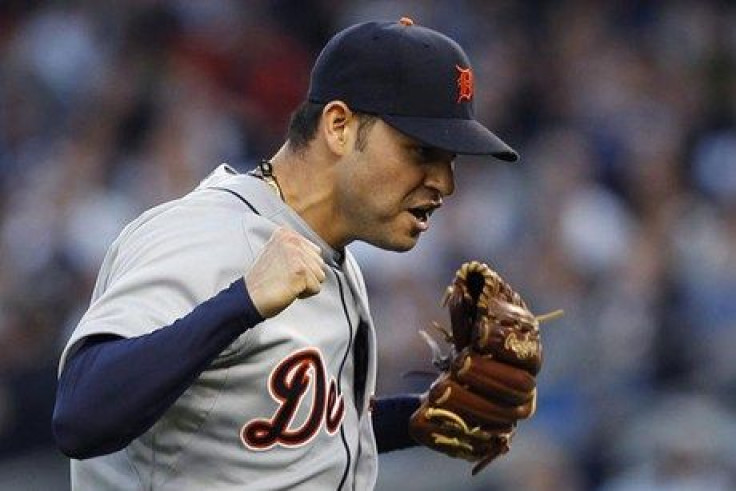 The New York Yankees have been quiet in the weeks following the World Series. They have made qualifying offers to their own free agents, but have yet to make any big offers to players from other teams.
That may soon change, as players are beginning to land at different destinations for the 2013 MLB season. The Miami Marlins recently sent a package surrounding Jose Reyes, Josh Johnson and Mark Buehrle to the Toronto Blue Jays. Torii Hunter was the first major free agent to sign with a team. The Detroit Tigers gave $26 million to the outfielder who was also a Yankees target.
With Hunter off the market, New York will have to start getting serious about signing an outfielder. Nick Swisher and Ichiro Suzuki started at the corner outfield positions for the Yankees at the end of last season, and both are free to sign with whatever team they choose.
After another poor playoff performance, Swisher has likely played his last game in the Big Apple. Suzuki has expressed interest in playing for the Yankees, but that wouldn't solve New York's open outfield spot. At 39 years old, he might split time with Brett Gardner in left field.
Josh Hamilton is the biggest outfielder available, but New York isn't willing to pay what he is asking for. The Yankees will go for a cheaper option, preferably one that has postseason experience. Shane Victorino fits that bill.
There was talk that the Yankees would acquire Victorino at the trade deadline, but the Philadelphia Phillies sent him to the Los Angeles Dodgers. As a free agent, he is a perfect fit for an organization that isn't looking to add much payroll. Victorino won't be looking to be one of the top paid players at his position.
Victorino's game fits what the Yankees are looking for. He would help balance out a lineup full of home run hitters. In the playoffs, those home run hitters went into a slump, and New York couldn't score. An experienced postseason performer, Victorino wouldn't have a problem adjusting to the pressure-cooker that is New York City.
If the Yankees want a younger option, they could trade for an outfielder. The Marlins fire-sale may not be over, and there are reports that Logan Morrison is available. Morrison made less than $500,000 last season, and would go far in helping the Yankees reach their goal of a payroll under $189 million by 2014.
Morrison took a step back last year, hitting just 11 home runs and hitting .230 in 93 games. He showed promise the previous season, hitting 23 home runs in his first full season.
Miami could also help New York fill a hole in the starting rotation. Joe Capozzi of the Palm Beach Post reports that starting pitcher Ricky Nolasco is also on the trading block. The Yankees wouldn't have to part with much to acquire Nolasco. He's been a below-average pitcher for much of his six-year career, with a 4.49 lifetime ERA.
More likely, the Yankees will look to add a front-of-the-rotation starter to their club. Ideally, New York would like to bring back Hiroki Kuroda and Andy Pettitte, but there's no guarantee that either will wear pinstripes in 2013. Pettitte hasn't decided whether or not he will retire, and Kuroda is being pursued by several clubs and has considered a return to Japan.
If New York is forced to look elsewhere for a solid starting pitcher, Anibal Sanchez might be their guy. The Yankees saw, firsthand, how good Sanchez can be in the ALCS. He's been very consistent over the past few years, never pitching to an ERA higher than 3.87 since 2009.
Sanchez's asking price may be too high for the Tigers to re-sign him. The Yankees aren't looking to add payroll, and a $90 million contract might be too high. However, if Pettitte and Kuroda decide not to return, that could free up enough money to sign the 29-year-old.
© Copyright IBTimes 2023. All rights reserved.