Yankees Trade Rumors: New York Interested In Vernon Wells? Angels Outfielder On His Way To Bronx?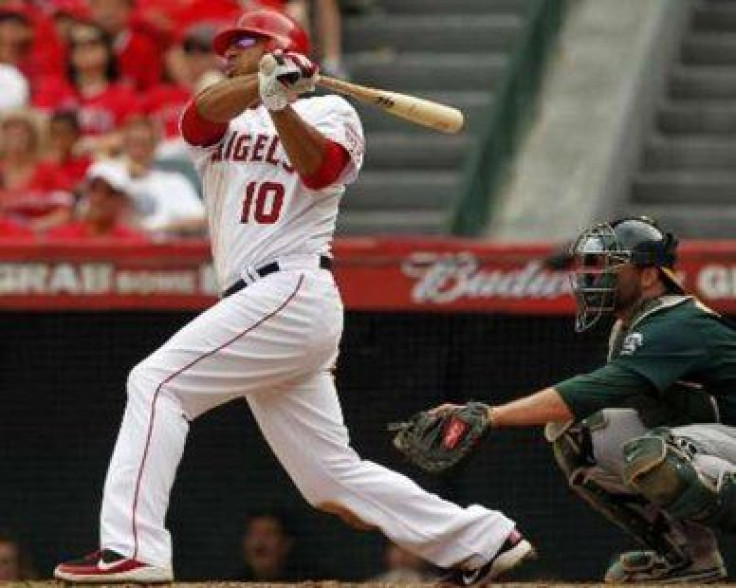 With three quarters of its star infield and a power-hitting outfielder injured, the New York Yankees are need of serious help.
That help may come in the form of Los Angeles Angels outfielder Vernon Wells, according to Yahoo! Sports.
Yahoo!'s Jeff Passan tweeted Sunday: "Sources, Yankees in talks with Angels for outfielder Vernon Wells. Lots of money would go back to New York. Deal could be done today."
The money Passan referred to is the two years and $42 million left on the contract the 34-year-old righty originally signed with the Toronto Blue Jays. Back in 2007, Wells inked a seven-year $126 million deal with Toronto.
Wells could plug the hole left by outfielder Curtis Granderson, who broke his right forearm during spring training back in February, and probably won't be available until May.
It was revealed by Yankee general manager Brian Cashman that star shortstop Derek Jeter will start the season on the disabled list, as reported by the New York Post Sunday. Third baseman Alex Rodriguez is still recovering from hip surgery, and first baseman Mark Teixeira is also nursing a wrist injury.
The earliest Jeter could be available is April 6, while Rodriguez and Teixeira's returns are still up in the air.
That leaves Robinson Cano to do much of the heavy lifting in the lineup. In 2012, the Yankees were second in runs and first in slugging, but repeating that performance may prove difficult.
Wells is far removed from the MVP candidate and Gold Glove outfielder that signed the huge extension with Toronto. Last season, he appeared in 77 games with the Angels, hitting 11 home runs with 29 RBI and a .230 average.
Wells had his last productive season in 2010, when he earned his third career All-Star selection with 31 home runs, 44 doubles, and 88 RBI.
The Angels already have the huge deals of Albert Pujols and newly signed Josh Hamilton on their books, and moving Wells could certainly help to pay those players instead.
© Copyright IBTimes 2023. All rights reserved.