Yellow Corp. Headed For Closure, Bankruptcy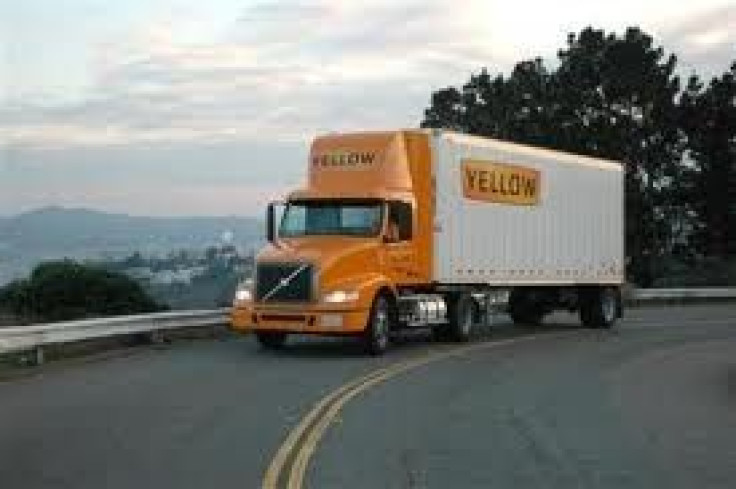 KEY POINTS
One of the largest truckers in the U.S. is reportedly closing after years of financial troubles
A union, the International Brotherhood of Teamsters, says Yellow is ceasing operations
Competing less-than-truckload carriers stand to gain from Yellow's loss
Yellow Corp., one of the largest trucking companies in the U.S., is reportedly closing and ceasing operations.
On Monday, the International Brotherhood of Teamsters said in a release that it was served legal notice that the Nashville, Tennessee, less-than-truckload carrier is "ceasing operations and filing for bankruptcy."
"Today's news is unfortunate but not surprising," Teamsters General President Sean O'Brien said in a release. "Yellow has historically proven that it could not manage itself despite billions of dollars in worker concessions and hundreds of millions in bailout funding from the federal government."
Representatives of Yellow (NASDAQ: YELL) did not immediately respond to a request for comment from International Business Times. As of 1 p.m. Eastern Daylight Time on Monday, Yellow had not yet filed any formal declarations of bankruptcy with the Securities and Exchange Commission.
The stock continues to be traded on the Nasdaq exchange. As of 1 p.m. Eastern Daylight Time on Monday, shares of Yellow Corp. traded at about $1.25 per share, an increase from the day's opening price of about 70 cents per share.
Representatives of Nasdaq Inc. (NASDQ: NDAQ) declined to comment on the situation.
In a Monday industry research note provided to IBT, Stephens Inc. Analyst Jack Atkins and Associate Grant Smith wrote the company "permanently ceased operations" on Sunday.
"Over the last six days, it has been clear the company has been in the process of clearing its network of almost all remaining freight and winding down its operations," Atkins and Smith said in the note. "In the end, there was no bailout for Yellow this time."
The Stephens note said Yellow began firing "virtually all" of its about 8,000 non-union employees at the end of last week, which made it clear a closure and bankruptcy was imminent.
"How and why we got here will be hotly contested for some time, but 15 years of challenging financial results finally caught up to (Yellow)," the note said.
On May 3, in its earnings statement reflecting the results of the first quarter of 2023, Yellow reported a net loss of $54.6 million for the first three months of the year. On March 16, in its statement reflecting its performance in 2022, it reported a net profit of $21.8 million for 2022. However, that followed up net losses of $109.1 million in 2021 and $53.5 million in 2020.
In the first quarter of 2023 earnings release, CEO Darren Hawkins said the company was working on a turnaround project aimed at reorganizing the business. Yellow, known as YRC Worldwide Inc. from 2006 to 2021, was no stranger to turnaround efforts in its turbulent recent past.
In 2003, under the leadership of then CEO William Zollars, Yellow acquired Roadway Corp. for $1.05 billion to form Yellow Roadway Corp. or YRC. In 2005, the company purchased USF Corp. for $1.5 billion and purchased assets in China. In 2006, it renamed itself YRC Worldwide Inc.
In 2008, the company began to show signs of financial distress caused by the debts incurred in its major purchases earlier in the decade. In 2011, the company restructured its debt to stay in business, which resulted in its employees forgoing raises and taking pay cuts.
In 2020, the company received a $700 million loan from the federal government under a federal coronavirus pandemic relief program which would place the company under partial ownership by U.S. taxpayers. Yellow returned to operating under its original name in 2021.
Stephens said Yellow's closure should boost competing LTL carriers such as Old Dominion Freight Line Inc. (NASDAQ: ODFL), SAIA Inc. (NASDAQ: SAIA), XPO Inc. (NASDAQ: XPO), TFI International Inc. (NASDAQ: TFII), and Forward Air Corp. (NASDAQ: FWRD). The note said questions remain of who exactly will start handling Yellow's freight and what will become of its assets such as real estate and machinery.
"The key to maximizing the potential revenue and profit upside from this event is to maintain high service levels for existing customers and the new freight that is being on-boarded," the note said. "Too much freight too quickly can erode service and create incremental expenses for a carrier to get its network back in balance.
"Our sense is that a number of carriers are being cautious taking on new freight until they know they have the assets and capacity in place to handle it."
© Copyright IBTimes 2023. All rights reserved.