Yellow, Teamsters Trade Blame For Bankruptcy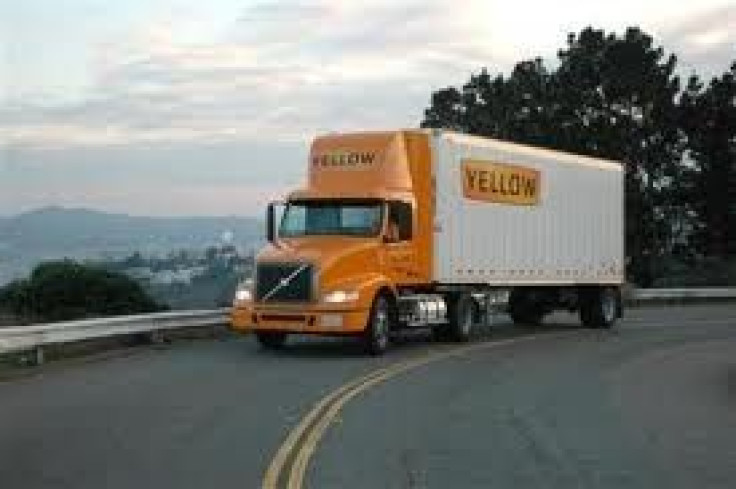 KEY POINTS
Yellow Corp. filed for Chapter 11 protection on Sunday night
Yellow listed $2.588 billion in debts in bankruptcy court filings
More than 30% of the company's shares are owned by the U.S. Department of the Treasury
Yellow Corp. is officially closing, declaring bankruptcy and expecting its stock to soon be delisted from the Nasdaq composite.
On Monday, the Nashville, Tennessee, less-than-truckload carrier said its seeking Chapter 11 protection in a Securities and Exchange Commission filing. In a Sunday evening press release, the company repeatedly blamed the International Brotherhood of Teamsters for its demise.
"All workers and employers should take note of our experience with the International Brotherhood of Teamsters and worry," Yellow CEO Darren Hawkins said in the release. "We faced nine months of union intransigence, bullying and deliberately destructive tactics.
"A company has the right to manage its own operations, but as we have experienced, IBT leadership was able to halt our business plan, literally driving our company out of business, despite every effort to work with them."
On Monday, the Teamsters, in their own release, said, "Yellow abandoned its entire workforce one more time late Sunday as they embarrassingly filed for Chapter 11 bankruptcy."
"Yellow may try to use the courts to eradicate its financial responsibilities, but they can't escape the truth. Teamster families sacrificed billions of dollars in wages, benefits, and retirement security to rescue Yellow. The company blew through a $700 million government bailout," Teamsters General President Sean O'Brien said in the release. "Yellow's dysfunctional, greedy C-suite failed to take responsibility for squandering all that cash."
On Monday morning, Yellow's (NASDAQ: YELL), stock began to tumble after a brief bull run.
In July, the troubled company's stock traded below or about $1 a share. On July 31, after news emerged Yellow was headed for bankruptcy, it began a rapid ascent to a peak of $4.35 a share on Aug. 3.
In a Monday Securities and Exchange Commission filing announcing its voluntary petition for Chapter 11 bankruptcy in the U.S. Bankruptcy Court for the District of Delaware, Yellow said it expects to receive a notice from the Nasdaq exchange that it "no longer meets the eligibility requirements necessary for listing."
As of about noon Eastern Daylight Time, the stock was trading at about $2.67 a share.
"The company parties caution that trading in their securities... during the pendency of the Chapter 11 cases is highly speculative and poses substantial risks," Yellow said in a Monday SEC filing. "In particular, (Yellow) expects that its equity holders could experience a significant or complete loss on their investment, depending on the outcome of the Chapter 11 cases."
A Chapter 11 bankruptcy is designed to rehabilitate a business as a going concern through a court-approved reorganization plan. This type of bankruptcy protects a company from lawsuits from its creditors while it reorganizes its finances. The reorganization plan must be accepted by a majority of the indebted company's creditors. Unless the bankruptcy court rules otherwise, Yellow will remain in control of its business and assets.
For years, Yellow, formerly known as YRC Worldwide Inc., faced financial struggles related to debt it took on to make major transactions about two decades before its bankruptcy.
In 2003, under the leadership of then CEO William Zollars, Yellow acquired Roadway Corp. for $1.05 billion to form Yellow Roadway Corp. or YRC. In 2005, the company purchased USF Corp. for $1.5 billion and purchased assets in China. In 2006, it renamed itself YRC Worldwide Inc.
In 2008, the company began to show signs of financial distress caused by the debts incurred in its major purchases earlier in the decade. In 2011, the company restructured its debt to stay in business, which resulted in its employees forgoing raises and taking pay cuts.
In 2020, the company received a $700 million loan from the federal government under a federal coronavirus pandemic relief program placed the company under partial ownership by U.S. taxpayers. Yellow returned to operating under its original name in 2021.
In Sunday filings with the bankruptcy court, Yellow said it has $2.588 billion in debts compared to $2.152 billion in assets. It listed MFN Partners Management LP as holding 42.5% of its equity interest and the U.S. Department of the Treasury holding 30.6%
In a Sunday release, Hawkins said Yellow intends to "wind down our business, maximize recoveries for creditors and pay back the CARES Act loan in full."
In a Monday SEC filing, Yellow said it's petitioning the bankruptcy court to obtain "debtor-in-possession financing" to make payments upon and honor its obligations such as wages, taxes and guarantees to vendors and other parties.
In the same filing, Yellow announced Douglas Carty, chairman of Switzer-Carty Transportation Inc., replaced Matthew Doheny, founder and president of North Country Capital LLC, as the chair of its board of directors on July 27. Doheny is now Yellow's chief restructuring officer. Doheny and Javier Evans, executive vice president and chief business operations and services officer, Webster Bank, resigned their positions on the company's board of directors on July 31.
In its Sunday press release, Yellow claimed the Teamsters upended the company's so-called One Yellow business reorganization plan. Yellow said its latest turnaround effort would make the company more competitive with the numerous non-union carriers in the country.
The first phase of the One Yellow plan, the company said, was approved by Teamsters leadership in August 2022 and "was a success."
"Despite phase one's approval and success, IBT leadership implemented a nine-month blockade, halting the remainder of Yellow's business plan. This caused Yellow irreparable harm." Yellow said in a release. "In the spring, while their blockade of One Yellow was ongoing, IBT leaders demanded that Yellow open its contract nearly one year early, and Yellow agreed, yet its goodwill was met with hostility."
In June, Yellow filed a lawsuit against the Teamsters claiming a breach of contract and loss of enterprise value seeking compensation for more than $137 million in damages it said were caused by the union's leadership.
"While (Teamsters) leaders may believe they won a battle against Yellow, it's our employees and their families who have lost," Hawkins said in a release.
Yellow said it employed more than 30,000, most of which were represented by the Teamsters.
The union said Teamsters employed Yellow, then YRC, agreed to a "massive pay cut" to keep the company in business in 2011 and gave it additional concessions in the following years.
"Yellow benefitted from historically low labor costs compared to other freight leaders, yet they still managed to drive the company into the ground," Teamsters General Secretary-Treasurer Fred Zuckerman said in a release. "Workers do not own that death. Yellow management must."
© Copyright IBTimes 2023. All rights reserved.