Yelp Filtered Reviews Blues: Businesses Hate The Mysterious Algorithm, But Is There Any Way To Crack It?
Todd Marshall is at the end of his rope. A small-business owner from Henderson, Nev., he has watched helplessly over the last 13-odd months as his most glowing online feedback has essentially been concealed from public view. The Yelp page for his company, Green Turtle Salon & Spa, currently has one "recommended" two-star review, posted in May 2013. The others -- 16 in all -- are hidden, caught up in Yelp's notoriously cryptic automatic filter, which identifies and hides reviews deemed by the website's algorithm as suspicious. Those "not recommended" reviews do not count toward Green Turtle's Yelp rating, and to read them, users must click a small muted link at the bottom left-hand side of the page. It's safe to say few look past those two glaring mustard-colored stars.
Marshall said that despite attempts to contact Yelp for an explanation, he is at a loss as to why his numerous four- and five-star reviews have been sentenced to Yelp purgatory. "It's all based upon this mysterious algorithm," a perturbed Marshall said in a phone interview. "Nobody knows how it works. Everything about it is fishy."
It's a frustration shared by business owners in cities and towns across America. For anyone with even a cursory knowledge of Yelp Inc. (NYSE:YELP), it will come as no surprise that the San Francisco-based review giant is not universally loved among small-business owners. In between the rant-riddled anti-Yelp websites, message boards and Facebook pages, there have been real, albeit fruitless, class-action lawsuits from companies that accuse Yelp of skewing ratings in favor of businesses that buy paid ads.
Jeremy Stoppelman, Yelp's vocal chief executive, has long dismissed the "conspiracy theories" about advertisers receiving preferential treatment, and the courts so far have agreed. But a more complicated matter -- and for business owners like Marshall, a more maddening one -- is the nebulous and vexing process by which Yelp's proprietary algorithm filters out reviews. Marshall insists the algorithmic process favors negative reviews and suppresses positive ones, and he's not alone in that contention, anecdotal as it may be. Yelp may claim that its filtering system is an attempt at fairness, but from Marshall's point of view, the effect is quite to the contrary. "They're deflating ratings," he said. "They're doing exactly what they're trying to prevent, except they're doing it in the opposite direction."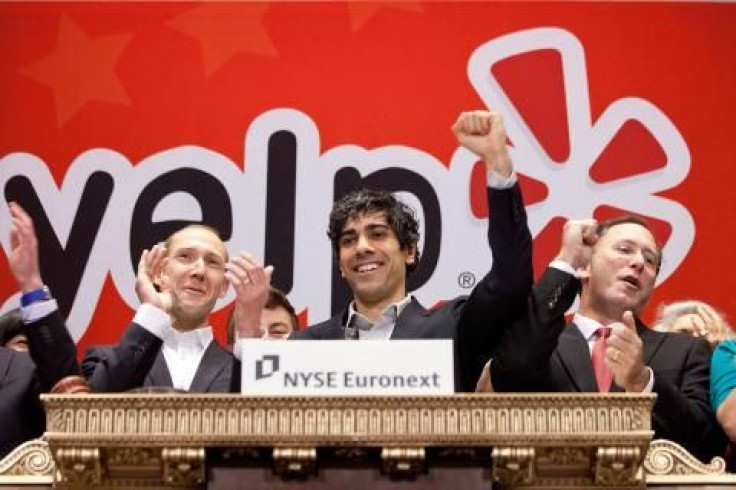 Further fueling his resentment is Yelp's longstanding refusal to reveal details about the variables that determine its algorithmic process. The company points to the standard proprietary catch-22: The more details it discloses, the easier it is for scammers to game the system; so mum is the word when it comes to how things work. It's the same default stance we hear from online behemoths such as Amazon.com Inc. (NASDAQ:AMZN) and Google Inc. (NASDAQ:GOOG) when faced with criticism about the lack of transparency around their practices. It's an understandable way of doing business in the digital age, but for the people whose livelihoods are caught in the cross fire, it can seem like an admission that the machines are finally running the show.
Algorithm And Blues
Darnell Holloway, Yelp's senior manager of local-business outreach, defends Yelp's approach to quality control, saying that many reviews are simply unfit to highlight. "We recognized very early on that not all reviews are created equal," he said. "Our software does a very good job of recommending the reviews we think are the most helpful and useful to our audience of consumers."
Holloway said there are a number of reasons a review could end up in the "not recommended" bucket. Yelp favors reviewers who are most active, and in that sense it's no different from Wikipedia or any number of user-generated websites on which frequent contributors can build up a good standing. Beyond that, Holloway said, the software looks for red flags that signal a review might be inauthentic. Multiple reviews from the same IP address, for instance, could suggest that a business owner has solicited reviews from customers on site, a practice discouraged by Yelp. Holloway added that "unhelpful rants or raves" are also more likely to be filtered out.
According to Yelp, only about 25 percent of its 40-million-plus reviews are filtered. But that statistic is cold comfort to Green Turtle Salon & Spa and other businesses whose filtered reviews far outweigh their recommended ones. Consider Saphire Estate, an event space outside Boston with a two-star Yelp rating. The family-run business has 33 filtered reviews that don't count toward its rating, compared with just seven recommended reviews that do. Among its filtered raves, at least a few of them are from established Yelp users. Why are those reviews hidden? Who can say? Among Sapphire's recommended reviews, meanwhile, is an addendum to a poor review it received way back in 2008. Jerry Saphire, one of the owners of the company, said the review predates the current management. He called it "patently unfair" that one bad experience can scar a business for life or longer. "There's no statute of limitations," he said. "The damn thing sits on there -- it could be for 50 years and it never comes off."

Cue The Yelp Helpers
The strength of Yelp's reputation for being a bully is probably matched only by its effect on the marketplace. In one notable study, Harvard Business School's Michael Luca found that a boosted Yelp rating of just one star can increase a company's revenues anywhere from 5 to 9 percent. Like it or not, Yelp matters. So it stands to reason that the shadowy world of online reputation management is adding "Yelp helping" to its regular repertoire of services. Avowed Yelp experts make bold promises, offering -- guaranteeing, in some cases -- to help boost companies' Yelp ratings through myriad tactics, some more legitimate than others.
In one solicitation email obtained by IBTimes, a salesperson for the Los Angeles-based company Quality Media flat-out claimed to be able to get filtered reviews onto the front page, essentially beating the dreaded algorithm at its own game. A rep for Quality Media said that particular salesperson was let go in November after making promises the company couldn't keep.
At Yelp, Holloway has strong words for anyone who makes such claims. "If you're wondering how these companies can make good on the offer, the answer is simple, they can't," he said. "They're basically just preying on the business's fear to try to turn a profit."
Given the prevalence of Yelp animosity, potential customers for a Yelp-improvement service should be plentiful. In the end, how hard is it to scour the site for low-rated businesses and hawk ones wares? At Green Turtle Salon & Spa, Todd Marshall said he has been contacted by two reputation-management companies. One was Quality Media. Another was ESIOH Internet Marketing, in Marina del Rey, Calif., which sent Marshall a letter along with a handwritten note guaranteeing that it could help Marshall improve his two-star rating. Reached by phone, ESIOH's owner, Erik Devash, said his company simply works within the framework of what Yelp already allows -- teaching businesses how to claim their Yelp profiles, add pictures, respond directly to negative reviewers, etc.
However, an ESIOH solicitation letter (obtained by IBTimes via Marshall) tells a different story. The letter claims ESIOH works with a "network of reviewers" that will post positive reviews across Yelp and other review sites, all for the fee of $199 per month. That process, known as astroturfing, clearly violates Yelp's terms. Asked about the solicitation letter, Devash denied that ESIOH works with Yelp reviewers and said the letter was simply a way to get the attention of potential customers. "We did send out letters like that because of the big response they get," he said. "What we've found is that they evoke emotion, and we'll get a call from a business in no time."

Pay For Play
Of course, the black-market sale of Yelp reviews is nothing new, nor can it be considered surprising given Yelp's dominance in the marketplace. Yelp, by its own admission, gives preference to reviews written by its elite members. Those members, in turn, understand that they are a commodity for businesses who want better Yelp ratings. Search "Yelp reviews" on Craigslist on any given day and you'll find people offering to both buy and sell Yelp reviews.
While the problem is downplayed by Yelp, it's become pervasive enough in recent years to warrant a pushback from the company. In the fall of 2012, Yelp launched its consumer-alerts program, a kind of public-shaming initiative that calls out businesses caught in pay-to-play schemes by placing a large red banner on their Yelp pages. "We have a team of people that run sting operations to sniff out these types of scenarios," Holloway said. "If we catch a business red-handed being involved in this pay for play activity, we'll actually post a consumer alert on their page."

This is not to say the entire reputation-management industry is a sham. Devash, who self-published a book about Yelp management, makes valid points that could be helpful to companies, particularly those who aren't Web savvy. For instance, just being aware of Yelp's rules could help a business owner recognize when a negative review violates the website's content guidelines or terms of service. Flagging such reviews could get them removed, and Devash claims to have been successful using that tactic. He admits that other strategies such as negative search suppression -- a method by which SEO optimizers attempt to bury negative pages by creating positive content that ranks higher on Google -- simply won't work with Yelp. "In my opinion, anybody trying to push down a page as powerful as Yelp, it's a losing battle," he said. "It's not going to happen."
Quality Media took a similar stance when asked for details about its services, insisting there's no "magic bullet" that can improve a business's Yelp reputation. Yelp, for its part, offers a suite of free tools that Holloway said will help business owners do on their own some of what reputation-management firms do. "A good reputation can't be bought; it has to be earned," he added.
Bonnie Patten, a lawyer and executive director of Truth in Advertising, said choosing whether or not to pay for reputation management is no different than choosing any type of service. In other words, don't go into it with blinders on. "You really need to do your homework," she said. "Before you sign a contract or hand over any cash, ask to speak to previous clients. I have no doubt that there are reputation-management companies out there that are up to no good. When you see things like 'immediate removal' or 'quick and fast removal,' that's just not reality."
Companies, whether they like it or not, must face the reality that their Yelp profiles are often the first thing potential customers see. If it's a low-rated page, it might also be the last. With limited resources -- and often scant computer know-how -- many small-business owners would just as soon opt out of the whole thing, except Yelp doesn't allow that. No one is more aware of that than Todd Marshall, who has spent hours writing responses to Green Turtle's Yelp critics while hoping that, one day soon, a positive review will make it past the all-knowing algorithm. Whether that effort will pay off remains to be seen, but those two mustard-colored stars don't offer much by way of an alternative.
"It really is a matter of the amount of time you spend trying to deal with this," Marshall said. "It's either that, or you just surrender and take the hit."
Got a news tip? Email me. Follow me on Twitter @christopherzara.
© Copyright IBTimes 2023. All rights reserved.