Yes, Your Apple Watch Is Giving You A Rash. Here's What To Do About It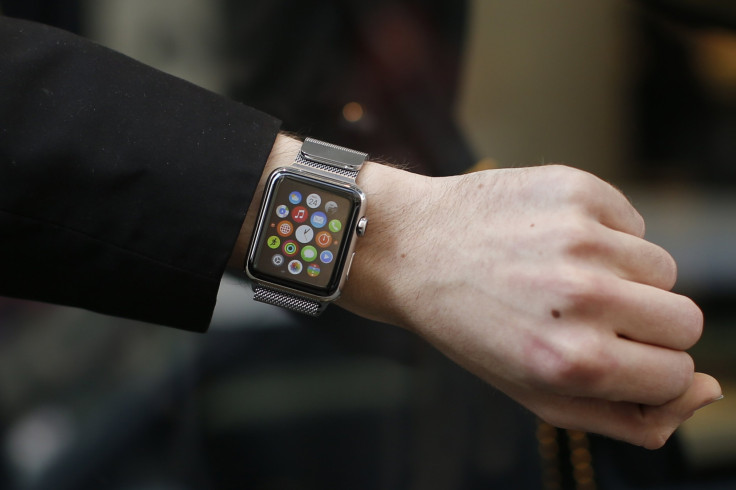 Some users who have worn their Apple Watch since its release less than two weeks ago have taken to Twitter, Instagram and blogs to show off photos of their wrists -- sans Apple's new smartwatch. Where they normally wear their device, there's now a red rash.
Those posts have one primary implication: Apple Watch was not fully tested for allergies or sensitive skin before it went on sale. One Reddit post that spawned scores of Apple Watch rash blog posts called the symptoms caused by his or her sport band an allergy. Sure, it could be an allergy, but it could also be simple irritation.
"You take enough people, and you put something tight-fitting on their arm and they do their day-to-day, whether it's sweating or washing their hands, potential irritants can push through the outer barrier and disrupt the skin cells, disrupt the skin," said Dr. Adam Friedman, director of dermatologic research at Montefiore Medical Center in the Bronx, a borough of New York City. "Most of the problems are from contact dermatitis," a rash where your skin comes into contact with an irritating substance.
"Not every irritation is an allergy, and we do see irritation from trapping moisture, sweat and friction," said Dr. Joel Cohen, director of Aboutskin Dermatology, in Colorado. "But some people are truly allergic to some things, like nickel."
Sweating The Watch
So what's causing these rashes? For most people, it's sweat. After all, these watches are worn for many hours at a time, close enough to your wrist that the watch's optical heart rate monitor can take your pulse.
"The moisture itself can cause irritation, but it's probably sweat," Friedman said. "Sweat is also comprised of salt, and the reason people can get these kind of of itchy rashes is, as the sweat dries, it deposits salt on the skin." Your Apple Watch then rubs against the salt deposit, causing more irritation. It's not an Apple problem, it's a bracelet problem.
"Smartwatches do not generally produce more risk than other jewelry," said Dr. Ronald Brancaccio, clinical professor at New York University Medical School in New York City.
What To Do?
Apple actually has some good advice: Keep your watch clean. Make sure the band is not too tight and not too loose. Don't shower with your watch on. And if the Apple Watch is causing a rash, go a day or two without wearing it. If you don't, you may further irritate the skin.
What action to take depends on whether users think their rash is an allergy or simple irritation. The materials used in the Apple Watch are unlikely to cause allergic reactions, but that's not to say it can't happen, especially for users who are already sensitive to nickel.
The stainless steel alloy used in Apple's midtier watch includes nickel, but the quantity used is too small to be the culprit. "Stainless steel is an alloy, but it doesn't release enough nickel to be a problem," Brancaccio said.
The majority of stainless steel watches sold today use that same alloy. In any case, your wrist is probably not touching the metal. The sensors on the back side of the Apple Watch are covered either by plastic or a ceramic materials.
Nickel Reactions
Still, if you think the Apple Watch metal or strap is causing a reaction or you have shown sensitivity to nickel in the past, you may want to create some sort of barrier that separates your wrist from the watch.
Cohen recommends painting several coats of clear nail polish on the metal -- it's exactly what nickel allergy sufferers do with belt buckles. Another option is to use clear plastic wrap as the separator. Friedman recommends applying zinc oxide paste to the affected area and your bracelet if the irritation is really bothersome. However, you should be aware that all barrier options may cause issues with the Apple Watch's heart rate sensor.
To see whether an allergy is the issue, Brancaccio recommends switching Apple Watch bands -- exchanging rubber for leather or metal -- and moving it to your other arm to see if the problem persists. If it does, you can treat it with over-the-counter hydrocortizone or other topical steroids.
Most importantly, you should stop wearing your Apple Watch and treat the rash. Otherwise, the irritation might grow.
"Jewelry sometimes causes a crescendo reaction, where you continue to wear it and the problem gets worse," Cohen said. "Don't put it back on until the rash is gone."
Fitbit's Lesson
Apple knew that a certain percentage of Apple Watch wearers would develop skin irritations. Earlier this year, the company hired a dermal toxicologist, who will likely study the long-term (as in more than two weeks) effects and safety concerns of wearing the watch. If skin issues become a long-running problem, it could seriously hamper sales of the Apple product -- which is why the company has proactively addressed them.
"Dermal toxicologists ask whether this product or device is causing changes to the skin or structure element to the skin that could cause problems down the road," Friedman said. "Could constant contact with these things accelerate aging of the skin or cause a foreign body reaction?"
Ask Fitbit: Last year, the company recalled a fitness tracker, the Fitbit Force, over rash concerns very similar to those experienced by wearers of the Apple Watch. At first, it blamed the problem on nickel allergies and a family of chemicals used in adhesives called methacrylates. (Both nickel and methacrylates are used in Apple Watch bands, Apple says.)
Later, the company changed course and pointed out that any fitness tracker or smartwatch worn in contact with the skin can cause a rash. Fitbit was the only fitness tracker company selling units enough to make wearers aware of the possibility of a rash.
Ultimately, Apple's rash saga was predictable. Apple products sell in the millions, and users who experience rare problems often find many others online who want to commiserate. Remember the report about the iPhone 6 Plus' bending? Apple said that was based on just nine reports. Even now, other Apple Watch owners have a different beef: They complain that the watch can scuff easily, naming the phenomenon "scratchgate." Apple Watch rashes are another example of an overblown, early adopter Apple problem.
Just don't call it "band-ghazi."
© Copyright IBTimes 2023. All rights reserved.
FOLLOW MORE IBT NEWS ON THE BELOW CHANNELS