'Young And The Restless' Spoilers: Jordan Reveals Doubts About Juliet After Fainting Spell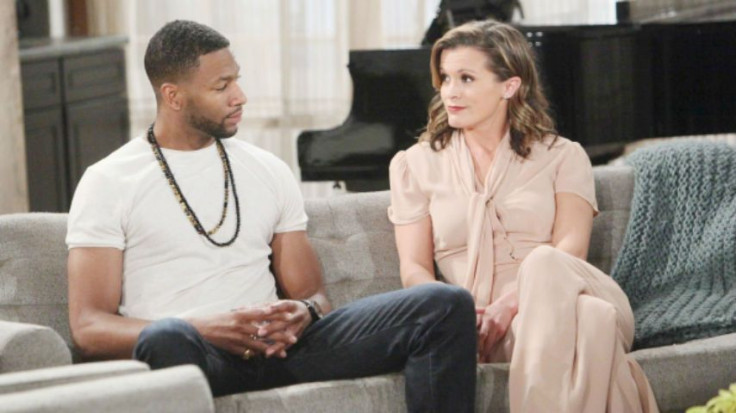 She has had several people doubting her story about being sexually harassed by Cane, and while there have been reasons to doubt she's telling the truth about sleeping with him, her latest stunt has more questions being asked than ever about Juliet's claims on the Wednesday, June 28 episode of "The Young and the Restless."
After Juliet (Laur Allen) went to Lily (Christel Khalil) to explain to her that she wants to tell her the truth, Cane's (Daniel Goddard) wife refused to listen and tossed money at her on the CBS soap. Juliet then responded by fainting, and Lily has since decided to take her to the hospital.
Read: Cane's Honesty Is Questioned After The Bombshell Video On "The Young And The Restless"
However, Jordan (Darnell Kirkwood), who was also there at the time, is starting to wonder how much Juliet is telling the truth, and he will confide in Chelsea (Melissa Clare Egan) that he believes she is doing whatever she can to sell her story—and he's worried about how much this will end up hurting Lily in the end.
"You think Juliet is faking an illness?" Chelsea asks in a preview clip.
"I have to wonder," Jordan replies.
Jordan has been one of the people who has been affected by Juliet's sexual harassment lawsuit against Brash and Sassy, as everyone involved at the company in any way is left with their work commitments on pause because of the case. He also has some feelings for Lily, and even if he is only feeling platonically towards her as he insists, he still doesn't want to see her hurt, and so far, she has been the person hurt the worst by the suit. Everyone also knows that she was exceptionally hurt by the footage she saw during the depositions, which showed that Cane and Juliet did spend the night together in his hotel room in Tokyo, though Cane has sworn to Lily that nothing happened there. However, that video has led to her having less trust in her husband as a result.
Unfortunately, Jordan's concerns could be ones that will quickly be proven unnecessary, because Juliet won't be the one breaking Lily's heart in the end, and she may not be faking anything at all.
Read: Jack Expresses Concerns About Nikki's Health On "The Young And The Restless"
Lily brought her to the hospital after she passed out at the Athletic Club following their altercation, and has been waiting there to find out what is wrong and what happened to the other woman. She has also called Cane to be there with her for support, especially since he would likely know more about her family so she could get someone who actually likes Juliet at the hospital as well. However, she and Cane will both be in for the shock of a lifetime when the doctor and Juliet approach them.
After once again resuming her tirade against her, Lily will threaten Juliet because she believes Cane's story that they never had sex in Tokyo. But Juliet will have a major bombshell to drop on the couple—and it will be the kind that could serve as the most definitive sort of proof that Cane slept with her.
"The Young and the Restless" airs weekdays at 12:30 p.m. EDT on CBS.
© Copyright IBTimes 2023. All rights reserved.