'Young And The Restless' Spoilers: Will Phyllis Convince Billy To Give Her What She Wants?
She has been desperate to find a way to get the money she needs so she can start her own company and move on from her humiliating defeat at Jabot. Now, Phyllis may find a way to get what she wants by blackmailing Billy about his big secret on the Thursday, April 18 episode of 'The Young and the Restless."
Phyllis (Gina Tognoni) was at a low point when her attempt to blackmail Jack (Peter Bergman) into giving her Fenmore's by releasing photos of Kyle (Michael Mealor) with Lola (Sasha Calle) failed to work. To make matters worse for her on the CBS soap, Kyle then told Summer (Hunter King) about her attempt, and her daughter was furious that she tried to break up her marriage. However, the confrontation with Summer did have one benefit for Phyllis, because it brought up the fact that Summer and Billy (Jason Thompson) had slept together—and now Phyllis knows she can find a way to get the money she needs to start her life over again.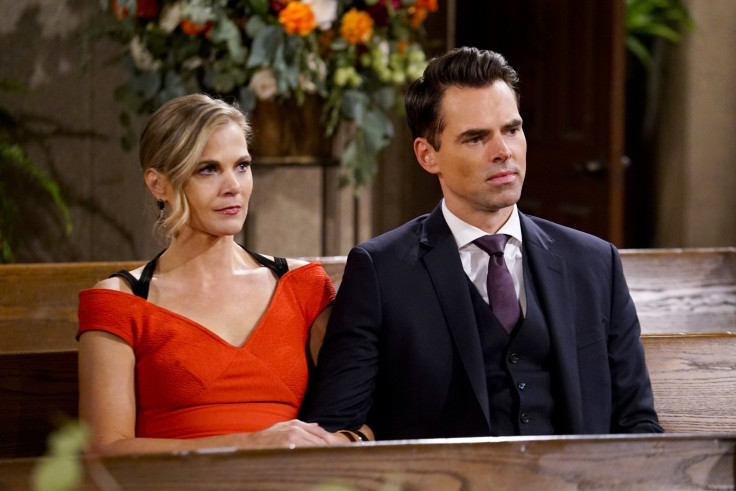 "Phyllis squares off with Billy," spoilers reveal.
When Phyllis came knocking on Victoria's (Amelia Heinle) door to confront Billy, she interrupted him during a very important moment—when he was proposing marriage to Victoria again, and this time, for good. However, she will insist they meet up for urgent business, putting the proposal on hold. Then, she will reveal what she wants from him. In order to keep her silence about his dalliance with Summer—which Victoria, Jack and Nick (Joshua Morrow) all know nothing about—she wants the money to start a business of her own.
Now, Billy will be in a bind, because he doesn't want the thing he regrets doing most in recent months to derail him and keep him from his reunion with Victoria, something he's been working hard at for a long time. Though helping Phyllis is the last thing he may want to do, he could feel he has no choice, since it might be the only way to guarantee she keeps what happened between them.
Still though, even if he does agree and she keeps quiet, Billy may still find himself without the woman he wants, as Victoria will give him an answer on the proposal that he won't like hearing. Though she isn't going to say no completely, she will refuse to let herself become engaged to him again so fast—meaning that he needs to continue taking things slow with her if he hopes to have a chance—and increasing the possibility that something could once again come between them.
"The Young and the Restless" airs weekdays at 12:30 p.m. EDT on CBS.
© Copyright IBTimes 2023. All rights reserved.