Yulin Dog Festival 2017 To Be Deadliest In Years Since Rumor Claimed Puppy Meat Was Banned In China
The Yulin Dog Festival in China will be deadlier than ever this year — and it's all because of a rumor that was reportedly fabricated by animal rights groups. Thousands of dogs are slaughtered annually during the summer solstice in Yulin for their meat to the horror of dog lovers around the world. Most people thought the killing of canines had been banned, but the reports were incorrect. The Yulin government never issued the mandate. An estimated 10,000 puppies will be slayed for their meat, but Marc Ching of the Animal Hope and Wellness is trying to save as many dogs as possible.
When Ching talked to International Business Times, he said he was in Yulin and that "dog meat is everywhere."
READ: Dog Meat Was Fed To Australian Tourists In Bali Who Thought It Was Chicken: Report
"Those [animal rights] groups that said there was a ban and that the government placed restrictions, but that's not true. I know it's not true because we were out there," he said. "These groups never met with the government."
Ching reasoned that some animal rights groups might have lied about the ban going through so they could raise donations for their foundations, but he wasn't entirely sure.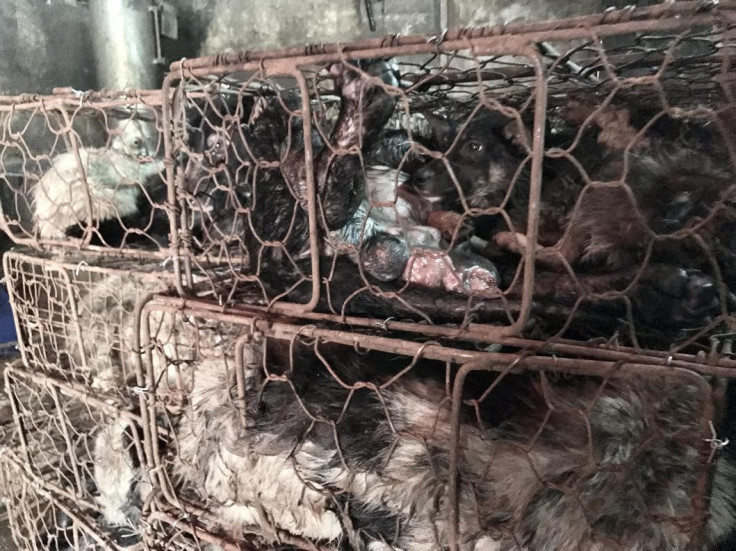 "I don't know how the fabrication came about," he explained. "People must have thought they heard it from someone on the ground and took off running [with that claim]."
Ching is certain about other animal rights groups not meeting with the Yulin government because he asserted Animal Hope and Wellness was the only one who did.
Since most people think the Yulin festival was banned, there hasn't been as much of a backlash from the general public, which led to more dogs being killed. "It's worse than ever," Ching said. "This is the first year that there is so little opposition to it since the word has been raised," he added, referencing the outraged people expressed over others killing dogs for their flesh.
In China, there are no laws against animal cruelty. It's one of the things that makes it so difficult to ban the sale of dog meat.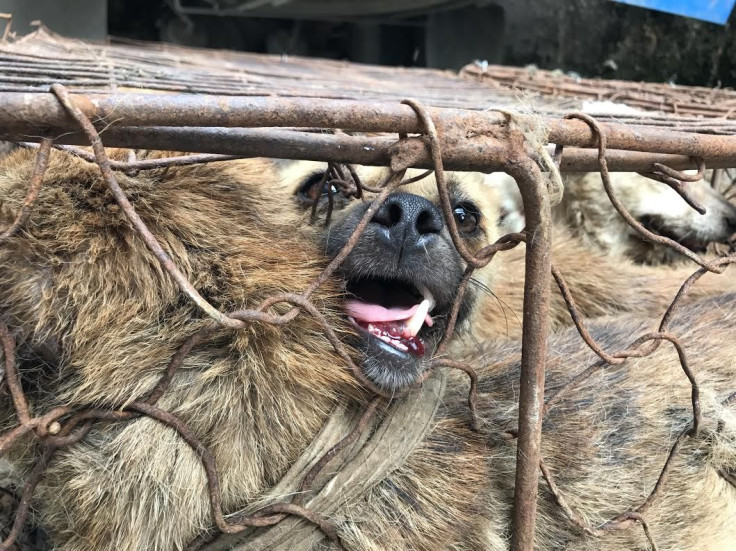 "China has zero animal protection laws," Ching said. "You can torture a dog, cow, cat, or pig in public and in front of the police. They won't do anything. It's fully legal."
Another reason it's difficult to curtail the killing of dogs is because their meat is not monitored by the government. "There are no laws that can instituted to do anything about dog meat. There is no regulation."
Aside from it being immoral for most people to eat the dog meat, it's also unsafe. "You have to see the disease in these dogs," the activist said. They've saved dogs who were covered in tumors.
If they weren't saved, they would have been fed to people. "People are eating this food and it's not healthy," he said.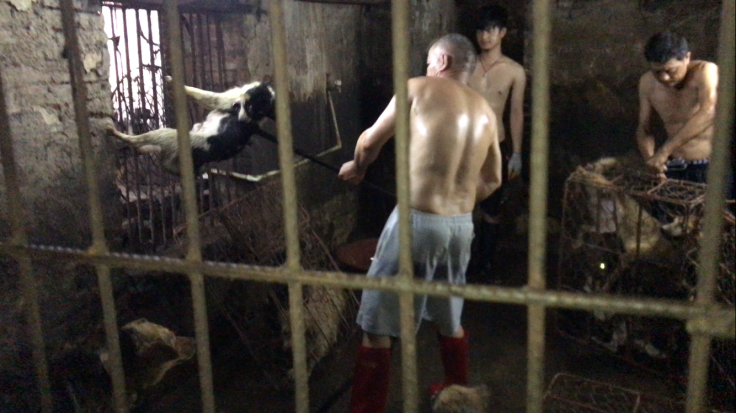 Ching and his team told IBT they have saved 5,000 dogs since they went to Yulin. They will sometimes go to a slaughterhouse and negotiate money for the release of the animals. In other cases, they will run trucks off the road that are carrying dogs, saving hundreds at a time.
Ching recalled the horror of the slaughterhouses. "I'm a father and I have my own dogs," he said. "To see it live is pretty horrid and you feel desperate to do something."
READ: Saddest Photos Of Puppies From Yulin Dog Meat Festival
After Ching frees the dogs, he takes them to a licensed shelter.
One of the ways Animal Hope and Wellness is trying to convince the government to outlaw dog meat is to show them that it's not safe for people to eat. The other reason is being most of the dogs that are killed during the Yulin festival are house pets. So while there aren't any laws to protect animals, it's illegal to steal someone's property.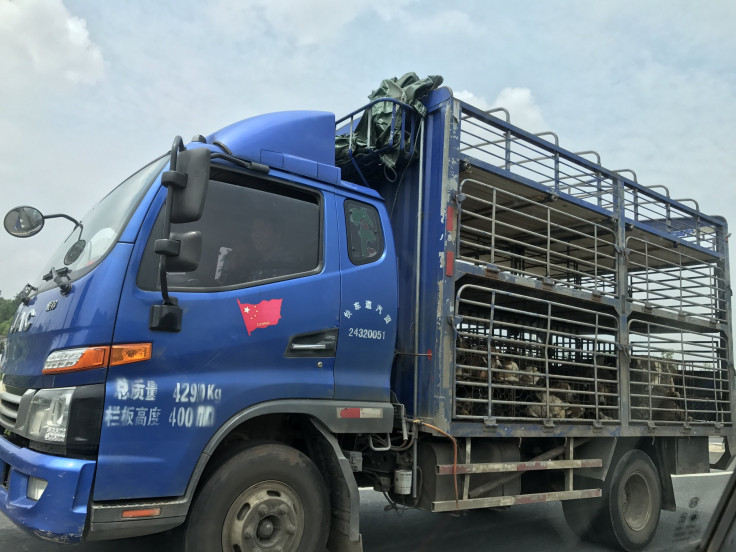 Ching and his team face another battle because it's hard to prove a dog has been stolen from it's family unless it is microchipped, and many Chinese families do not microchip their dogs to prove ownership.
"They are not stray dogs," he said. "People are stealing for consumption."
Ultimately, the Yulin Dog Festival in China will not stop until the residents put pressure on their government to end it. "People always ask how it's going to end. It's going to end until the Chinese people stand up and ask the government to end it," Ching said.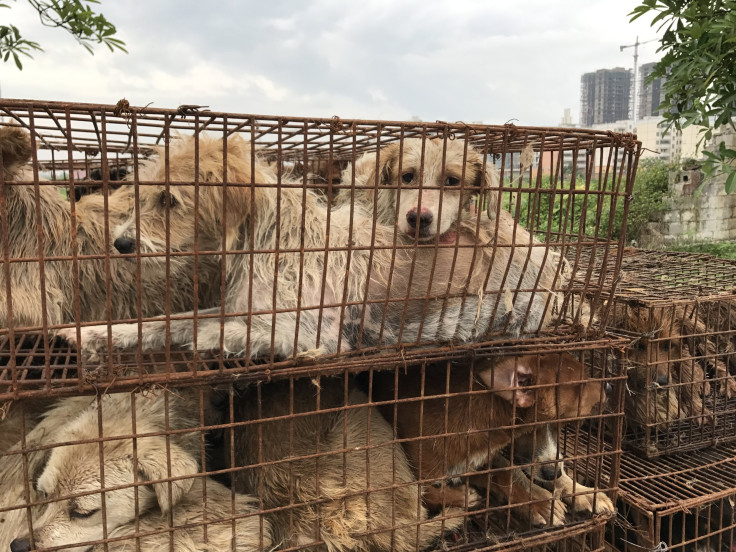 Follow me on Twitter @mariamzzarella
FOR FREE to continue reading
✔️ Unlock the full content of International Business Times UK for free
offer available for a limited time only
✔️ Easily manage your Newsletters subscriptions and save your favourite articles
✔️ No payment method required
Already have an account?
Log in
© Copyright IBTimes 2023. All rights reserved.