Zach Braff Kickstarter Campaign Ends, At Over $1 Million Above Its Goal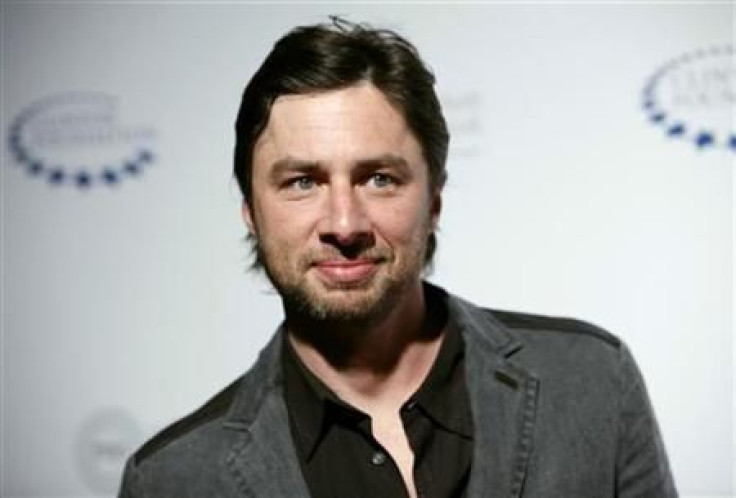 Zack Braff's controversial Kickstarter campaign for his film "Wish I Was Here" closed well ahead of its goal on Friday, with more than $3.1 million pledged by nearly 47,000 backers. The initial fundraising goal of $2 million was met within three days of the campaign's April 24 launch.
While the "Scrubs" star and "Garden State" triple threat may be swimming in crowdsourced dollars, he's not exactly drowning in goodwill. The successful actor and filmmaker faced intense backlash from critics who felt he had no business turning to Kickstarter when he undoubtedly has access to traditional movie financing, and deep pockets of his own. And wouldn't his Hollywood shine dim the chances of other Kickstarter campaigns with no viable alternative to crowdfunding?
Braff didn't shrink from the criticism. He has steadfastly defended his decision to crowdsource, insisting that it was the only way he could preserve creative control over the script and the freedom to cast actors who were right for the roles, regardless of their bankability. He and his filmmaking team have also maintained that "Wish I Was Here," far from compromising Kickstarter's platform, has boosted the crowdfunding site's profile and brought a new wave of potential backers to other projects.
"Most of the backers of my film aren't people on Kickstarter who had $10 and were deciding where to give it, and then gave it to me instead of someone else," Braff told the Los Angeles Times early this month. "They came to Kickstarter because of me, because of this project. They wouldn't have been there otherwise. In fact, a lot of people who didn't know about Kickstarter came and wound up giving money to a lot of other projects, too."
The discord hit a fever pitch this month when the Hollywood Reporter broke the news that "Wish I Was Here" secured millions in financing from Worldview Entertainment, a movie production and investment company. Braff challenged the Hollywood Reporter story in a blog post on his Kickstarter page, explaining that Worldview provided them with "gap funding" against foreign-distribution presales -- a financial transaction he characterized as a loan rather than traditional film financing. "They are essentially a bank," he said.
"Wish I Was Here" executive producer Stacey Sher explained further in an interview with BuzzFeed: "Normally, when you presell a film in foreign, you end up going to secure a bank loan because you cannot get that money until you deliver the film. ... So that's what is referred to as gap financing. A bank takes a service charge for that. It usually takes 10 weeks to secure a bank loan. Because of our schedule for making the film, which is, we begin principal photography in the first week of August, we don't have the time to get at traditional bank loan against our foreign presale agreements. ... Worldview will provide that right away for us in exchange for the same kind of fees a bank would get and other things a bank wouldn't get because we don't have enough time to get a bank loan."
Reached for comment this week, Sher explained to IBTimes that filming could not be delayed beyond the summer, as there are child actors in "Wish I Was Here" that would need to resume a regular school schedule in the fall. Waiting for funds from a traditional bank loan would have made it impossible to shoot the film this year, she said. Sher was unable to discuss in detail the terms of the gap financing, and Worldview did not respond to repeated requests for comment. Questions remain about how the financing agreement with Worldview is and is not like a traditional bank loan.
British film blogger Brendon Connelly, who backed "Wish I Was Here," was deeply skeptical of Worldview's role, believing that it represented a departure from Braff's earlier statement to the Los Angeles Times that it would be "in bad taste" to accept money from industry financiers. "I think it's a terrible act of hypocrisy," Connelly told IBTimes. "He's playing a shell game." But Connelly had no plans to take back his $100 pledge, which will secure him access to "backers only" production information on "Wish I Was Here," and entry to an early screening that includes a quation-and-answer session with Braff.
Braff's Kickstarter campaign was the subject of the New York Times' "The Ethicist" column on Friday. A reader wrote to current Ethicist Chuck Klosterman asking whether it was ethical for Braff to "ask the public to finance his movie," given his presumed personal wealth, and the fact that Kickstarter backers are not entitled to any piece of the film's profits (this is mandated by Kickstarter's terms of service, not the filmmakers). Klosterman responded that while Braff's crowdsourcing may be considered "uncool," that doesn't make it unethical.
"The fact that Braff (almost certainly) has at least $2 million in the bank isn't relevant; if he pursued financing from a studio or a philanthropic hedge-fund manager, nobody would question the ethical merits of that request (even though he would still be asking for money he could generate on his own)," Klosterman wrote, later adding that Braff would be entering ethically murky territory if the intent of the Kickstarter campaign was to elevate the project's chances of securing traditional financing, as Klosterman speculated could have been the case.
"Zach's (and my) intent has always been completely pure and transparent," Sher said in response to the column. "Klosterman is certainly within his rights to voice his opinion, but it should be informed by fact."
Like Braff, Sher has insisted from the start that the movie could not have been made without Kickstarter, and that the crowdfunding has allowed "Wish I Was Here" to avoid falling into the studio trap. In addition to the 46,000-plus Kickstarter backers, Sher said that the project has enjoyed the enthusiastic support of her colleagues in the film industry. "I think anything we can do to inject fresh energy is good for the film business," she said.
Still, the backlash has been overwhelming -- and time-consuming.
"This is the most interviewed I have ever been in my 20-year-career," Sher said, later adding, "I am surprised by the relentless cynicism."
FOR FREE to continue reading
✔️ Unlock the full content of International Business Times UK for free
offer available for a limited time only
✔️ Easily manage your Newsletters subscriptions and save your favourite articles
✔️ No payment method required
Already have an account? Log in
© Copyright IBTimes 2023. All rights reserved.