Zach Braff Kickstarter Campaign: Twitter Backlash As 'Wish I Was Here' Tests Limits Of Crowd Funding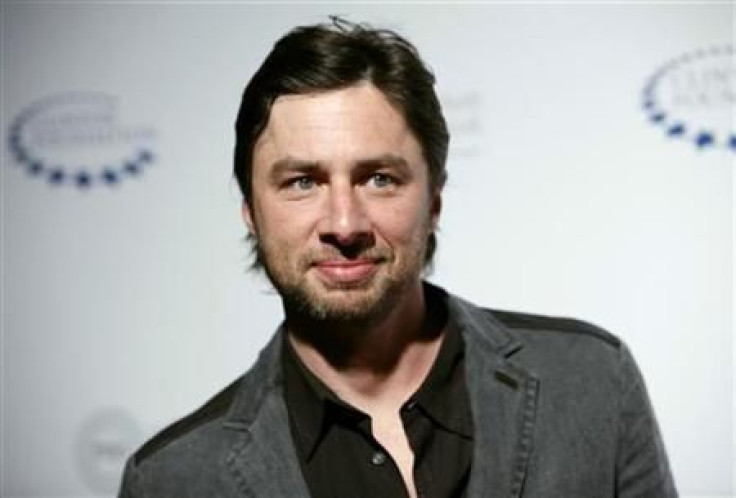 Updated Saturday 8:07 p.m.: Braff met his fund-raising goal of $2 million in three days. On Saturday afternoon he tweeted, "I will not let you down. Let's go make a killer movie!"
Updated Thursday 2:12 p.m.: A spokesperson for Kickstarter told IBTimes that Braff's campaign has not set any money-raising records. Meanwhile, the campaign seems to have slowed down. The project has raised $1.55 million, only slighly higher than it was this morning.
Updated Thursday 11:00 a.m.: Braff's Kickstarter campaign is closing in on $1.5 million. Still no word from Kickstarter press about whether this constitutes a record.
Updated Wednesday 8:05 p.m.: Braff's Kickstarter campaign has raised $1.1 million, more than half its goal, in less than 24 hours. IBTimes is seeking comment from Kickstarter as to whether this constitutes a record for the fastest-growing project in the site's history.
Original post: "Veronica Mars" has unleashed a beast.
Following Rob Thomas and Kristen Bell's massively successful Kickstarter campaign, which raised $5.7 million on a $2 million goal to fund a movie version of their CW television show, Zach Braff is the latest A-lister to dip his toes into the crowd-funding pool. The former "Scrubs" star launched a Kickstarter campaign on Wednesday to raise $2 million for a long-awaited follow-up to his 2004 indie hit, "Garden State."
The proposed film, "Wish I Was Here," will center on a struggling actor and family man who decides to homeschool his kids while still trying to find his identity at the age of 35. In the project description notes, Braff, a regular backer of Kickstarter projects, wrote that he became motivated to launch the campaign after seeing the overwhelming success of the "Veronica Mars" effort.
"I couldn't help but think (like I'm sure so many other independent filmmakers did) maybe there is a new way to finance smaller, personal films that didn't involve signing away all your artistic control," Braff writes.
But not everyone thinks it's fair that the Jersey-bred celebrity is using his star power to crowd-fund his latest effort. The announcement of his campaign has sparked an impassioned online debate, with many avowed Kickstarter proponents saying Braff's efforts violate the spirit of crowd funding. Kickstarter, launched in 2009, has become known for feeding the dreams of the creative everyman, but, as the website and others like it grow in popularity, an increasing number of seasoned professionals in all creative fields are being drawn in by its potential.
That acceptance has left some early adopters of crowd funding with a bitter, "party's over" taste in their mouths, as evidenced by many of the Twitter reactions to Braff's project.
Robert Kessler, a writer for Celebuzz.com, also took Braff to task for crashing the crowd-funding party. "There is something particularly awful about professionals who have already risen to the near top of their field asking for handouts as if they can't get work any other way," he wrote.
Kessler has a point. As the writer/director/star of one of the defining indie films of the aughts, Braff has built up a resume that would seem to exempt him from the need to pass a hat around for his next movie. But that's exactly what most independent filmmakers do, whether it's seeking money from investors or offering copies of the screenplay for a $10 pledge. And in an industry that has become an increasingly unviable one for personal storytelling, even proven filmmakers can find it nearly impossible to raise money for projects that aren't based on superheroes or board games.
Braff may be at the top of his field, and, yes, he could probably sign a deal with NBC and do another sitcom at the drop of a hat, but in terms of adding something new and personal to the indie-film canon, he's no better off than countless other big-name auteurs for whom the fundraising process is exceedingly difficult. This is why crowd funding as an engine for A-list movie projects is not likely to go away. For filmmakers who want to do something risky, it offers an alternative to the traditional beg-borrow-steal approach that has sustained the industry since its infancy.
Braff wrote in his project notes that a standard funding deal would have forced him to make "sacrifices I think would have ultimately hurt the film." On Kickstarter, he will be beholden not to traditional film producers, but to the legions of fans that throw in their support. One could ask if filmmakers will find themselves artistically compromised by this new kind of relationship with their audiences. (Imagine the horror of hating a movie that you not only paid to see, but helped pay to make.) But whatever the end result, these issues will have to work themselves out. Having raised $868,895 in less than half a day, Braff's campaign is no doubt going to be successful, which means that others like it are sure to follow and soon.
What effect this will have on the crowd-funding efforts of the creative everyman is anyone's guess, but, for now, it seems inevitable. As for Braff, he may not be an everyman, but at least he plays one on screen.
Got a news tip? Send me an email. Follow me on Twitter: @christopherzara
© Copyright IBTimes 2023. All rights reserved.
FOLLOW MORE IBT NEWS ON THE BELOW CHANNELS