10 Moments When Stray Kids' Felix Showed Support For The LGBTQ Community
KEY POINTS
Stray Kids member Felix has openly supported the LGBTQ community
Stray Kids attended a Pride Parade in New York City
Felix's fashion icons are Gigi Hadid and Bella Hadid
The LGBTQ community is celebrating Pride Month this June to commemorate the years of struggles fighting for their rights.
Several K-pop artists have started to openly show their support for the community, using their platforms to advocate for them, including Stray Kids member Felix.
Below is a list of 10 moments when the 22-year-old Australian-born idol showed support for the LGBTQ community.
1. He proudly used a pride filter
Back in 2019, Felix posted a video on Instagram showing him proudly using a pride filter that bursts into different colored hearts that represent the hues of the Pride flag, such as orange, yellow, red, blue, green and violet.
2. His heartwarming reaction to "bisexuals love Felix" signs at Stray Kids' concert
During concerts, fans would often bring their self-made banners, which they could show to each Stray Kids member.
One lucky fan holding a banner that read, "Bisexuals love Felix," caught the attention of Felix, and the latter reacted by touching his chest — at the side of his heart — and nodding in appreciation, as seen in a video shared by Twitter fan account @felixsbrowni3.
It is unclear, however, which concert it happened. But the video coincided with the eight-member group's "Maniac World Tour," which ran from April 29, 2022, until April 2 this year.
3. His conversation with a fan from the LGBTQ community
A fan with the handle @3RZCHA on Twitter, a member of the LGBTQ community, got a chance to meet Felix via a fan video call event in 2020. There, she expressed her appreciation toward the lead rapper for giving them a "safe space and a lot of comfort."
Felix immediately pouted after hearing her kind words, then responded, "I mean, we just [want to] make sure you know... [that] everyone is happy, and you support us, so we want to support back as well. We just want to show communities lots of love."
4. When his eyes lit up after seeing a pride flag
Another lucky fan got a chance to interact with Felix through the fan video call event. During her turn, the fan showed her pride flag to the singer-dancer. But due to the limited time, he was unable to give a response. However, fans noticed how his eyes immediately lit up, and he showed how happy he was.
5. One of his favorite music videos is "Same Love" by Macklemore and Ryan Lewis
When asked about his favorite music videos on Bubble — an instant messaging app where K-pop idols could interact with their fans — Felix
mentioned
"Same Love" as part of his top six.
Released in 2012, the track written by Macklemore and Ryan Lewis showed support for the LGBTQ community to legalize same-sex marriage. The song was also partially inspired by Macklemore's gay uncle.
6. When he and fellow member Han tried to bring a pride flag on stage
Felix and his fellow member Han — born Han Ji-sung — once attempted to bring a pride flag on stage during their concert but were prohibited by the staff. The pair instead showed their appreciation toward the community, per a tweet
shared
by @felixsbrowni3.
International Business Times couldn't independently verify this information.
7. He recommended "Weird City" as a must-watch series
Felix shared on Bubble that he came across a series, titled "Weird City," on YouTube and watched the first episode. He praised the story for being "good," though the theme centered on age difference and sexuality.
"Weird City: The One" episode one centers on the story of Stu, portrayed by Dylan O'Brien, and Burt, played by Ed O'Neill, who find love in the most unexpected place and time.
8. When he said Changbin was his "ideal type" in a boy
While interacting with a fan in 2019, Felix was asked about his "ideal type," to which he first responded whether the fan referred to a boy or a girl.
He then admitted that Changbin was his type for a boy, describing him as "dark, strong and muscular." As for girls, he said, "I like Stays (fandom name) just the way they are."
9. He openly admitted his interest in women's clothes
Felix stunned fans by appearing on the cover of Elle Korea's May 2023 issue, where he sported an all-Louis Vuitton ensemble.
In an interview with the magazine, he was asked about his experience working with the luxury brand's Women's collection, to which he responded, "I've seen pictures of the clothes before shooting, and I just wanted to quickly wear them."
"I'm curious [what] wearing it would be like. I am interested in women's clothing, originally. It's fresh and I like the genderless feeling. Like Jaden Smith, that can be a new style itself," he added, according to an excerpt translated by the fan account @straykidsindiaa on Instagram.
Over two years ago, Felix also appeared on the cover of Elle, where he revealed that sisters Gigi Hadid and Bella Hadid were his fashion icons. He also said that he took fashion inspiration from women's apparel in support of his belief that he should wear clothes that best fit him, regardless of gender.
10. When he and the other Stray Kids members attended a Pride parade
In 2018, Stray Kids performed at KCON in the Prudential Center, New York, alongside Red Velvet, Heize, Pentagon and Super Junior.
The event coincided with the Big Apple's Pride Month festivities, and eagle-eyed fans spotted all eight Stray Kids members — Bang Chan, Lee Know, Changbin, Hyunjin, Han, Felix, Seungmin, and I.N. — walking on the streets of N.Y.C. to support the LGBTQ community.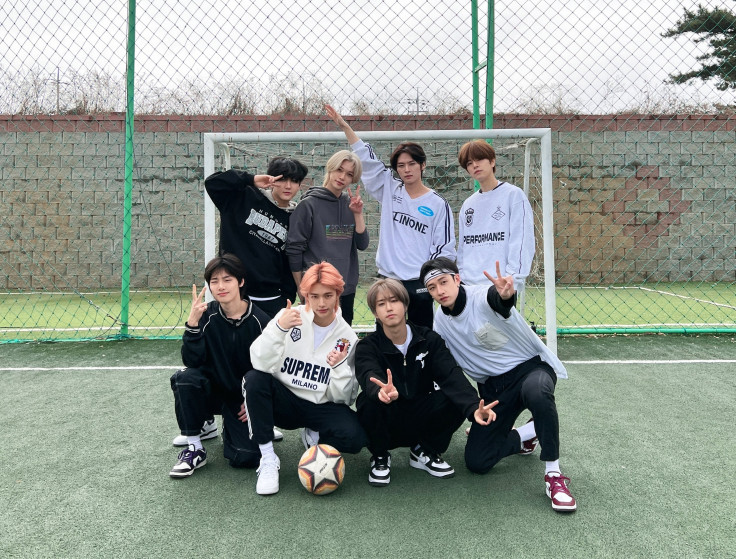 © Copyright IBTimes 2023. All rights reserved.