2018 Election: What Senate Seats Are Up For Grabs In The Upcoming 2018 Midterms? Can Democrats Win it Back?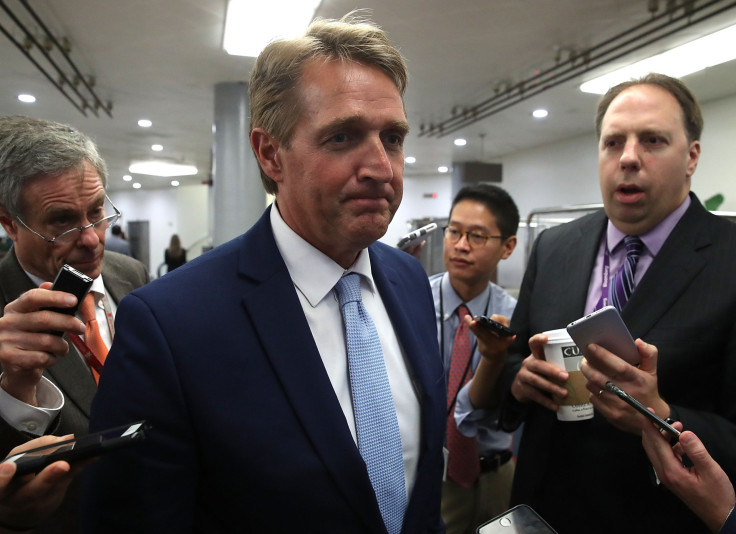 There are 33 senators up for reelection in the 2018 midterms, with 23 of the senators being Democrats and the remaining 10 seats being Republicans. The current makeup of the Senate includes 52 Republicans and 46 Democrats, with two independents that are considered liberals.
Chances that Democrats would win back control of the Senate are slim. The party would need to win three of the 10 Republicans seats and defend all 23 states Democratically controlled states in order to take back the majority. Ten of the Democratic senators up for reelection are in states that voted for President Trump during the 2016 presidential election.
Five of the Democratic senators up for reelection are in extreme danger based on the way their state voted in the 2016 election: Sen. Joe Donnelly of Indiana, Sen. Heidi Heitkamp of North Dakota, Sen. Joe Manchin of West Virginia, Sen. Claire McCaskill of Missouri and Sen. Jon Tester of Montana. In those five states, Trump beat Democratic candidate Hillary Clinton by at least 20 percent.
READ: When Is The Next Election? US Will Vote Again In Midterm Elections Halfway Through Trump's 4-Year Presidency
However, as FiveThirtyEight's Harry Enten noted in his analysis of the upcoming midterms, that "opposition senators" tend to survive the midterms.
"But while a lot of Democrats are up for re-election in red states, there's also a Republican in the White House, and incumbent senators in the opposition party — for simplicity, let's call them 'opposition senators' — tend to survive in those situations," Enten wrote, pointing to evidence from midterm elections from 1982 to 2014.
By contrast, only two of the 10 Republican senators up for reelection in states that were close races. Those two senators are Sen. Jeff Flake of Arizona and Sen. Dean Heller of Nevada. In Arizona, Trump beat Clinton 49 percent to 45 percent, and in Nevada, Trump lost to Clinton by a two-point margin, 47 percent to 45 percent.
READ: Election 2018: Is Removing Nancy Pelosi The Key To Democrats' Victory Over Republicans?
In both cases, the incumbents, Flake and Heller are receiving challenges from both sides of the aisle, with challenges from Republicans during the primary and Democrats lining up to challenge them in the midterm. In response, they have distanced themselves from President Trump, particularly the unpopular American Health Care Act proposed by Republicans to repeal and replace the Affordable Care Act.
"I cannot support a bill that takes insurance away from tens of millions of Americans," Sen. Heller said at a press conference June 24 with Nevada Gov. Brian Sandoval.
Sen. Flake has been a long time critic of President Trump but has yet to rescind his support for the proposed health care bill, despite protests at his office.
In 2010, Republicans took control of the Senate after fPresident Obama won in the 2008 election, and before that, Democrats took control of the Senate in the 2006 midterm election.
© Copyright IBTimes 2023. All rights reserved.
FOLLOW MORE IBT NEWS ON THE BELOW CHANNELS