2021 Snowstorm: Tips To Stay Safe And Warm Amid Freezing Temperatures
KEY POINTS
Parts of the U.S. have plunged into bitter cold temperatures
It's important to keep warm when it gets too cold
Below are some simple tips to stay warm and safe amid freezing temperatures
The Northern United States has plunged into freezing temperatures amid another major snowstorm.
Last week, a blizzard disrupted the vaccination roll-out in New York. Various regions are now seeing several inches of snow, with millions experiencing extremely cold temperatures.
The National Weather Service (NWS) predicts that the bitter cold in some areas will persist until next week.
"Bitterly cold temperatures to persist in the North Central U.S., prolonged stretch of dangerously cold wind chills to continue," the NWS Weather Prediction Center said in its short-range forecast Sunday.
It is dangerous to step out in this weather. Here are some tips to stay warm and safe indoors, courtesy the Centers for Disease Control and Protection (CDC), the U.S. Consumer Product Safety Commission (CPSC) and the NWS.
Cover up
This may seem obvious but make sure to wear proper clothing that can keep you warm. The NWS recommends wearing loose-fitting clothes that are warm and lightweight. People should also keep blankets, sleeping bags or even winter coats nearby in case the electricity goes out.
If you have to go out, make sure to wear several layers of loose clothing and to bundle up with scarves, mittens, a hat and water-resistant boots. Remember that sweating can also cause you to lose body heat. So it's important to stay warm but not too warm that you're sweating too much.
Take care of babies, the elderly
Staying warm is especially important for babies and the elderly because babies tend to lose body heat more quickly and older adults can make less body heat. While keeping your baby warm, it's important to remove any pillows or other bedding that may end up smothering them. Instead, give them warmer clothing to wear.
"In an emergency, you can keep your baby warm using your own body heat," the CDC said. "If you must sleep, take precautions to prevent rolling on or smothering your baby."
Those who have elderly neighbors or loved ones should check up on them once in a while to make sure they are warm enough.
Keep the heat
It's important to conserve whatever heat you have in your home, so avoid unnecessarily opening doors or windows apart from the ventilation that your heaters require. Keep the rooms closed and cover your windows with blankets at night, the CDC said.
It's also important to have proper food as eating and drinking can allow the body to produce its own heat, the NWS explained. Avoid alcoholic or caffeinated drinks because they may have the opposite effect and make you lose heat even faster.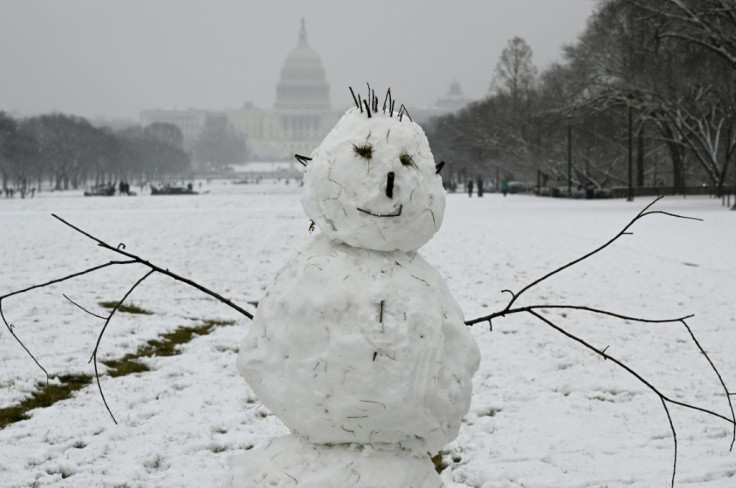 Warm the house safely
Whether you're using a fireplace or space heater, it's important to keep flammable things such as blankets or curtains away from them. Don't burn paper in the fireplace, and one should keep items such as clothes, furniture and even beds "at least three feet away" from space heaters.
When using a space heater, plug it directly to a wall outlet instead of a power strip. And it is best not to use a space heater if its cord is damaged. Make sure to use only the fuel that your heater is designed for and, as mentioned, to have proper ventilation when using it.
Keep alarms active
The use of heaters and generators may pose fire and carbon monoxide poisoning risks. Make sure to use these properly to avoid possible hazards and to keep your fire and carbon monoxide alarms functioning.
Keep an eye on children
Keep children away from burning candles. You can use battery-powered flashlights, the CPSC suggests. It's also important not to leave them unattended close to a space heater.
Also keep items like medicines, laundry packets, cleaning materials and even magnets away from children.
Going out
If you really have to go out during a snowstorm, tell someone where you're going and what your route will be. This way, they will know where to find you in case of an emergency. Also, take with you a fully charged phone and some supplies including food, water, a first aid kit and a whistle.
If your car gets stuck somewhere, stay in the vehicle instead of going out, but make sure that your vehicle is visible to rescuers. To stay warm, run the engine for 10 minutes per hour, but make sure to keep a window open while the engine is on to avoid carbon monoxide poisoning.
© Copyright IBTimes 2023. All rights reserved.