49ers Head Coach Rumors: Multiple Candidates Still Emerging For San Francisco Job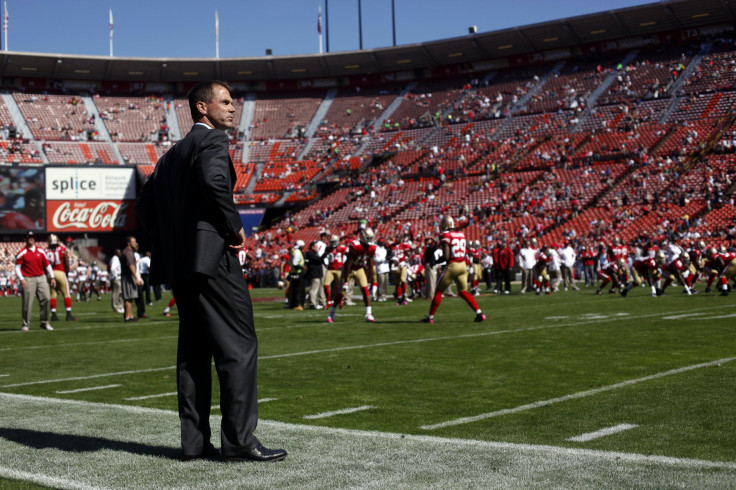 The San Francisco 49ers are looking for the next Bill Walsh, but it's unclear if such a legend-in-the-making is available for general manager Trent Baalke to hire. A recent profile of Baalke in the San Jose Mercury News mentioned that CEO Jed York wants the team to "win with class" with a "great teacher" like Walsh had been for the 49ers in his 10 seasons.
But after 10 days and seven candidates reportedly interviewed, with at least one more interview taking place Friday, the 49ers might have to lower their expectations.
At least seven candidates have interviewed for the position, with Detroit Lions defensive coordinator Teryl Austin the latest, on Thursday, and Arizona Cardinals DC Todd Bowles will be the eighth on Friday, according to The Sacramento Bee. Baalke said the search for Jim Harbaugh's replacement would last 10 days, The Bee also reported, which means a decision could be made in the next day or two.
The entire list of those interviewed includes: former Redskins and Broncos head coach Mike Shanahan, Seattle defensive coordinator Dan Quinn, Broncos offensive coordinator Adam Gase, current defensive coordinator Vic Fangio, Patriots offensive coordinator Josh McDaniels, and former Jets head coach Rex Ryan.
That's certainly a ton of options for the 49ers, but none seem to fit the mold described by York as a Walsh-type revolutionary. The recently deceased 49ers legend left a mark on the franchise and the league as much with his offensive schemes as with his ability to inspire and teach the game.
If anyone fit Walsh's mold, it was Harbaugh, who also went through Stanford and went 44-19 in four seasons with the 49ers, but his brash personality and wild sideline antics likely spilled into his relationships with Baalke and York.
So that leaves the 49ers with a list of candidates that includes two with former head coaching experience, and one with two Super Bowl titles. But a reincarnate of Walsh doesn't seem to be out there.
Fangio is reportedly loved by this defensive unit and his ascension would likely provide the least shock to the locker room, but would he help quarterback Colin Kaepernick develop? Quinn would certainly help San Francisco debunk the Seahawks seemingly unstoppable defense, but the offense could be a question mark. Gase might work wonders with Kaepernick, but with no head coaching experience its unknown how he would handle the pressures of the job.
Shanahan's time in Washington was marred by a poor overall record and the eventual breakdown of his relationship with quarterback Robert Griffin III. However, his son Kyle could join him in San Francisco as offensive coordinator after he asked for his outright release from the Cleveland Browns, according to the Cleveland Plain Dealer.
It's believed the Shanahans would be "package deal," The Plain-Dealer reported, with San Francisco, Oakland and Buffalo interested in reuniting the father-son combo. But that same relationship led to issues in Washington.
According to the San Francisco Chronicle, Ryan has pegged the 49ers as his first choice with the Atlanta Falcons second, but San Francisco's interest in the mercurial and fiery coach is a mystery. Ryan certainly knows how to scheme a defense, but his troubles developing both quarterbacks Mark Sanchez and Geno Smith in New York leave plenty to be desired.
That leaves Bowles and Austin, two rising coordinators who should one day land a head coaching position if not this year. Depending on how his interview goes, Bowles could emerge as the frontrunner, given how well he knows the NFC West. He also helped guide a defense that sorely lacked an offensive counterpart for much of the season.
Austin made a "strong impression" during his sit down, CBS Sports' Jason La Canfora tweeted, and Chicago, Buffalo and Atlanta are scheduled to meet with him. Austin helped completely change the defensive culture in Detroit, and could be just what San Francisco is looking for.
It's too early to call Austin, Bowles, or any candidate "the next Walsh." However, the 49ers are still among the elite traditional powers in the NFL, and probably have the most coveted job opening in the NFL.
© Copyright IBTimes 2023. All rights reserved.