49ers Quarterback: Tom Brady To San Francisco Rumors Arise After Brock Purdy Injury News
The San Francisco 49ers don't seem to know who their starting quarterback will be in Week 1 of the 2023 NFL season, igniting speculation that Tom Brady might fill the role.
Now that Brock Purdy could miss at least six months with an elbow injury, fans and members of the media alike are wondering if the greatest quarterback of all time will sign with the team that he grew up watching.
Purdy could undergo surgery after suffering a torn ulnar collateral ligament in his right elbow in the NFC Championship Game, according to ESPN's Adam Schefter. Brady is expected to hit free agency and continue playing after he turns 46 years old in August.
The 49ers hope that Purdy can avoid Tommy John Surgery and return for training camp. The quarterback will have an extended absence, no matter what, raising questions about what San Francisco will do at the sport's most important position.
Trey Lance is entering his third NFL season and was supposed to be the 49ers' quarterback of the future. Lance broke his ankle in Week 2 and required multiple surgeries. Coming off a major injury and struggling during his limited time under center, Lance might not be San Francisco's ideal choice to lead a championship-caliber roster.
Jimmy Garoppolo suffered yet another season-ending injury and is headed for free agency. The 49ers are unlikely to re-sign to veteran signal-caller.
For most of Kyle Shanahan's time as the 49ers head coach, San Francisco has been viewed as being a quarterback away from winning a Super Bowl. The 49ers made it all the way to the NFL's Final Four with their third-string quarterback. There's a good chance that Brady could finally put San Francisco over the top.
It's a thought that people around the league are already having. Columns are being written about San Francisco's potential pursuit of Brady. One executive from another team predicted to The Athletic that Brady would sign with the 49ers this offseason.
Brady reportedly wanted to sign with San Francisco when he left the New England Patriots in 2020. Shanahan decided to keep the much younger Garoppolo, who had just helped the team reach the Super Bowl.
Shanahan might now be ready to bring in an aging veteran. The coach explored trading for Aaron Rodgers two years ago. Now that he doesn't have a healthy quarterback on the roster, a move for Brady would make plenty of sense.
Brady and the 49ers could become the favorites to represent the NFC in the Super Bowl. San Francisco had the league's top-ranked defense in 2022. Brady might no longer be an MVP-caliber player, but he's still better than most starters. At 45, Brady threw for 4,694 yards, 25 touchdown passes and nine interceptions.
The 49ers would have plenty of competition for Brady in free agency. The Las Vegas Raiders are viewed as a top suitor for Brady. The Bucs are expected to try to re-sign the quarterback.
San Francisco has reached the NFC Championship Game in three of the last four seasons but failed to win a title.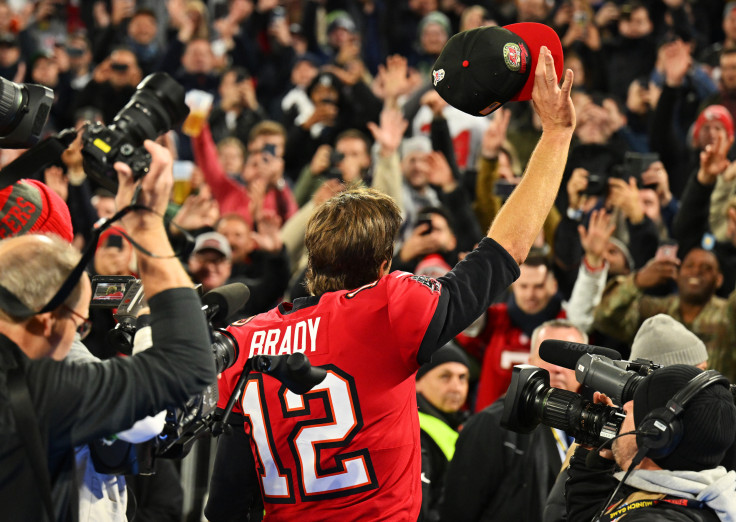 © Copyright IBTimes 2023. All rights reserved.