5 Russians, 2 Venezuelans Accused Of Using Crypto To Launder Money For Oligarchs
KEY POINTS
The DOJ dismantled a Russian-Venezuelan network that allegedly served as a front for a sanctioned oligarch
The network allegedly purchased U.S. military technologies used in the ongoing Russia-Ukraine war
The technologies are eventually sold to other companies that provide defense services in Russia
The United States Department of Justice (DOJ) has accused five Russian nationals and two Venezuelan nationals of using cryptocurrencies to launder money for Russian oligarchs by selling barrels of oil.
"Today we announce the dismantling of a sophisticated network consisting of at least five Russian nationals and two Venezuelan nationals, each of whom are directly linked to corrupt state-owned enterprises, who knowingly sought to conceal the theft of U.S. military technology and profit off black market oil," Federal Bureau of Investigation Assistant Director-in-Charge Michael Driscoll said, according to a DOJ news release that came out Wednesday.
The suspects included the five Russian nationals Yury Orekhov, Artem Uss, Timofey Telegin, Sergey Tulyakov and Svetlana Kuzurgasheva, who is also known as Lana Neumann. Meanwhile, the accused Venezuelan nationals were Juan Carlos Soto, who brokered illicit oil deals for the Venezuelan state-owned oil company Petroleos de Venezuela S.A., and Juan Fernando Serrano Ponce, also known as Juanfe Serrano.
Orekhov was arrested in Germany on Oct. 17, while Uss was nabbed in Italy on the same day. Both arrests were made at the United States' request. The two suspects are to undergo extradition proceedings.
"As alleged, the defendants were criminal enablers for oligarchs, orchestrating a complex scheme to unlawfully obtain U.S. military technology and Venezuelan sanctioned oil through a myriad of transactions involving shell companies and cryptocurrency," the news release said.
"Their efforts undermined security, economic stability and rule of law around the world," Breon Peace, U.S. Attorney for the Eastern District of New York, said, as per the news release.
The defendants reportedly smuggled millions of barrels of oil to China and Russia and laundered "tens of millions of dollars" using different techniques and proxies, with cryptocurrency transactions among them.
But how did the network operate?
Orekhov served as the co-owner, chief executive officer and managing director of Nord-Deutsche Industrieanlagenbau GmbH (NDA GmbH), a Germany-based private company that trades industrial equipment and commodities. The company acted as the front for purchasing U.S. military technologies used in the war like missile systems, combat aircraft, satellites, radars and other military equipment, according to the news release.
These were eventually sold to other companies that provide defense services in Russia. Okerhov reportedly admitted in a conversation with Ponce that he was acting as a front of a sanctioned Russian oligarch, based on disclosed information. The defendant allegedly confirmed that his company was just a front and even boasted that the discovery of its operations would be impossible because of the intermediaries they used.
Apart from this, the network reportedly used couriers from Latin America and Russia to receive cash, which was then exchanged into cryptocurrencies to launder funds.
"We will continue to investigate, disrupt and prosecute those who fuel Russia's brutal war in Ukraine, evade sanctions and perpetuate the shadowy economy of transnational money laundering," the DOJ noted further in its news release.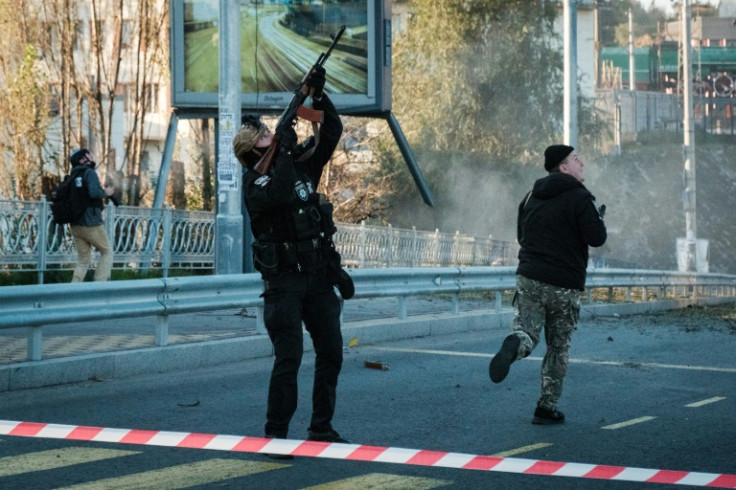 © Copyright IBTimes 2023. All rights reserved.
FOLLOW MORE IBT NEWS ON THE BELOW CHANNELS