'90 Day Fiancé' Spoilers: Will Jesse And Darcey Split In Episode 6?
"90 Day Fiancé: Before The 90 Days" Season 2 may not be over just yet, but it appears one confrontational couple may already be done. A sneak peek of episode 6 seems to tease the beginning of the end for Jesse Meester and Darcey Silva.
Ever since Jesse landed in the US to spend time with his 42-year-old girlfriend, the couple has struggled to get along. While the visit was supposed to be dedicated to taking their relationship to the next level, the two continuously argued and made little progress in their goal.
In a video from the upcoming episode obtained by People, Jesse and Darcey's latest fight turns physical. Following a dispute over what was supposed to be a nice family dinner with her kids, the two once again find themselves embroiled in another heated argument.
"Since last night's dinner, things were strained. There was obviously a lot of tension. And it just seems like it's only getting worse. This morning I was upstairs getting ready and my toes were cold from the wood floors. So I put my feet on his shoes, he got pissed off that my feet were on his shoe, and then he was like, 'What are you doing?!' And then like shoved me out the door," Darcey explains in the sneak peek.
However, Jesse has a different recollection of what happened. The 24-year-old accuses Darcey of throwing her shoe at him and fears that she may harm him the next time the two disagree. While Darcey denies intentionally trying to hurt him, Jesse packs his bags and prepares to leave their Airbnb.
"Listen, I'm going away from you. I'm going to call the police. Go away," he tells Darcey, who attempts to approach him.
At that point, Darcey backs off and allows Jesse to remove his belongings. "I'm tired of having to defend myself over things that are misconstrued and over-dramatized," she says in the confessional.
While the mother of two revealed she feels Jesse is overacting, the Netherlands native recently sat down with "Reality Life with Kate Casey" to talk about a major issue regarding his relationship with Darcey.
During the sit-down, Jesse hinted Darcey may have been lying about her career in fashion and entertainment. "In my relationship, Darcey doesn't per se have bad intentions, but getting to know her more, you get to see that a lot of it is fake. I can say now to you that I have a business, I'm a very successful man, that I did this and I did this but, that doesn't mean that it's true," he explained.
"I don't want to fall in love with a facade, with a fake reality and that's kind of what I was experiencing," he added.
While Darcey's Instagram page is private, Jesse seems to have scrubbed his girlfriend from his account and does not follow her on the mobile app.
Fans will have to wait to see if Jesse and Darcey will be able to overcome the rift in their relationship when "90 Day Fiancé: Before The 90 Days" Season 2, episode 6 airs Sunday at 8 p.m. EDT on TLC.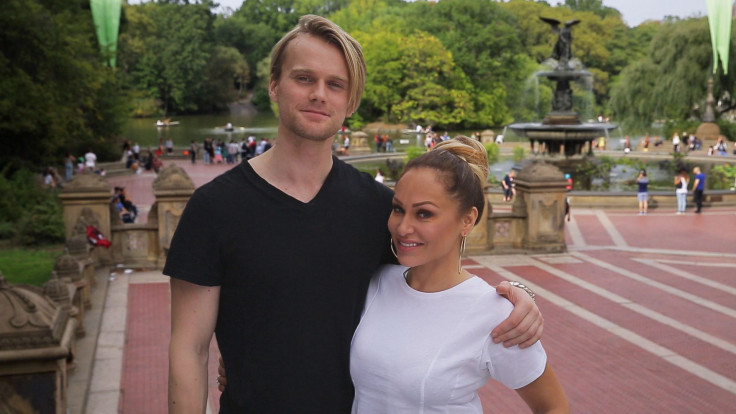 © Copyright IBTimes 2023. All rights reserved.
FOLLOW MORE IBT NEWS ON THE BELOW CHANNELS