Aaron Judge Free Agency: Yankees Or Giants Expected To Sign MVP Soon
The Aaron Judge Sweepstakes seemingly only features two teams, and they could have an answer from MLB's top free agent any day now. The New York Yankees and San Francisco Giants are expected to know soon where Judge will sign for the 2023 season and beyond.
Rumors have been swirling for days that Judge is likely to make a decision by the end of the Winter Meetings, which start Monday and conclude Thursday in San Diego. MLB Network's Jon Morosi said Judge could sign a contract within a week, noting that both the Yankees and Giants might have a similar chance to ink the 2022 AL MVP to a long-term deal.
Yankees owner Hal Steinbrenner has expressed confidence in New York's ability to bring back Judge. ESPN's Jeff Passan reported that the Yankees are believed to be offering Judge around $300 million over eight years. New York might increase that offer if San Francisco presents Judge with a more lucrative deal.
It's unknown exactly what the Giants are willing to pay Judge. San Francisco's ownership has met with Judge, looking to bring him back to the state where he grew up. The Giants are expected to increase their payroll significantly this offseason in hopes of returning to the playoffs.
The Yankees' offer includes a reported $37.5 million average annual salary, which would set a record for an MLB position player. There's been speculation that both of Judge's suitors might go to $40 million a season.
The Los Angeles Dodgers were viewed as potential suitors for Judge. There have been no reports of the two sides discussing a possible contract in free agency.
Judge has been the Yankees' best player since he was a rookie in 2017 and finished as the AL MVP runner-up. At 30 years old in the 2022 season, Judge was the best player in baseball, hitting an AL-record 62 home runs to go along with a .311 batting average and 1.111 OPS.
Judge arguably had the best offensive season of any player since Barry Bonds played for the Giants two decades ago.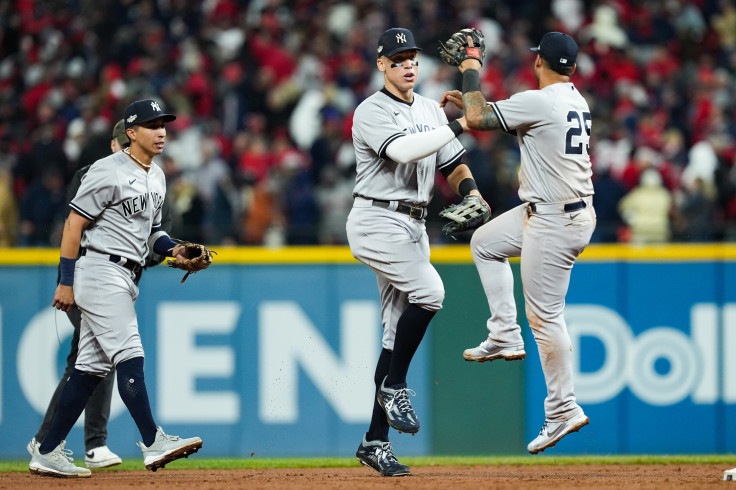 © Copyright IBTimes 2023. All rights reserved.