Abby Lee Miller Vs Kelly Hyland: 'Dance Moms' Fans React To Epic ALDC Season 4 Fight [VIDEO]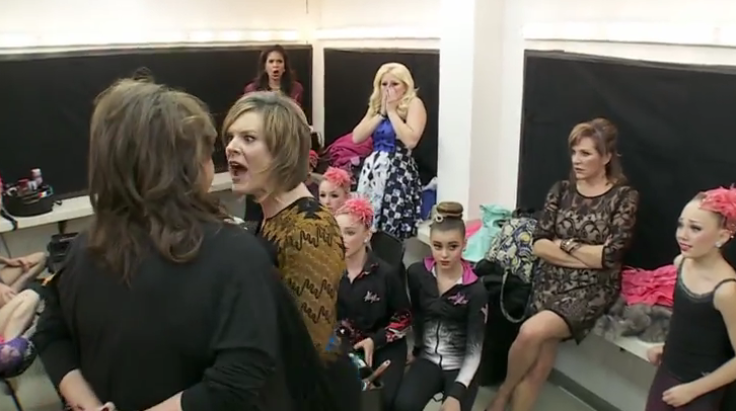 The fans have spoken. Following the airing of arguably one of the most intense moments of "Dance Moms" history this week, a smack-down, drag-out fight between dance mom Kelly Hyland and Abby Lee Dance Company instructor Abby Lee Miller, viewers have taken sides on social media.
After the premiere of the season four episode "Big Trouble in the Big Apple" on Tuesday night, "Dance Moms" star Kelly Hyland took to Twitter to acknowledge her fans for their kind words after footage of her smacking and pulling Miller's hair aired on Lifetime. "Thank you for all of your support. It means so much," Hyland, 42, posted Tuesday following her attacks against Miller, which led to her subsequent arrest in New York last November following a dance-related scuffle.
While viewers of the hit Lifetime series appear to be divided on whether they're on Team Kelly or Team Abby following the fight, a large majority seem to be siding with Hyland, the mother of competitive dancers Brooke, 16, and Paige, 13. "Abby totally started that @dancemomkelly was just defending herself!" posted user @vPredham Tuesday. "Just watched #DanceMoms ugh @dancemomkelly should have knocked @abby_lee_miller out! She deserves it the way she treats others!" said user @missJessx0x0."Kelly should be able to press charges against Abby for child abuse #AbbyTheBully," posted another user Tuesday. "Don't feel bad @dancemomkelly! That woman had it coming to her! She needs to "save her tears for the pillow!" said viewer @halei8lamb.
Miller, who pressed charges against Hyland, her longtime customer and former dance student, also has her supporters. "Abby, I'm really sorry some people are being rude to you. You only did what you had to do. Ignore the haters," posted user @kalanilover23 Wednesday. "@Abby_Lee_Miller I am on your side always. I love the costumes for the group dance, btw," said user @kkjoy1545.
Following the fans' reactions to the dramatic episode, Miller, 47, posted a message to viewers on her official Twitter page Tuesday night. "I just want to say I'm sorry the children had to go through this," said Miller, later adding, "The police are there to protect and now it's the state of New York against Kelly. I have nothing more to do with the situation."
"Dance Moms" airs Tuesdays at 9 p.m. ET on Lifetime.
© Copyright IBTimes 2023. All rights reserved.