After $2,000 Stimulus Checks Bill Fails, Vandals Go After Homes Of Mitch McConnell, Nancy Pelosi
The homes of leaders in the U.S. House and Senate were vandalized Friday after a bill to send Americans $2,000 stimulus checks failed to pass. Senate Majority Leader Mitch McConnell's Louisville home, and House Speaker Nancy Pelosi's San Francisco home, were defaced with graffiti spelling out several phrases about the failed bill.
Although the $2,000 increase from the approved $600 stimulus check was supported by President Donald Trump and passed in the House, McConnell blocked the bill in the Senate.
On the Senate floor, McConnell insisted that he wouldn't "be bullied into rushing out more borrowed money into the hands of Democrats' rich friends who don't need the help."
Around 2 a.m. on New Year's Day, police in San Francisco received reports of a pig's head, fake blood, and graffiti at Pelosi's home. Spray paint with "$2K," "Cancel rent!" and "We want everything" was found written across the property.
The vandals have not been arrested. Police have launched a special investigation.
Meanwhile, McConnell's home was spray-painted with "WERES MY MONEY" and "MITCH KILLS THE POOR." A profanity was also plastered on the Senate Majority Leader's mailbox.
In a statement, McConnell slammed the vandals who defaced his home with graffiti. "I've spent my career fighting for the First Amendment and defending peaceful protest," he said.
"I appreciate every Kentuckian who has engaged in the democratic process whether they agree with me or not. This is different. Vandalism and the politics of fear have no place in our society."
Pelosi has not released a statement.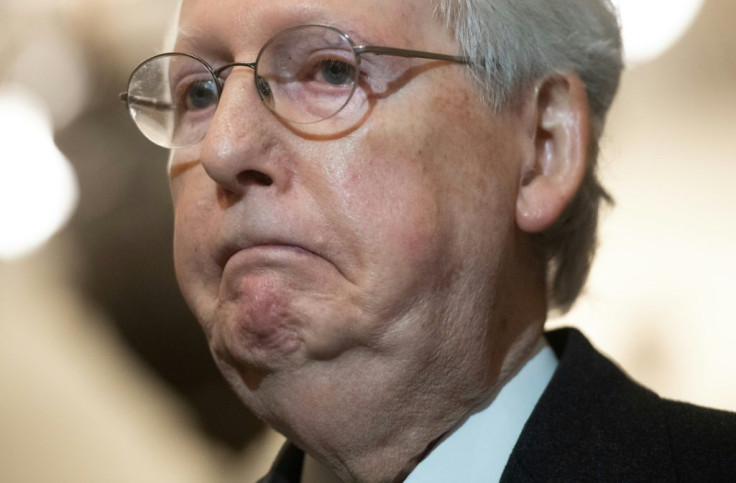 © Copyright IBTimes 2023. All rights reserved.
FOLLOW MORE IBT NEWS ON THE BELOW CHANNELS